Sound United's Kevin Zarow chatted with CE Pro at CEDIA Expo 2022 standing in front of the booth's signage reading "Volume Up" at the recent show. The big audio company indeed had turned the volume up on product solutions to introduce to their dealers and other attendees at the Kay Bailey Hutchison Convention Center in Dallas.
During the recent CEDIA Expo, Sound United brands including Denon, Marantz, Bowers & Wilkins, Polk Audio, HEOS, Definitive Technology and Classe accounted for roughly 50 product introductions.
Now that's a whopping welcome back to dealers after a three-year absence from the company's participation in an in-person CEDIA Expo.
"It's awesome to see all [the] integrators come out and visit us," enthuses Zarow, vice president of sales, Sound United in the Americas.
Among the highlights of the new wares shown off in the booth – the company's first since CEDIA Expo 2019 in Denver thanks to Covid – were new AV receivers and processors from Denon and Marantz, whole-house wireless audio options leveraging the HEOS platform integration, and loudspeakers such as the stunning next-generation 700 Series from Bowers & Wilkins.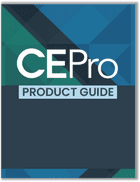 CE Pro's 2022 Product Guide showcases some of the latest and innovative solutions from manufacturers serving the custom electronics industry in a cross-section of categories.
Download the guide now!
Four new models from Denon that Zarow notes will help dealers deliver robust media rooms for customers are the X-Series X2800H, X3800H and X4800H AVRs (H denoting HEOS built-in), and "the MacDaddy, the AVR-A1H," Zarow says.
"Unbelievable – the world's first 15-channel AVR. Hopefully you [visited] and got a chance to see it."
On the Marantz side, the company's long legacy continues with the CINEMA Series AVRs as well as the AV 10 and AMP 10 separates for a premium home theater. The company also announced it will offer firmware update to support the renowned Dirac Live room correction software next spring on Marantz and Denon products.
"Everything we do in these products is designed for the custom integration channel," Zarow adds. "Whether it's the ability to do HDMI diagnostics, system remote management, the new Dirac calibration that you guys can upgrade your customers to, the calibration of four subs … you do it, you make money on it and we're here to support you on that."
Hear more from Zarow and take a tour of the Sound United CEDIA Expo booth in the video above.