The 700 Series continues to be Bowers & Wilkins' most comprehensive range, featuring eight new models including three floor-standing speakers, three stand-mount speakers plus two dedicated center channels for home theater use. It's also a high-performance lineup, deploying concepts and technologies trickled down from Bowers & Wilkins' flagship 800 Series Diamond range.
An exhaustive three-year development program has seen nearly every element of the new range transformed, from cabinet design, construction and finish through to key acoustic and mechanical improvements, according to the company.
"We're hugely proud of our new range," says Andy Kerr, director of product marketing and communications for Bowers & Wilkins, a Sound United brand. "By introducing some of the reference-quality technologies of our 800 Series Diamond range into the latest generation of 700 Series, we've made studio-quality sound more accessible than ever."
In a first for the 700 Series, the new range introduces slimmer cabinets featuring a curved front baffle and drive units mounted in external 'pods' that form a direct visual and technical link to the 800 Series Diamond.
"This revised form 'dramatically reduces the impact of the loudspeaker baffle on sound quality by minimizing the 'cabinet diffraction' effect," Bowers & Wilkins explain, thereby improving its ability to 'disappear' acoustically and let customers concentrate on the music.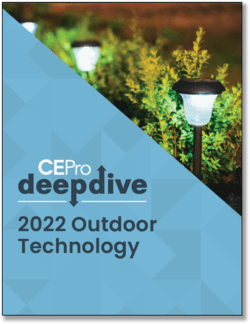 The 2023 CE Pro Outdoor Technology Deep Dive reveals unique set of impediments, including explaining pricing and interacting with outdoor-centric trades.
Get your copy now to take a "deep dive" into the trends and challenges of outdoor technology.
Download the report now!
The cabinets are also offered in a new Mocha finish, a highly-grained wood that joins the Gloss Black and Satin White finishes (plus a Rosenut finish will be offered exclusively in Asian and Pacific markets).
Bowers & Wilkins Tweeter-on-Top Form Factor Re-engineered
In a significant step forward for acoustic performance, according to the company, Bowers & Wilkins now employs its iconic Solid Body Tweeter-on-Top technology in four models in the new 700 Series, representing half the range: 702 S3 ($7K/pr) and 703 S3 ($6K/pr) floorstanding loudspeakers, 705 S3 ($3,400/pr) standmount model and HTM71 S3 ($2,500/ea) center channel loudspeaker.
For the first time in a 700 Series range, owners have the option of building a complete 700 Series home theater featuring Tweeter-on-Top throughout.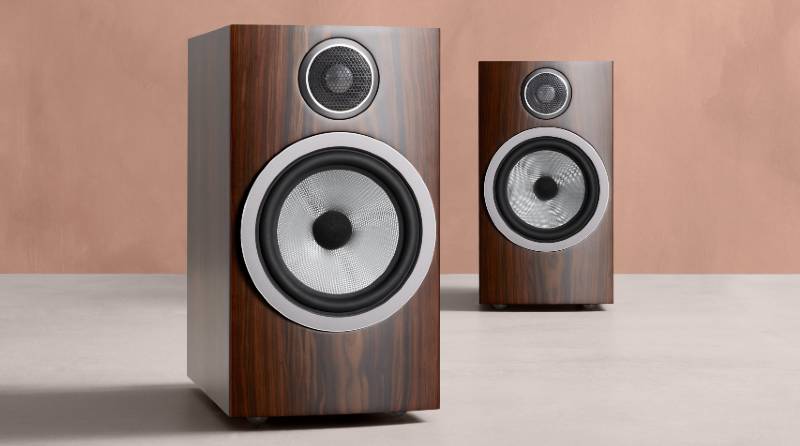 The Tweeter-on-Top form itself has been comprehensively re-engineered in the new range. Machined from a single, solid block of aluminum, the new enclosure has been significantly lengthened, reducing distortion and ensuring an even cleaner presentation, the company explains. This longer form factor is enhanced by the introduction of improved two-point decoupling that better isolates the assembly from the loudspeaker cabinet, producing a more free and open soundstage.
Additionally, the Tweeter-on-Top diaphragm retains the Bowers & Wilkins Carbon Dome tweeter, with its 47kHz first break-up performance, coupled with improved, vented voice coils with new, upgraded magnets.
Models that feature tweeters mounted in the baffle – 707 S3 ($1,800/pr) and 706 S3 ($2,600/pr) standmount speakers, 704 S3 ($4K/pr) floorstander and HTM72 S3 ($1,500/ea) center channel – benefit from the changes, plus a significantly elongated tube-loading system that also works to reduce distortion and provide a cleaner sound.
Cleaner, More Expansive Sound in New 700 Series Range
In all three-way loudspeakers in the new range, Bowers & Wilkins has introduced its Biomimetic Suspension – first revealed last year in the new 800 Series Diamond range. Replacing the conventional fabric spider found in the suspension of almost all loudspeakers built over recent decades, the Biomimetic Suspension dramatically reduces unwanted noise from the output of the spider as the midrange cone operates.
Other proprietary midrange cone technologies help produce transparency: decoupling for the entire midrange assembly, an aluminum drive unit chassis featuring tuned mass dampers for reduced resonance, FST surround-less suspension, and Continuum cone material.
Models with mid/bass drive units – 707 S3, 706 S3, 705 S3, and HTM72 S3 – have been upgraded with new motor systems and improved chassis for cleaner output.
Bass uses the latest generation of Bowers & Wilkins' Aerofoil Profile bass cone technology, based around a composite 'sandwich' of materials with a carefully formed variable profile aimed at delivering cleaner, lower distortion bottom end.
800 Series Diamond-inspired speaker terminals feature more substantial contact connections and are better laid out for use with spade-terminated speaker cable, the company says.
All models in the range have updated, larger diameter Flowports that offer a more substantial output, ensuring a bigger and more expansive sound. In the 702 S3 floorstander, that approach is taken even closer than ever to the configuration of 800 Series Diamond floorstanding speakers thanks to the re-orientation of its port to fire downwards on its integrated plinth.
Finally, all floorstanding models feature significantly upgraded spikes to anchor them. On 704 S3 and 703 S3, stainless steel M6 spikes are included with their integrated plinths: on 702 S3, heavy-duty M10 spikes are provided.
Standmount models can employ the FS-700 S3 floor stand, which has been visually upgraded to match the slimmer, curved profile of the new cabinet design while offering acoustic improvements thanks to the M6 spikes.