After a few years of not having a real, live CEDIA show, no one knew exactly what to expect in Dallas — but now with the event completed, the industry can universally agree that CEDIA Expo 2022 returned with a vengeance.
Highlighting a week's worth of fun and interesting activities, including educational seminars, thought leadership panels … and of course product demonstrations, the Expo reverberated with attendees with more fervor than a Jorge Masvidal flying knee.
Being fully transparent—or just being honest—it's impossible to see every exhibit at the show but given the high levels of positivity during the expo, as well as word-of-mouth recommendations, and simply visiting a number of exhibitors, it was an excellent week if you are an AV nerd.
Traditional custom electronics AV manufacturer such as Origin Acoustics, Crestron, Savant, and AudioControl came to the show displaying a number of what should be highly sought-after products. Joining these companies with some impressive new solutions were Vanco's latest connectivity and audio products (Beale Street Audio), as well as Theory Audio, MSE Audio (dARTS), and Kaleidescape.
Newcomers to the industry that came out with their guns blazing include a trio of French companies: StormAudio, C Seed, and the pro audio manufacturer L-Acoustics. Also making a splash during the show was Seymour Screen Excellence (SSE), and the Boston-based audio manufacturer Next Level Acoustics.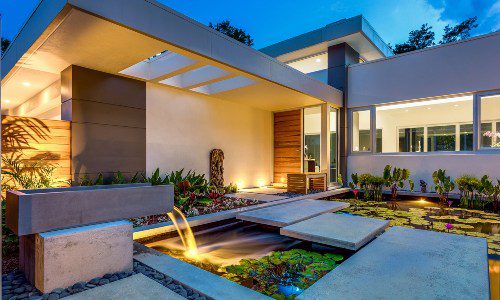 Landscape and architectural lighting create a magical and elegant ambiance for homeowners. The outdoor lighting industry has always been a phenomenal one and continues to grow in popularity. Now is the ideal time to learn more about this rapidly growing and highly profitable industry. Join our panel of esteemed lighting experts that will dive into why it's time for integrators to rethink their role in the outdoor lighting industry.
Register Now! 
CEDIA Expo Highlights: Products and Demos
Since the very early days of home electronics product demonstrations have been the lifeblood of equipment sales. Showing what may have been the very best custom electronics trade event ever in terms of system demos, the CEDIA Expo 2022 show was loaded with great products and demos.
Drawing rave reviews from everyone at the show that had seen the demo, the Trinnov, McIntosh, Sonus faber, MadVR Labs, Barco and Kaleidescape system had lines throughout the week.
Another really impressive immersive audio demonstration was provided by Seymour-Screen Excellence, StormAudio, RowOne Entertainment, ASCENDO loudspeakers, Barco, and Kaleidescape. This demo featured music and movie clips delivered from a Kaleidescape system that produced cinema-quality video and enveloping immersive audio that was loud, clean, and well-defined.
Building upon its successful dARTS line of products, MSE Audio showcased the latest dARTS products, including the DCB410 trapezoidal-shaped subwoofer. Designed for corner placement, the DCB410 incorporates eight 10-inch active woofers. According to MSE Audio, this cone area is equivalent to a 28-inch woofer, and these drivers are powered by a 1RU external amp that is rated to produce 350 watts RMS and 700 peak watts of power. The DCB410-SUB is rated to deliver an anechoic frequency response down to 16 Hz.
One more really good demo that occurred on the floor belonged to some relative newcomers to the market. Next Level Acoustics partnered with Hisense, and heavy hitters Trinnov Audio and Kaleidescape. Using an acoustic design from Adam Peltz of Bespoke Cinema to ensure the best possible sound quality and products from Quest Acoustics, Next Level Acoustics demonstrated a range of content via a 7.2.6 system, including several great sounding music videos.
More news: The CEDIA Expo 2022 Attendee Numbers Are In
Some Standout Products on Display
There were so many good products on the CEDIA Expo 2022 show floor that narrowing down a handful of great products is just about impossible. With that said, here are a trio of products/services that stood out at CEDIA Expo 2022:
C-SEED N1 Outdoor Display: The outdoor model is available in a choice of sizes, and the N1 is rated to produce up to 4,000 nits of brightness. Seeing these huge-sized outdoor displays unfold and fold up right in front of you and then displaying really bright images with vivid colors is something to see.
Theory Audio Design ic6 In-Ceiling Loudspeaker: The ic6 is one of the most impressive architectural speakers currently available today. Featuring a coaxial driver array, along with 70/100-volt or 16-ohm options, the ic6 throws a highly detailed, wide soundstage with a surprising amount of imaging precision.
Savant Apple Music Integration: One of the most popular and arguably the most elusive native music integration is finally coming to the high-performance audio category thanks to Savant. Some of the features Savant will bring to market with Apple Music include 16-bit audio, hi-res audio, and spatial audio (immersive audio). Given Savant's standards-based approach to engineering and product development, homeowners should expect a great music listening experience once Apple Music becomes available.
If you enjoyed this article and want to receive more valuable industry content like this, click here to sign up for our digital newsletters!