The Air-Conditioning, Heating and Refrigeration (AHR) Expo is happening in Atlanta, and while not directly related to the goings on of the CE channel, there's still some news to grab attention. For instance, UEI, a major name in home entertainment and smart home control has been showcasing an all new smart thermostat platform, UEI Comfort, aimed at bridging the gap between smart home and HVAC systems.
HVAC systems and smart home systems go hand in hand, providing heating, cooling, humidification and filtration all as needed. However, connecting residential HVAC units to smart home systems has, to date, never been an easy task. Companies like AirZone and Swidget (with its partnership with Panasonic) have been making great strides to simplify these connections for integrators, though.
While being specifically designed for HVAC OEMs, UEI states that UEI Comfort (which is subdivided into UEI TIDE Dial, UEI TIDE Touch and UEI TIDE Bridge) has also been made with Home Automation specialists at the top of mind. The company also states that this new platform building upon the brand's 20 years of experience working with HVAC brands.
"With our latest innovations in smart thermostats in both functionality and expanding connectivity standards, we now have our biggest growth in the company with customers in HVAC, this is exciting for UEI as we bring our control and connectivity leadership from home entertainment to new energy management and smart home applications with our expanding HVAC customers and partners," said Arsham Hatambeiki, UEI Senior Vice President of Product and Technology.
UEI Comfort Aims to Make HVAC Integrations that Much Simpler
Part of the performance of UEI Comfort relies on a component that integrators may be familiar with already. Utilizing UEI's QuickSet widget, the platform can control, manage and support HVAC systems by connecting to QuickSet Cloud and receiving support from UEI's Virtual Agent. It is also supported by the white-label my Nevo mobile app to simplify system installation and support and provide remote management capabilities and automations on mobile devices or computers.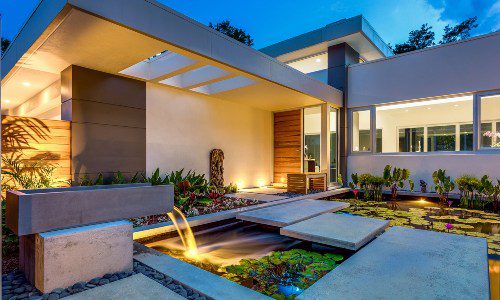 Landscape and architectural lighting create a magical and elegant ambiance for homeowners. The outdoor lighting industry has always been a phenomenal one and continues to grow in popularity. Now is the ideal time to learn more about this rapidly growing and highly profitable industry. Join our panel of esteemed lighting experts that will dive into why it's time for integrators to rethink their role in the outdoor lighting industry.
Register Now! 
It supports Wi-Fi for cloud connectivity, Bluetooth LE for network and device onboarding, and Zigbee for wireless local network connectivity. The company has also stated the platform will receive a Matter upgrade soon, much like its QuickSet products earlier this year. Combined, this, the company states, provides the platform with built-in installation support, network onboarding capabilities, device management capabilities as well as lifecycle support services.
There are also a bevvy of associated products UEI announced at the show designed to work directly with this new platform. These include a new white-label Zigbee line-up of motion, window and door, temperature, humidity and CO2 sensors. Additionally, the future Matter update will allow the platform to act as a Matter bridge, able to connect non-Matter sensors to other Matter Controllers like Google Home.
UEI Tide Smart Thermostats Add Extra Flexibility to Installations
The first platform variant, UEI TIDE Dial, will launch in Q1 2023 and offers a full-color screen display with a customizable user interface and jog dial for easy navigation of advanced thermostat functions. The secondary white-label product, UEI TIDE Touch, features a full-size touchscreen color display for even easier user interaction and will launch towards the end of 2023.
Both products have an interchangeable, modular system interface to allow integrators to connect with different HVAC systems in the field. This allows for ultimate convenience during installation as well as greater flexibility when working with HVAC professionals.
Next to built-in sensory capabilities, both UEI TIDE thermostats are supported with a local rule engine for easy automation and control. To reduce the energy consumption of the HVAC systems, the thermostat will detect when doors or windows are open or when family members or guests have left the room so it will adjust the HVAC system accordingly, though how it can detect this has not been stated.
Additionally, the thermostats can schedule automated room and zone control, and support full home automation capabilities. This means they can adjust third-party motorized blinds or shades when the sun shines or turn off the lights when guests have left the room. According to the company, all are easy to onboard, manage and support via the thermostat display or my Nevo app on your mobile device.
Meanwhile, the UEI Tide Bridge enables remote installation of the system interface. This allows the system to be easily accessible while providing temperature control in the most convenient spaces. In addition, it connects to 110-230VAC networks, making it compatible across the world.
If you enjoyed this article and want to receive more valuable industry content like this, click here to sign up for our digital newsletters!