Whoever introduced hurdles to the sports world might have been a masochist. The history books say that in 1830 someone decided it would be a fun idea to take an already challenging running race and place large wooden barriers on the track that are clearly designed to make the runners trip and fall flat on their faces. It's pretty cruel when you think about it. But even with those barriers confronting them, competitors still take on the challenge of the race.
In 2020, CE Pro 100 integration companies faced major obstacles also, but these were much greater than those faced by Olympians. These were life and death challenges — literally in some cases — as the industry and the world battled the coronavirus outbreak. But just like Olympic athletes, CE Pro 100 integrators rose to the challenge and overcame those obstacles — a bit battered and bruised, but still standing at the end.
When the dust finally settled on 2020, the median CE Pro 100 company saw its revenue fall 2.4%. That slight drop is actually a huge victory when you consider many CE Pro 100 companies were shut down for a minimum of six to seven weeks, and in some cases 10 to 12 weeks.
In general, CE Pro 100 companies were more susceptible to the ravages of COVID-19 than any other segment of the custom installation industry for several reasons.
First, these larger firms tend to be based in major metropolitan areas of the United States. Those same major metros, from New York City to Chicago to San Francisco and Los Angeles and beyond, are the same areas where prolonged shutdowns occurred during the outbreak of the pandemic. And it's the same place where most CE Pro 100 integrators and their staff live with their own families, making the situation doubly tenuous. It forced these integrators to take extra time and precautions for their staff and clients, slowing down their normal pace of business.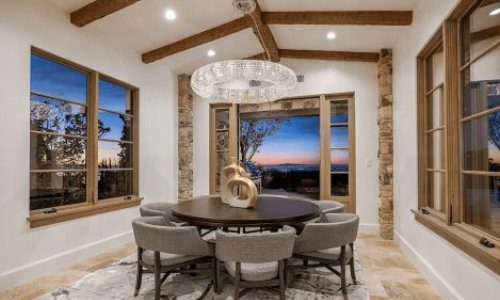 As a custom integrator, lighting is in demand. Effective communication, education and showcasing the value proposition of LED light fixtures in conjunction with integrative control systems are the keys to overcoming challenges and closing sales in this specialized market. Join us as we discuss the future of digital lighting and control with David Warfel from Light Can Help You and Patrick Laidlaw and Mark Moody from AiSPIRE.
Register Now! 
Secondly, another pandemic-related element that affected CE Pro 100 integrators in 2020 disproportionally more than other CE pros is project size. Larger companies such as those in the CE Pro 100 tend to do larger-scale projects because they have the staff resources capable of completing those big jobs in a more timely fashion than a smaller custom integration firm might be able to do. But many of those projects (with the exception of outdoor jobs) were put on hold when the pandemic hit as clients were anxious about having technicians inside their homes.
Thirdly, many of the CE Pro 100 companies operate storefronts, whether those be full-on retail or showrooms that allow walk-in customers. Obviously, foot traffic inside stores is much lower due to the pandemic. That lack of foot traffic is a difficult blow to companies that rely on new customers walking in to generate custom installation sales of the equipment they sell over the counter. Those slowdowns at the retail level did not just occur during the lockdowns, but the trend continues even today. Certainly, in some cases hybrid retail/ custom dealers were able to successfully pivot to online sales to generate new business, but competing against mega-retailers is a difficult proposition.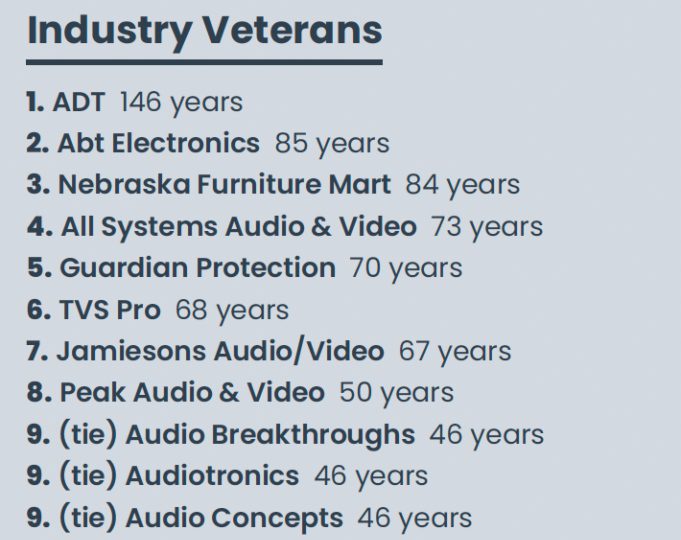 So with all those factors at play, it does seem remarkable that the median revenues only fell 2.4% last year for the CE Pro 100. In terms of total revenues, the companies on the list did a whopping $7.8 billion in revenues in 2020.
The CE Pro 100 list itself, now in its 22nd year, is also unique and constantly evolving. For many years, the qualifying revenues were solely based on income derived during the installation process of various subsystems (see sidebar for a partial list of subsystems). Now the list of the top custom installation companies in the United States includes all their revenue sources.
That is why for the first time ever in the charts, CE Pro is delineating out for each company not only the number of residential and commercial installations, but also the percentage of revenue derived from recurring monthly revenue (RMR), online equipment sales, and over-the-counter equipment sales. All of those sources now contribute as the custom integration industry evolves from a niche that served only elite clientele to one that serves the mass market with smart home solutions.
That growing diverse client base is why the list itself is an amalgamation of high-volume mass market players, security companies, retailers with installation divisions, and commercial integration companies have migrated into the residential market. The list also includes several national rollup players such as Bravas and AVDG that are focused on the high-end custom installation market.
Median Number of Projects Rises
The pandemic has put the brakes somewhat on the trend of residential-based integrators moving into the commercial market. Offices, bars, restaurants, hotels, entertainment venues, houses of worship, schools, and even retail were all hit hard by the forced shutdowns. With no clients, that means no money for upgrades to control, AV, lighting or even security systems. With office buildings basically void of employees, there is lower demand for commercial teleconferencing systems.
This year's data reflects that falling demand, as CE Pro 100 companies performed 19,714 commercial installations in 2020 (excluding ADT). That is a 25% decline year over year. The median number of commercial installations in 2020 was 11, down from 14 commercial jobs in 2019. Only six companies did not do any commercial projects in 2020.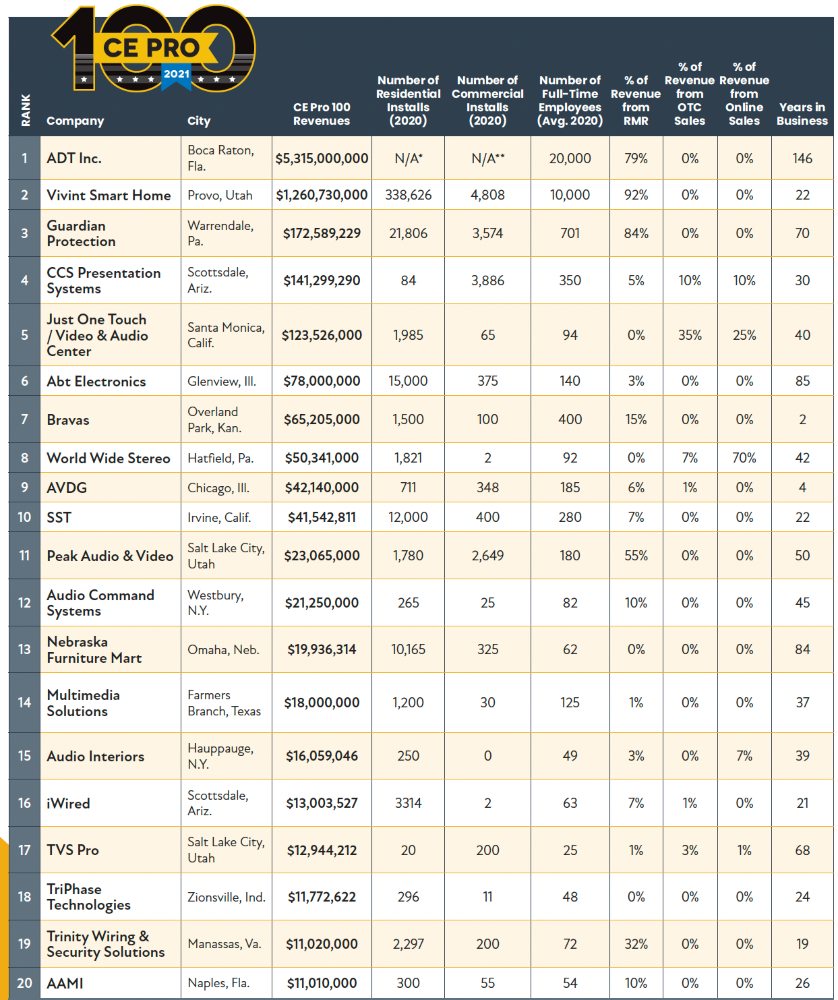 The drop in the commercial market can been seen in the data from the No. 4 company on the list, CCS Presentation Systems based in Scottsdale, Ariz. The company performed 3,886 commercial installations in 2020, down 20% from 2019. Likewise, No. 2 Vivint saw its number of commercial installations fall from 10,000 in 2019 to 4,808 in 2020. No. 9 AVDG experienced a dramatic decrease in commercial installations also, dropping to 348 projects in 2020 after doing 1,250 in 2019.
Of course, that demand has shifted to an in-home demand, or more of a "resimercial" market, meaning high-grade enterprise-level gear being put in homes. The demand for networking upgrades in homes for Work From Home and Learn From Home setups was a strong market driver in the second half of 2020. In 2020, CE Pro 100 companies performed 450,389 residential installations (excluding ADT). 
The median number of residential installations by the CE Pro 100 was 175, which is slightly up from a median of 167 installations in 2019. The fact that the number of projects rose while the revenues declined reveals the price points got much smaller, as noted earlier likely due to the pandemic effects.
In terms of productivity, the median revenue per employee in 2020 was $219,257 compared with $224,357 in 2019. That equates to a 2% drop in productivity in 2020 compared with the previous year. In terms of company age, the CE Pro 100 companies tend to be older. The median number of years in business is 20 years. Due to acquisitions and other corporate maneuvering, some companies are as little as 2 years old officially, while venerable ADT logs in at 146 years in business.
RMR continues to grow as a revenue source among integrators. More than three-quarters (77%) of the CE Pro 100 now earn some form of RMR. The median percentage of total revenues earned from recurring sources by the CE Pro 100 is 2%, which is much lower than 15% of revenue reported by rank-and-file integrators in the CE Pro State of the Industry Study. The lag in overall focus on RMR among the CE Pro 100 is somewhat troubling from a long-term standpoint, especially as the market turns downstream to a broader base of mainstream households.
However, if we look solely at the companies that do earn RMR, the trend is positive. Among CE Pro 100 companies that earn RMR, the average percentage of their income derived from RMR is 11%. That is up from 9% in 2019. Not surprisingly, the companies with their origins in security have the highest percentage of their smart home revenues derived from RMR, with Vivint (92%), Guardian Protection (84%) and ADT (79%) pacing the list.
Smart Home Security Providers ADT, Vivint Atop Rankings
After several years of not submitting its information for the CE Pro 100 while it was transitioning back to a publicly owned company, ADT (NYSE: ADT) once-again tops the list of the CE Pro 100 in 2020. ADT has clearly fully made the transition from being solely a security company to a smart home integration company. And the latest data from the publicly owned company support that conclusion.
Over half (51%) of ADT's residential customer base of 3 million now uses some form of the company's smart home platform, either the legacy ADT Pulse system or the new Command and Control platform. Specifically, ADT just hit the milestone of 1 million customers purchasing Command and Control, which not only allows clients to interact with their security system, but also control lights, door locks and thermostats. And the momentum is growing for Command and Control, with 86% of ADT's new customers in Q4 signed on to use it. 
In its fiscal year 2020, the average ADT Command and Control customer now controls 14 devices in the home. In total, ADT residential customers used their Command and Control app more than 3 million times throughout the year and there were more than 200 billion recorded interactions. Among those interaction were clients setting their door locks 500 million times, arming/disarming their alarm systems more than 2 billion times, and adjusting their thermostats more than 1 billion times, according to the company. Meanwhile, ADT captured and stored more than 10.8 billion security video clips during the year, and its technicians made more than 2 million in-home visits during the 12-month fiscal year.
All that adds up to an RMR machine with $4.18 billion of its total $5.315 billion coming from recurring contracts. For the year, the company generated an amazing $44 million in RMR from new residential installations, along with another $4 million in RMR from new installations in its burgeoning commercial business. Its average revenue range for a residential account is between $40 and $55 per month, with Command and Control clients likely being at the top end of that range. Comparatively, ADT Commercial earns between $50 and $65 per month, per account, according to its latest investor report.
In the second half of the year alone, the Boca Raton, Fla.-based giant added $28.4 million in RMR. The company subsidizes its smart home installations, similar to how it runs its security business. But with the Command and Control platform comes the ability to charge a higher monthly fee, and that has allowed ADT to drop its breakeven time frame from 2.7 years in 2015 to 2.2 years in 2020.
Looking ahead, ADT plans to deploy its new Google Smart Home solution in the second half of 2021 and according to CEO Jim DeVries, the company has high expectations for its success. "We think we can leverage Google to not get our foot in the smart home space but to grow significantly and be a major player in the smart home space," DeVries recently told investors.
"We're super excited about the hardware that Google brings, the ADT plus Google branding is something that our marketing research reveals is pretty exciting. But I'm most excited about what the partnership does from an AI perspective, video analytics, and data analytics perspective. We think that we can not only compete in the smart home space but really be — with Google as a partner — a technology leader and provide customers services that don't exist today. That's all part of a second generation offering some of which will be available in the second half of this year but will be launched when we have our own interactive platform built in-house combined with Google hardware and video analytics to launch the next-generation."
Vivint Smart Home (NYSE: VVNT) continues to be a smart home juggernaut. According to its latest financial report from Q3, the Provo, Utah-based company continues to add smart home customers at a record rate. That is despite the fact that its well-known door-knocking sales operations were put on hold due to COVID-19. The company now has approximately 1.7 million subscribers, adding 338,626 in 2020, controlling an average of 15 devices in their homes.
The average monthly monitoring fee per Vivint customer is $63.79, and the company's attrition rate is 12.8%, down from 13.9% one year ago. In terms of installation, the average system installation revenue is $1,886, up from $1,106 in 2019. Most of its clients sign five-year contracts. Ironically, Vivint and ADT are currently engaged in a legal dispute over alleged patent infringements.
Similarly reliant on RMR, Guardian Protection earned 84% percent of its $172 million (down $28 million from last year) in custom revenues from recurring contracts. Guardian did 21,806, down 27% from its total number of installations in 2019. Guardian has operations across multiple states on the East Coast, Midwest and Texas, and is heavily reliant on new home construction.
Although retail took a hit in 2020, the strength of hybrid custom/retail business model is still apparent on the list. Illinois-based retailer Abt Electronics reported a strong $78 million in custom installation revenue solely from sales of equipment sold for installation, along with the installation of 15,000 systems. Likewise, HTSA member Just One Touch / Video & Audio Center in Los Angeles has total revenues of $123.5 million.
To see all of our charts and data for this year's CE Pro 100, click here!
If you enjoyed this article and want to receive more valuable industry content like this, click here to sign up for our digital newsletters!