Integrator Solves High-Volume MDU Sales Dilemma with Digital Portal
Using a 'Build-A'Bear' model, Service Tech AV in Austin develops its own digital sales portal to enable a two-person sales team to handle hundreds of condo technology sales simultaneously.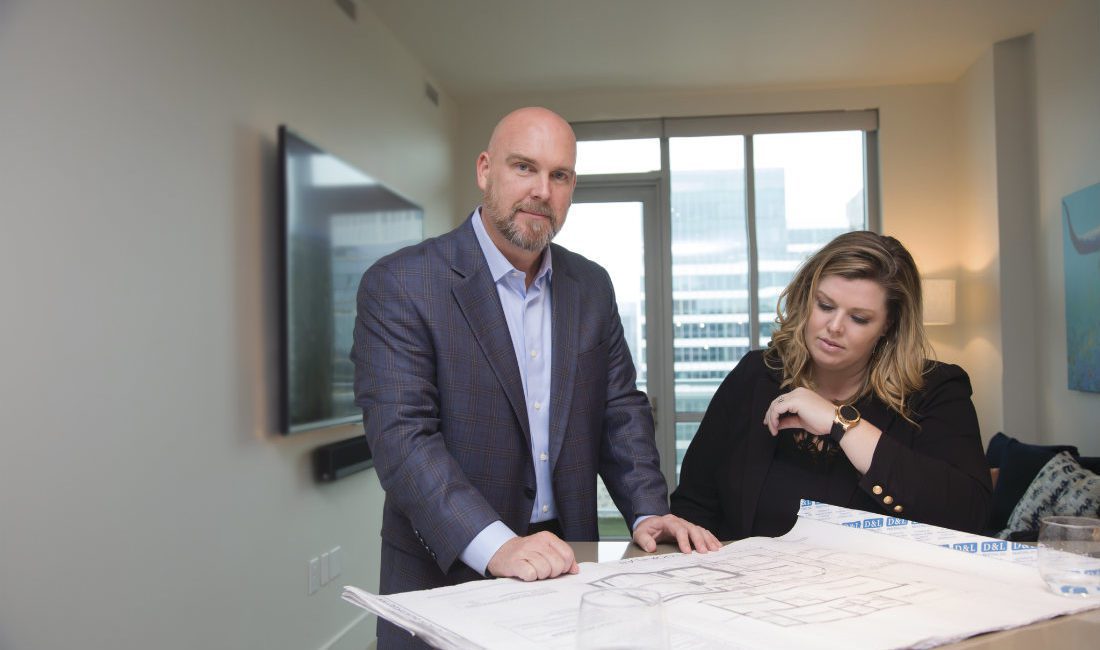 Service Tech AV in Austin, Texas, landed its first high-rise condo project in Austin in 2008. Now, condos are one of the company's specialties, having completed nine condo towers over the past 11 years, and just inked a deal for its 10th condo project.
This pursuit of condo projects is one reason the 22-person company, led by president Chris Pearson, is coming off a successful 2018 in which the company earned $10.2 million in revenue.
But high-rise condos, or "resi-mercial" projects as Pearson calls them, require a special way of selling and installing. The company's most recent condo project is more than 50 floors tall with 365 units, starting at $400,000. In addition, there are multiple penthouses ranging between $4 million and $6 million.
Service Tech AV contracts with the developer for the tower infrastructure, as well as the sales center, then contracts separately with each unit owner, who tend to be young-money Millennials or empty-nesters … few families.
But how can Service Tech AV and its two-person sales team individually meet with 300 potential clients in an expedited manner?
'Build-a-Bear' Meets Condo Sales and Customization
"In today's market, people want something simple. Millennials already know how to navigate any app. You have to start with a repeatable base and you can't offer too much in that online environment, which is why customers can always click a 'Call us for custom' button."
— Chris Pearson, president, Service Tech AV
The keys are offering standardized packages and developing of a proprietary digital portal — complete with videos — through which clients can choose their technology needs. The portal's software guides the client all way from initial design to formal payment.
"The clients just need to get the information, but I don't have the capacity to meet with 300 people. But what if there was a way for us to knock 200 of those meetings out of the way while still getting the same amount of sales we probably would have ended up with anyway?" Pearson asks rhetorically.
"So we built a portal to do just that, and put those clients in the queue for delivery." Using videos, the portal shows customers a pre-designed package for lighting, shades and pre-wire, as well as pre-defined audio and video.
The videos are designed in a way to answer potential questions from clients like, "Do you want shades, or do you want speakers in the wall, or do you want light fabric or dark fabric for your shades?"
Pearson equates it to an online "Build-a-Bear" shopping experience.
"This Build-a-Bear thing has been in my head for almost my entire career," admits Pearson.
"In today's market, people want something simple. Millennials already know how to navigate any app. You have to start with a repeatable base and you can't offer too much in that online environment, which is why customers can always click a 'Call us for custom' button," he notes.
The bulk ordering and automatic payment also enables Service Tech AV to expand its buying power. Based on the online orders via the portal, the company now knows how many loudspeakers to order.
"I can cashflow it, and I can take advantage of cash discounts," he says.
Read Next: Requiring a Service Contract… Will It Work?
For the most recent condo project, for instance, there's a $2,500 pre-wire base with an incentive to add Sonance architectural speakers upfront that immediately turns that base package to a $5,000 price point, or Paradigm speakers for an even higher price point.
The A/V packages include selections for soundbars, four- to six-zone Sonos audio systems, Lutron shades, and wall station interfaces layered over Crestron or Savant control. The average technology purchase from the digital portal is $20,000 to $25,000.
Some clients are as low as $10,000 while others use the Build-a-Bear system to reach $80,000 in technology.
Interestingly, the packages are not rolled into the condo mortgage; ServiceTech acts purely as an outside agent with a contract with each buyer. That scenario absolves the developer from being a service company for the technology in any way, and it keeps the property taxes lower for the units.
"No one wants to pay higher property tax because they spent $100,000 on technology upgrades. That adds up over time," he points out.
Standardized Installation Process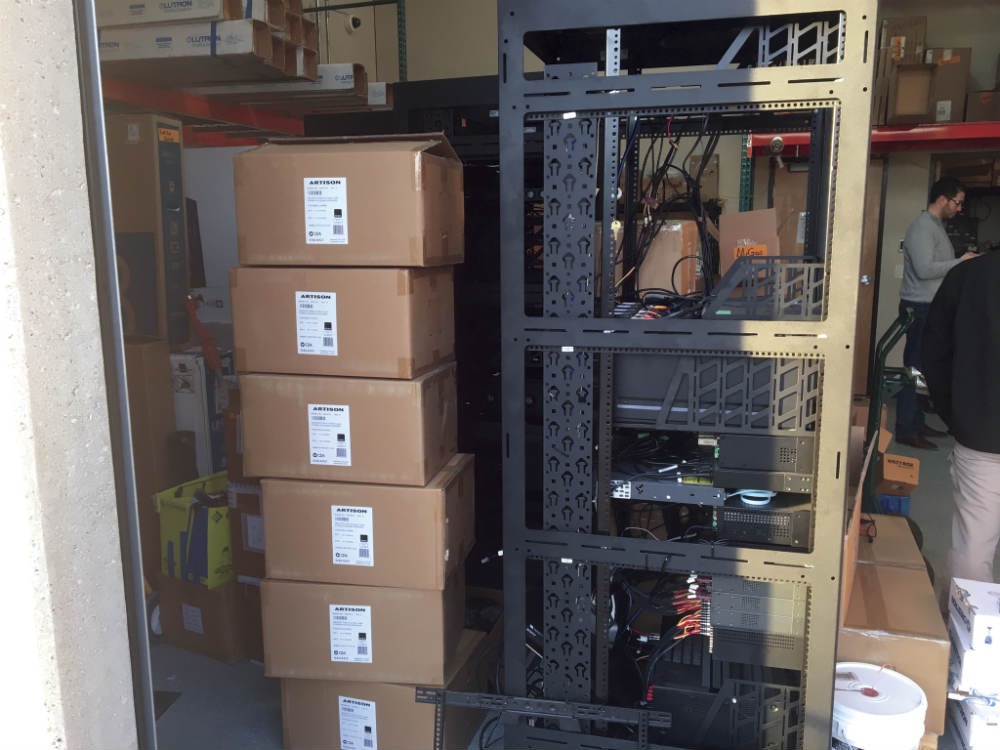 Working on a high-rise condo project will expose any weakness that exists in an integrator's installation process.
There are strict floor-by-floor completion needs, curveballs from requirements related to elevator walls and certain floors with concrete ceilings, OSHA safety requirements and more. Not to mention dealing with the large number of trades on the job — each vying for priority access to the elevator or parking spots.
"I used to call it 'resi-mercial' because it's a commercial exterior with a nice residential interior," says Pearson.
"It has different construction requirements. You have to be equipped for it. You have to ask yourself if you can physically pull off installing the technology on four floors per month for five months straight. Most companies can't. It's tough.
"It is a hard environment. It can be 120 degrees in certain areas of the tower that have no air conditioning. In the middle of winter, it is a giant cold concrete cylinder."
6 Tips for Condo Installation Success
Despite the harsh environment, Service Tech AV has established a track record by developing keen installation processes, including:
Planning out entire fl

oors

at a time so products and materials are delivered on time and properly. In some towers, groups of fl

oors

will have concrete ceilings, so you are limited in your ability to sell in-ceiling speakers, for example. The pre-wire technician has to know that.

Becoming friends with both the elevator operator and the general contractors so they are trusted to stay on time, especially in that limbo period when the developer still owns the unit and the condo owner has yet to take over.

Committing dedicated resources to the project. Service Tech AV has a person onsite from 6:30 a.m. to 4 p.m. every day.

Attending every safety meeting. Th

ere

might be 50 safety meetings that take place prior to Service Tech staff ever even starting to pull their fi

rst

cable, but it is vital the staff attend those meetings.

Cutting in pre-construction brackets for every architectural speaker location. Pearson says that can make the diff

erence

between an eight-minute trim-out speaker installation and a 45-minute installation. When the project calls for 700 speakers to be installed, that time diff

erence

is monumental.

Complete documentation of every system package that is sold. "We might need 39 'A Project Packages' and 42 'B Project Packages' delivered onsite. I need a checklist so that when our technician walks out of an A Project unit he has checked off every task," says Pearson.
But no matter if the project is a highrise condo or a large-scale suburban abode, thanks to having the right processes, people and partners in place, it seems the sky's the limit for Service Tech AV's future.