There's a common view within the integration industry that the smart home is comprised of two competing categories: do-it-yourself (DIY) and professionally installed. And in that classification the middle market is often forgotten. In fact, some integrators would argue that anything below the upper segments should be ignored, but that hasn't stopped LiveSmart.
A California-based company, LiveSmart has positioned itself as a bridge between the low-cost, decidedly DIY products and the high-end, luxury automation systems those products are often seen as being in competition with. Yes. Here is a company who, going against the grain from many within the industry, has made its entire niche on developing smart homes for the middle market.
From Aging-in-Place to SoCal's Middle Market
LiveSmart has been in the smart home game for the past decade, with its original audience initially being the burgeoning market of seniors looking to age-in-place. However, they quickly found out that such an audience was rather averse to adopting the technological solutions LiveSmart was offering, and thus, they pivoted towards the younger middle market within Southern California.
It was slow going at first—LiveSmart president and founder Gary Russel started the venture working only part-time on it. The team still wanted to work on whole-home automation systems, however, entering the conversation with that was proving to be a bit much. What they did notice over time, however, was that much of their business was coming from security camera installations.
This trend tilted the compass needle in a not altogether unexpected direction: believing they could use security cameras as getting their foot in the door, LiveSmart would need to a whole-home automation solution that would be able to built off these installations. Ultimately, that led them to the Z-Wave Alliance Pavilion one fateful year at CES.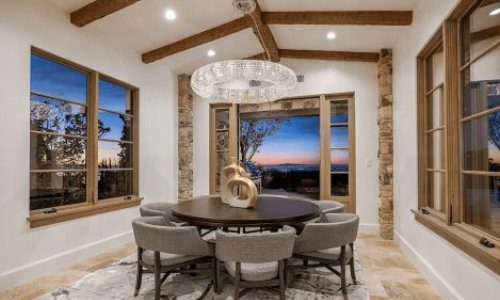 As a custom integrator, lighting is in demand. Effective communication, education and showcasing the value proposition of LED light fixtures in conjunction with integrative control systems are the keys to overcoming challenges and closing sales in this specialized market. Join us as we discuss the future of digital lighting and control with David Warfel from Light Can Help You and Patrick Laidlaw and Mark Moody from AiSPIRE.
Register Now! 
Thanks to his engineering background and familiarity with mesh networking and radio frequency operation within the 900 MHz band, Russel quickly resonated with the technology Z-Wave was operating on.
"It was immediately clear to me that Z-Wave was the perfect fit for the direction we were taking the company," said LiveSmart president and founder, Gary Russell.
"Z-Wave's mesh networking topology ensures that signals are reliable, and not easily obstructed, unlike Wi-Fi based devices. Furthermore, the physics behind communication within the Sub-GHz range match perfectly with the operational environments within buildings and homes thanks in part to both the range provided and interference avoidance from other crowded frequency bandwidths."
LiveSmart quickly joined forces with HomeSeer, and from there, business skyrocketed.
LiveSmart Puts Itself One Rung Above the Average Install-it-Yourself System
Part of that has to do with the fact that as part of their business proposition, LiveSmart cleverly positions itself a step above the average install-it-yourself product
Unlike DIY smart home solutions, LiveSmart offers installation and programing services for every device they provide, including lights, locks, thermostats, sensors, motorized shades as well as cameras. As an integrator/installer armed with a robust solution, LiveSmart sets themselves apart from the competition by conducting business as their customer's trusted partner.
"Our customers, for the most part, are not early adopters or tech enthusiasts, but rather individuals who appreciate the convenience and sophistication of a smart home, without the hassle of doing it on their own or the costs that come with high-end luxury systems," added Russell.
"The home enthusiasts and DIY crowd are our peers, not our customers, while the marketing efforts done by the bigger names in the industry is both welcome and helpful as it provides the market with needed credibility."
A Defined Audience Leads to an Even More Defined Business Model
Perhaps it's because LiveSmart was so laser focused on understanding the market they were operating that has led them to success. Undertanding the middle market, LiveSmart has been able to tweak, hone, and perfect their solution to match the needs of their customers.
"Prior to Live Smart, my entire career was rooted in business-to-business (B2B)," stated Russell. "Working with end-customers is profoundly different. In our experience, customers do not care about what is going on behind the scenes, just that what they have works as intended. Z-Wave shines for us here because of its compatibility with every other certified device within the ecosystem. The devices simply work together as they should, and as our customers expect.
Operating on a regional scale as an integrator/installer, LiveSmart stresses the importance of properly guiding target customers through their smart home journey. "Often times, we start small with a customer by focusing on a specific need, and work with them to provide a uniquely tailored solution," commented Russell. "From there, it's easier to grow together as over time, we seek to help customers progressively expand their system as environments, schedules, and even needs all change."
The business model is apparently working well, as since then, LiveSmart has expanded to work in Northern California.
Middle Market Solutions Can Be Quite Versatile
With LiveSmart's most recent expansion, Russel notes how versatile middle-market solutions can be in finding new client opportunities.
"A client owns a large lodge in the woods and several adjacent cabins," noted Russell. "They reached out to inquire about a system that, if motion were detected during certain hours of the night, would turn on lights within the lodge and alert the owners who were staying in an adjacent cabin so they could investigate without stumbling around in the dark.
"They started with just a HomeSeer hub, a Z-Wave motion sensor and a few Z-Wave light switches but because the system simply worked as they wanted, they expanded to include additional devices and sensors. It's all about the user experience."
Another example is "bridging the worlds" of security and home automation. LiveSmart now offers a method for clients to have "temporary" indoor cameras which offer privacy when there are people in the home and "situation awareness" when they're away. 
The low-cost cameras are attached to "smart plugs" which are automatously turned on/off with other aspects of the system such as unlocking the Z-Wave front door (cameras are tuned off) and a simple "Arm" or "Good-Bye" button (cameras are tuned on). A simple, but elegant, solution to having both privacy and security – what Russell refers to as a "cake and eat it too" type solution.
Always Expanding the Client Experience
One of the most unique ways LiveSmart has found to enhance the user experience is through a bespoke customer portal. The "My LiveSmart" portal is a free innovative web-based system keeps track of all installed devices, provides customers with reliable access to access user manuals, warranty, and other documentation, in addition to including an overview of the deployed system.
On their end, LiveSmart can review a digital record of whatever system they have installed. It even comes complete with manufacturer names and model numbers to help with troubleshooting.
On the customer side, clients can review, send alerts for product outages, and—perhaps most interestingly—review potential add-ons for their systems.
Overall, as technology, smart devices, and protocols evolve and proliferate, LiveSmart expects the market for their services to continue to grow. As they see it, more middle market customers are going to recognize the importance of an integrator in designing a unified solution, and they're going to seek out professionals that can do it for their budget.
"If you cannot get excited by all the new, innovative, and interesting things going on within the smart home market right now, there might be something wrong with you," joked Russell.
LiveSmart is an embodiment of the exciting potential of the smart home market. As they have proven, flexibility in approach, unwavering dedication to serving customers, and a passion for innovation coupled with reliable solutions can serve as a recipe for success in an ever-evolving industry.
If you enjoyed this article and want to receive more valuable industry content like this, click here to sign up for our digital newsletters!