At CEDIA Expo 2021, Hisense reveals the newest addition to its entertainment lineup, the $5,999 100-inch L9G TriChroma Laser TV. The L9G is a 3000 Lumen ultra-short throw projection TV that features the TriChroma laser engine, which utilizes pure red, green and blue lasers.
Premium features include Dolby Atmos, high-speed HDMI, HDR10/HLG, Filmmaker Mode, and WiSA certification. The L9G can be paired with an included ambient light rejecting (ALR) screen.
"The trend in bigger TV screens at home continues to grow, and Laser TV is a compelling solution, with its massive screen, super-bright 4K laser projection, and smart TV features," says Ken Welty, director of Laser TV at Hisense USA. "Hisense introduced the world's first ultra-short throw Laser TV in 2014, and have always understood its potential. With LCD TVs reaching increasingly bigger sizes but still at astronomically high price points, we're bringing an alternative big screen technology to consumers that they can enjoy just like they would an LCD or OLED, but at a much more reasonable price point for the size of the screen."
The L9G's TriChroma laser engine's red, green and blue laser light sources produce sharp, color-accurate images with stunning depth, reaching 107% of the BT.2020 color space.
The Hisense L9G comes in several options, depending on viewers' preferences and home setup. For those looking to build a dedicated home theater and achieve full viewing immersion, the L9G with ALR Cinema Screen offers color accuracy with wide viewing angles. For others whose interest is in displacing their main TV in a bright, airy living room, the L9G with ALR Daylight Screen may be the better option as this screen configuration offers increased on-screen brightness and ambient light rejection capabilities for viewing in brighter surroundings. In fixed 100- and 120-inch sizes, consumers can choose an option that best fits their space and intended usage.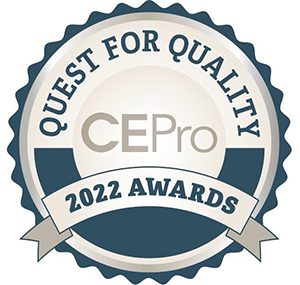 CE Pro urges integrators to recognize their suppliers that go above and beyond to deliver premium support and service. Cast your vote today to recognize the services (not the products) from your favorite manufacturers and distributors.
Cast your vote today!
The 100-inch Hisense L9G TriChroma Laser TV is equipped with the Android TV OS platform so viewers can choose from more than 5,000 apps and games including Hulu, YouTube, Prime Video, Disney+, HBO Max and much more. Android TV OS also comes with built-in Google Assistant. The L9G also works with Alexa and comes Control4 certified.
The L9G Laser TV, including a 100-inch ALR Cinema or ALR Daylight screen, is available now for $5,499.99 MSRP through Hisense's authorized reseller channel, which can be found at
Hisense-USA.com. The 120-inch L9G with ALR Cinema Screen will be available in October for $5,999.99 MSRP.