One aspect of home theater that has evolved over the years is the advent of home screening rooms, which takes the concept of home theater and builds upon them through the use of Hollywood-level professional components and design elements.
Manufacturers supporting screening rooms include Sony, Barco, Meyer Sound, Stewart Filmscreen and L-Acoustics, to name a few.
"From the start of Barco Residential we have offered what we call our Cinema-At-Home series projectors, which are based on our professional cinema technology platforms, precisely because we wanted to bring this level of performance to the high-end residential market," notes Tim Sinnaeve, managing director, high end residential, Barco.
"[These products] were built from our professional cinema and dedicated post-production technology platforms to further optimize performance to match and exceed the performance requirements of not only professional premium exhibition, but also the most demanding professionals at post-production facilities where our clients' favorite movies are graded."
Read Next: Top 5 Home Tech Trends for 2021—Home Theater is Hotter Than Ever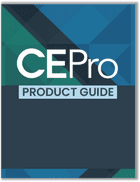 CE Pro's 2022 Product Guide showcases some of the latest and innovative solutions from manufacturers serving the custom electronics industry in a cross-section of categories.
Download the guide now!
On the audio side, pro companies such as Meyer Sound are bringing product lines like its Bluehorn series into the residential market with the validation of those who employ such monitors in the Hollywood production world.
"This is a loudspeaker that is ideal for people doing music for film because it behaves in the room like a cinema loudspeaker," says film composer John Powell, who has worked with Meyer Sound's Bluehorn line.
"It gives us projection like we would hear on the dub stage, yet it also has that extra layer of audiophile quality. Bluehorn lets us hear deeper into the music and resolve problems right away, knowing that even the dub stage might not o# er that level of accuracy. It's the best of both worlds really."