Setting the bar for high-end home theater and screening room designs, a newly installed Meyer Sound Ultra Reflex audio system has been combined with a Sony Pro Crystal LED system on the Netflix campus. 
Meyer Sound's new audio system is designed for use with large-scale, direct-view emissive video displays.
The California-based high-performance audio company states the Ultra Reflex audio system utilizes a high-frequency component reflecting off the screen, along with a direct-radiating low-frequency component.
Utilizing proprietary acoustical designs, DSP (digital signal processing) technologies, and optimization techniques, the Ultra Reflex system is engineered to deliver low-distortion, full-bandwidth audio with flat amplitude and phase response for tonally accurate audio reproduction.
"The introduction of direct-view displays in the cinema industry created the need for a unique solution for LCR screen channels," explains Miles Rogers, business development manager, cinema & content creation markets, Meyer Sound.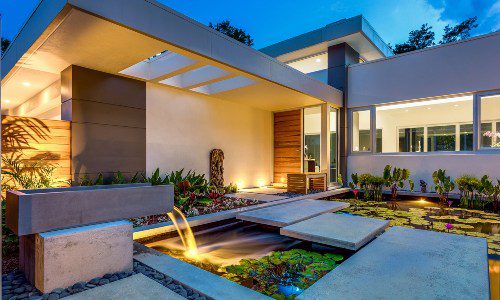 Landscape and architectural lighting create a magical and elegant ambiance for homeowners. The outdoor lighting industry has always been a phenomenal one and continues to grow in popularity. Now is the ideal time to learn more about this rapidly growing and highly profitable industry. Join our panel of esteemed lighting experts that will dive into why it's time for integrators to rethink their role in the outdoor lighting industry.
Register Now! 
"Ultra Reflex is the culmination of prediction software, loudspeaker technologies, and the lifelong vision of John Meyer to create solutions for the most demanding audio professionals."
Meyer Sound Ultra Reflex and Sony Crystal LED System Approved by Hollywood Professionals
Working with Meyer Sound to provide Netflix with a reference video solution for its campus and lab facilities, the direct-view Crystal LED modular panel video system produces high-contrast, high-resolution images.
"With accurate color reproduction and outstanding contrast inspired by our industry leading master monitors, Sony's Crystal LED offers a premium visual experience that has proven itself through its evaluation and reception by the post-production and creative communities," states Theresa Alesso, pro division, president, Sony Electronics.
"We sought to complement this powerful imagery with an audio solution that not only matched the visual integrity but enhanced the overall immersiveness. Meyer Sound Ultra Reflex and Crystal LED provide the perfect marriage of superior sound and vision for creatives."
Sony Pro points out the Crystal LED display incorporates MicroLED technologies, along with its own LED control and signal processing technologies. The platform produces a contrast ratio of more than 1,000, 000:1, high-brightness levels, a wide viewing angle and a wide color gamut.
Designed for critical viewing, audio mixing, and as a space to host VIP special events, the 4K, HDR-enabled Crystal LED screen measures 17-feet wide by 9-feet high. The audio side of the system is powered by the Meyer Sound GALAXY 816 Platform.
Producing Dolby Atmos immersive audio for theatrical or 9.1.6 home-entertainment playback modes, the Meyer Sound system employs 37 loudspeakers. Among the speakers in the system are Meyer Sound's HMS Series lateral and overhead surround speakers, as well as its USW-210P subwoofers for surround bass management. The system also contains Meyer Sound X-400C cinema subwoofers with VLFC very low frequency control elements for bass management and LFE.
Professionals that have experienced the system, including Will Files, the rerecording mixer & sound supervisor for "Stranger Things" and "Sol Levante," and Jon Taylor, sound mixer for "Enola Holmes and "Dumplin" both stated the Sony and Meyer Sound collaboration exceeded their expectations.
"I recently had a chance to visit Netflix to demo Sony's new large-scale Crystal LED screen and the accompanying immersive sound system that Meyer Sound had developed for it … to be honest I was a bit skeptical, having heard other various attempts at this type of thing," admits Files.
"Instead, what I heard was simply stunning—a reference quality, completely transparent sound system that matches the spectacular visuals from the Crystal LED display. Playing clips from my mix of "Stranger Things," I was truly shocked at how close it sounded to the studio where we had mixed it. I wouldn't hesitate to mix on this system in the first place—it's that good."
Taylor shared a similar opinion after the system was demonstrated to him using content that he had mixed.
"Earlier this year, I was invited to a demonstration of the new audio/video technology at the Netflix campus. I was led to a dark stage and sat at the console, then I was shown a clip from 'The Revenant.' Having mixed this film only a few years ago, I was very aware of how the spatial dynamics should be represented, and I was absolutely blown away by the quality of sound and picture," adds Taylor.
"Afterwards, they played 'Enola Holmes' and 'Dumplin,' which are Netflix films that I mixed more recently. Again, I was amazed at the quality and warmth; sonically and visually. When the lights came up, I was shocked to learn that the Sony solid screen was actually reflecting the audio from the Meyer Sound speakers that were right above my head. I had no idea they weren't behind the screen in front of me."
Both Sony Pro and Meyer Sound emphasize the system's design was a collaborative effort between Meyer Sound engineers, Ron Lagerlof of Visioneering, Ryan Hufford of RH Design LLC, and Studio 440 Architecture.
Additionally, Jimmy Fusil, director of creative technologies, Netflix, was project lead. Production Sound Technology Specialist Ozzie Sutherland and manager Scott Kramer also made contributions to the design and installation of the system in Netflix's Los Angeles campus.
If you enjoyed this article and want to receive more valuable industry content like this, click here to sign up for our digital newsletters!