Arlo Launches New Security, Home Automation Hub with Proprietary ArloRF
Arlo chases Nest Secure, Ring Alarm, Samsung SmartThings, Wink, Amazon and other IoT giants with new security system and home automation 'SmartHub' with proprietary RF technology. Launches at CES 2019.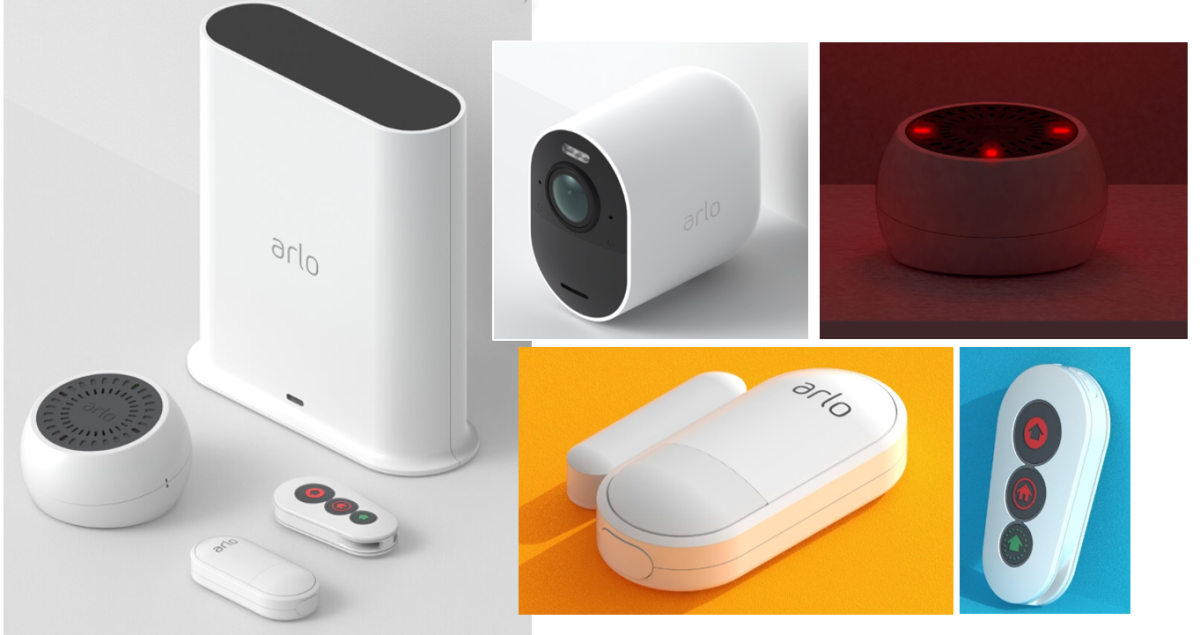 Julie Jacobson
·
January 8, 2019
Nest and Ring went from surveillance cameras to traditional alarm and home-automation systems, so why wouldn't Arlo follow? The newly public company (Nasdaq: ARLO), spun out of from Netgear last year, is launching the DIY-friendly Arlo Security System at CES 2019.
Anchored by the Arlo SmartHub, the system includes a new Arlo Multi-Sensor, Arlo Siren and Arlo Remote (three-button keyfob), and of course an app.
Oddly, the lightweight devices communicate to the hub via ArloRF, a proprietary two-way RF technology that provides "extended battery life and superior long-range wireless coverage, enabling hassle-free communication between the SmartHub and Arlo devices," according to the company.
We're asking around, but have yet to learn what RF technology Arlo is using, or even the frequency. A spokesperson does say it's the first time Arlo (or Netgear) has used this particular wireless technology.
The SmartHub used for the new security system is the same one required for the new Arlo Ultra 4K surveillance camera announced last November, creating a tidy ecosystem of surveillance, security and home automation.
Arlo says the hub will get Z-Wave and ZigBee capabilities later this year, which allow …
allow Arlo users to control a wide-range of "Works with Arlo" certified third-party smart home devices via the Arlo app, giving them one central monitoring and controlling touchpoint for a simplified smart home experience.
That's right, Arlo is rolling out a "Works with Arlo" program, aiming to become the home-automation hub and app for all, competing with the likes of Nest (Protect), Ring (Alarm), Samsung (SmartThings), Wink, Amazon (Echo Plus), Google Home (Hub), and countless others.
The company says initial Works with Arlo partners include Bose, Danalock, Jasco, Leviton, LIFX, Philips Hue, Schlage, Sonos and Yale.
Arlo Security: Still In the Dark
We still want to know:
What is the proprietary ArloRF technology? It's a lightweight protocol, right? To support sensors and keyfobs?
Will there be any local communications among ArloRF devices, or all hub/cloud-based?
Will "Works with Arlo" be a cloud-to-cloud designation? Will anyone else be using ArloRF?
And what about the Arlo Security Lights, which use Bluetooth (BLE)? How do they fit into the ecosystem?
So ZigBee and Z-Wave are coming? That means the SmartHub has 802.15.4 and 900 MHz radios?
Can the alarm system be professionally monitored?
Is there an option for cellular commuications?
Arlo Security Sensor and Sirens
Arlo's first security components include a Multi-Sensor and Siren. The sensor does more than most sensors … and even most multisensors.
The product "detects windows and doors opening and closing, motion, smoke and carbon monoxide alarms, water leaks, temperature changes and more for the ultimate piece of mind."
The sensor doesn't actually have built-in smoke and CO detectors, but it does recognize their distinct sounds and can trigger events if a third-party detector blares.
Arlo says the device can be programmed to "cross-trigger other Arlo devices, for example signaling Arlo cameras to start recording," but it is unclear if the sensors can communicate directly (locally) with the new Arlo Ultra camera, or if they must be processed in the SmartHub or cloud.
Ditto on the Siren. It does more than the typical siren, with its outdoor rating and red strobe lights, and does double-duty as an annunciator, for example, beeping if a door is opened.
The Arlo Remote is a standard alarm keyfob with two buttons that can be customized through the app.
So if the new Arlo Security and Arlo Ultra cameras require the new Arlo SmartHub, will the new ecosystem have to go through the cloud to communicate with other Arlo devices, including the new doorbell and chime?
Also, can this system be monitored by a professional alarm monitoring center?
It would be a good question to ask Arlo at CES 2019, but they are only holding private meetings in suites that I can't get to.
See all the Arlo press releases on the next page.
About the Author
---
Julie Jacobson is founding editor of CE Pro, the leading media brand for the home-technology channel. She has covered the smart-home industry since 1994, long before there was much of an Internet, let alone an Internet of things. Currently she studies, speaks, writes and rabble-rouses in the areas of home automation, security, networked A/V, wellness-related technology, biophilic design, and the business of home technology. Julie majored in Economics at the University of Michigan, spent a year abroad at Cambridge University, and earned an MBA from the University of Texas at Austin. She is a recipient of the annual CTA TechHome Leadership Award, and a CEDIA Fellows honoree. A washed-up Ultimate Frisbee player, Julie currently resides in San Antonio, Texas and sometimes St. Paul, Minn. Follow on Twitter: @juliejacobson Email Julie at julie.jacobson@emeraldexpo.com
Follow Julie on social media:
Twitter · LinkedIn · Google+
Julie also participates in these groups:
LinkedIn · Google+
Control & Automation
Nortek Security & Control President Mike O'Neal Departs; NSC Begins Search
Savant Shows HomeKit-Compatible Smart Circuit Breakers, Circadian Lighting
Product Briefs: Doorbird, Snom; Guardian Protection Services Changes Name; AudioResearch
Sonnen ecoLinx to Anchor New Illinois Sustainable Community
Control4 Unveils New Smart Home OS 3 Platform
View more on Control & Automation
Take Our Latest Quiz
How Well Do You Understand Ethernet Cables and Connectors?
Bose