Historic structures pose unique challenges for integrators trying to hide technology, and that goes especially true for this old American colonial home. Once a trading post for Harding, New Jersey, the house still had the same solid stone walls that it was first built back in 1782, and with this in mind the team at frayednot knew they had their work cut out for them. The clients wanted a full multiroom audio system along with network gear and video surveillance equipment, and it all needed to be done in less than three weeks on a budget of $50,000.
High Tech Helps High Tech in Lightning-Fast Install
The wall was always going to be the biggest issue when it came to working with the home's colonial architecture. In some areas, the stone went as deep as 32 inches, leaving little room for error when running wires. However, frayednot were no strangers to tough retrofits. Borrowing stone laser boring machinery, the team were able to make entrance points into the wall quickly and cleanly.
"This was once again another retrofit that we could not make any mistakes with our wiring paths, snaking expertise and abilities to pull wires to locations without any aftermath/patching/painting," recalls Constantinous Sandoukas, founder of frayednot.
In just eight days, the main house was fully wired, with cables running from a central distribution rack to televisions, Nest cameras, Parasound architectural speakers, and Araknis access points, as well as a multizone landscape system featuring speakers by Origin Acoustics by the pool and patio areas.
The team also wired a separate barn structure for cameras and Wi-Fi access points. That element came with its own unique challenge, Sandoukas describes, as the project had two separate internet service providers for the different buildings.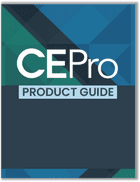 CE Pro's 2022 Product Guide showcases some of the latest and innovative solutions from manufacturers serving the custom electronics industry in a cross-section of categories.
Download the guide now!
The project required "lots of thinking, planning, with minimal time to waste," according to Sandoukas, but, in the end, the team was still able to come together to deliver an impressively unobtrusive retrofit and bring an old colonial home into the 21st century.