Celebrity homes can often be challenging for integrators due to the limited communication with the client, but Simply Automated in Pittsburgh recently completed a 5,000-square-foot home for NHL star Kris Letang of the Pittsburgh Penguins by simplifying its supplier selection.
Indeed, nearly the entire project for this high-end production was sourced from a single vendor: SnapAV. It's something that would have been impossible just a few years ago, and was certainly made easier to do following the acquisition of Control4 by SnapAV.
The new construction home was prewired under contract through the builder, and Simply Automated was brought in after Letang took possession of the home. Letang was looking for an assortment of technology, but nothing "over the top," according to Tom Pieracki, president of Simply Automated.
Strict Timelines Alleviated Thanks to SnapAV & Control4
Simply Automated was able to source all the equipment for lighting control, climate control, remote controls, video distribution, power management, audio distribution, equipment rack, loudspeakers, wiring, mounts, outdoor TV, and the home network from SnapAV and its brands of Control4, Araknis, Wattbox, SunBrite, Strong, Binary and Episode and Triad speakers.
Needless to say, using a single supplier enables any company to streamline its inventory, speed up the installation time, and hone any future necessary tech support. The entire project took a team of two technicians just over two weeks to complete. The only equipment not sourced from SnapAV on the job were a Screen Innovations screen, and a receiver, projector and two displays from Sony.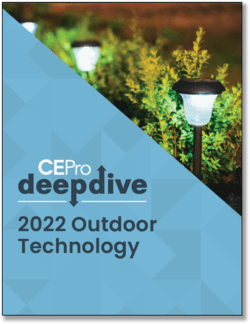 The 2023 CE Pro Outdoor Technology Deep Dive reveals unique set of impediments, including explaining pricing and interacting with outdoor-centric trades.
Get your copy now to take a "deep dive" into the trends and challenges of outdoor technology.
Download the report now!
"This project had strict timelines, which normally could create issues from a logistics standpoint. However, in this case with the exception of a few products, everything specified for this project was ordered through SnapAV/Control4.
"This made ordering a breeze. Working with essentially one company for one-stop shopping allowed us to order, track and receive parts much faster than having to work with multiple suppliers. As always, both inside and outside sales support was great," says Pieracki.
"We did encounter a few technical issues during the installation. In both cases it was taken care of quickly with product overnighted to us so we could resolve the problem quickly. This type of response is something we've come accustomed to working with both companies [SnapAV and Control4] over the years. They truly have the best support in the business."
Letang previously built a smart home in Montreal, and even he recognized the value of having of the project run more smoothly by having so many products sourced from a single supplier.
"Tom and the team at Simply Automated were great to work with. They are true professionals," says the six-time NHL All-Star. "It was great to have my entire home automation system completed with one manufacturer. The combination of SnapAV and Control4 makes the process much more efficient and simplified. The ability to have the Parasol 24/7/365 remote support brings great peace of mind to me and my family."