Over at the Origin Acoustics booth at CEDIA Expo 2019, Rayva is building a super-cool, prefab 7.4.2 home theater that would take two home-technology pros just 2.5 days to build themselves.
And also, the two companies and their partners are giving away over $100,000 in high-end A/V gear at the show. Whatevs. You can read the details in the press release below.
What we really wanted to know is:
1. What content are you playing and why?
4K clips on Kaleidescape, because it's the highest quality content and Kaleidescape is an amazing partner.
JJ: "4K clips." If I ever open a hair salon, I'm going to call it that.
2. What theater theme did you select and why?
Arpeggio. Rayva designed this theme with Origin in mind. Clean lines, efficient design and easily accommodates a variety of room sizes.
JJ: Mmmm … arpeggio. I love that cheese.
3. What is the most popular Rayva theater theme among customers?
Origami
JJ: How about a nice 'merican name for a theater? like Rootbeer?
4. When will you come out with a mid-century modern theme?
Which century are you referring to? Seriously, we are expanding upon our Mainstreet theme which has more conventional columns and textures to meet the demands of customers who request more traditional styles.
JJ: Pfft! Take me back to the 60s, baby.
5. How long would it take for an integrator to assemble the system in the demo room? The interiors are designed to be installed in a half day with 2 people.
The entire room with electronics and screen, 2.5 days with 2 guys.
JJ: Or 1.75 days with 2 chicks.
6. What would the end user likely pay for the set-up?
Estimated 40 man hours at whatever the local rate is plus travel.
JJ: 30 girl-hours.
7. Where in the world is Jeremy Burkhardt these days?
Jeremy is traveling the world, rock climbing, dirt-bike riding, and generally living his best life. He's involved in all the high-level planning and direction of Origin, so we see him quite often.
JJ: I hear he's going to show us his new CEDIA Fellows tattoo at the anointment ceremony.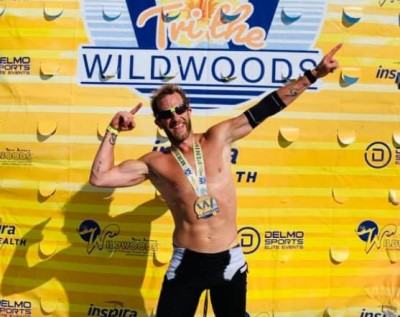 8. How does Marc Fisher have time to train for triathlons and sell so much Origin gear?
We can't figure it out either, he has a gift. A special combination of drive, commitment, and personality.
JJ: Seriously, that is some serious accomplishment right there.
9. Is there a science to matching up all the disparate pieces of the theater? What makes this combo of gear so good?
It's about working with suppliers with similar value propositions that focus on creating excellent experiences for their customers.
JJ: Hey, didn't I read that in a press release somewhere?
10. What are you doing for video in the Rayva room? A projector and screen, we presume? So what role is Nexus 21 playing in the space?
Nexus 21 is providing a projector lift, SI is providing a screen, and we're using a Sony projector.
JJ: I have this vision of the Nexus 21 lift dropping down to reveal … a shirtless Ryan Gustafson.
11. Do the winners have to shlep the gear home with them from Denver?
No! That would be a cruel joke. We will take care of the prizes after the show.
JJ: I knew that. Just giving props to my people with a little Yiddish.
12. Are editors eligible for the prizes?
Absolutely.
JJ: Someone's pants are on fire.
13. How do you like being back in Denver?
Denver is a beautiful city, we're all excited about being there.
JJ: All hail. #CEDIAForeverDenver
14. Next year, will you show us how a Rayva theater can double as a wellness space, toggling between relaxation, rejuvenation, focus … and movie time?
Absolutely, a few variables kept us from showing our designs this year, but with time to plan, next year will be exciting.
JJ: #Biophilia
15. How would you imagine the furniture layout in this hypothetical zen/entertainment environment?
Flexible and moveable. Anything from a Yoga mat, to a massage chair. We think a simple small sofa that could slide into place would likely find a home in our wellness room.
JJ: #CEDIAExpo2020

PRESS RELEASE

Origin Acoustics and Partners Present "The Rayva Experience" at CEDIA –Visitors can register to win over $100K in Gear!

CEDIA 2019, Denver, CO – August 26, 2019 Origin Acoustics and Rayva present The Rayva Experience at Booth #3837, with the generous assistance of AudioControl, AudioQuest, Fortress Seating, Nexus 21, and Screen Innovations. Origin Acoustics has organized The Rayva Experience at CEDIA 2019 to promote simplicity and profitability in the Dedicated Home Theater Category. This immersive theater experience demonstration includes seven chances to register to enter the raffles of over $100,000 in A/V gear to lucky winners on Thursday, and another on Friday.

The Rayva Experience is a first-hand example of Rayva's completely pre-engineered home cinema solution. This is an amazing opportunity to see and hear how premium installed A/V equipment can transform a room, to see just how in-depth and easy an installation from Rayva can be, and to recapture just a bit of movie-watching magic.

Rayva combines state-of-the art technology by participating AV partners with its own proprietary designs, acoustic specifications, engineering and design accessories. With Rayva, consumers enjoy movies, TV, video games, sports and music in turnkey, easy-to-use Home Entertainment environments. Rayva's solutions make selling Home Entertainment easy and profitable for AV integrators and reward the consumer with outstanding entertainment value.

The power efficient 7.4.2 Marquee Atmos Theater System by Origin Acoustics in the Rayva Theater Experience could be powered by any premium AVR to well beyond cinema required loudness, distortion free, without complicated processors. The Marquee Loudspeaker Collection was built for the highest performance with minimal power consumption.

By visiting The Rayva Experience or any of the partner booths and completing a short demo, anyone can enter the raffles – that's up to seven different ways to enter and win. The raffles will take place Thursday and Friday at 4:30p.m. at Screen Innovations (booth #3338) where we will raffle off over $100,000 in Home Theater Equipment, including a full Atmos surround-sound loudspeaker system from Origin Acoustics, a SI screen, Fortress Seating, and more. One lucky winner each day, with the grand prize being drawn on Friday.

AudioControl, Booth 1813

AudioQuest, Booth 3530

Fortress Seating, Booth 4101

Kaleidescape, Booth 2549

Nexus 21, Booth 3843

Origin Acoustics, Booth 3837

Rayva, Booth 3837

Screen Innovations, Booth 3338