In its previous quarterly report to investors, VOXX International (Nasdaq: VOXX) cited the chip shortage as the primary contributor to slower sales. For Q2, the company is citing the softening global economy as the culprit as sales fell 12% overall, and 9% for its Consumer Electronics division, which includes Premium Audio Company and its brands of Klipsch, Pioneer, Integra, Onkyo, Jamo, Pioneer Elite and several other brands.
Overall net sales in the Fiscal 2023 second quarter ended August 31, 2022, were $125.7 million as compared to $143.1 million in same quarter last year. That's a decrease of $17.4 million or 12.2%.
Specifically in VOXX's Consumer Electronics segment, net sales in Fiscal 2023 second quarter were $88 million as compared to $97 million one year ago, a decrease of $8.9 million or 9.2%. Narrowing down to its Premium Audio division that focuses on home audio, product sales were $69.2 million as compared to $76.1 million. The decline in Premium Audio product sales was primarily related to lower domestic sales of premium home theater speakers and wireless speaker products, and lower European sales. Supply chain constraints and the resulting chip shortages, along with a slowing of the economy and a decrease in consumer spending adversely impacted sales in the Fiscal 2023 second quarter, according to the company.
As an offset to these declines were higher sales of Onkyo and Pioneer products and higher sales from the Company's PAC Australia subsidiary. The year-over-year decline in other CE product sales was primarily related to economic conditions globally.
Commenting on the company's results and business outlook, Pat Lavelle, President and CEO, stated, "We entered Fiscal 2023 knowing it would be a difficult year given persistent supply chain issues, inflationary pressures and fears of recession globally. We anticipated weakness in our first half based on the availability of chips, our OEM customers' production schedules and lower inventory purchases by retailers, and we planned accordingly. During the Fiscal 2023 second quarter, however, global economic conditions worsened which led to a decline in discretionary spending and retailers taking further action to mitigate risk. These factors contributed to lower sales and operating losses to date, though we expect the second half of the year to be stronger and for VOXX to return to profitability."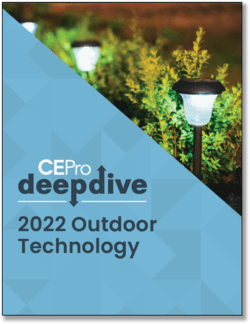 The 2023 CE Pro Outdoor Technology Deep Dive reveals unique set of impediments, including explaining pricing and interacting with outdoor-centric trades.
Get your copy now to take a "deep dive" into the trends and challenges of outdoor technology.
Download the report now!
Lavelle continued, "While market conditions will remain challenging, our optimism has not changed. Our Automotive segment is poised for significant growth in the years ahead given the volume of new OEM awards, most of which are in front of us. We expect continued softness at retail over the next several quarters, which impacts both our automotive aftermarket and consumer electronics businesses. However, projected OEM growth, the ramp up in Onkyo production and expanded distribution, and the new opportunities at EyeLock should offset market-driven weakness and lead to better performance. As the economy improves and supply chain constraints ease, we believe VOXX has significant runway for value creation. In the interim, we have taken aggressive actions to lower expenses in the second half of the year, some of which are short-term in nature, similar to what took place in the early stages of COVID, but many of which will be fixed, resulting in a leaner and stronger VOXX."