In its Fiscal Year 2023 Q1 report to shareholders, VOXX International Corp. (NASDAQ: VOXX), the parent company of Premium Audio Co. (Klipsch, Onkyo, Pioneer, Pioneer Elite, Jamo, and Integra), offers a glimpse into the depth of the supply chain problem that manufacturers are facing.
According to Pat Lavelle, president, and CEO, in some cases, the lead time to obtain component parts for the company's consumer electronics products is as much as 42 weeks. That's 10-and-a-half months for those of us who might be mathematically challenged.
"During the Fiscal 2023 first quarter, we continued to experience supply chain issues though the biggest impact was the lack of chips which directly impacted our automotive OEM and aftermarket business. Retailer buying also slowed in March given high inventory positions which impacted sales in our Consumer Electronics segment," says Lavelle.
Overall, the company had revenues of $128.7 million for Q1 ending May 31, 2022, as compared to net sales of $137.1 million in the Fiscal 2022 first quarter. That is a decrease of $8.3 million or 6.1%.
Specifically related to its Consumer Electronics segment, the company had quarterly net sales of $88.9 million as compared to $94.1 million in the comparable year-ago period, a decrease of $5.2 million or 5.5%. For the same comparable periods, Premium Audio Co. product sales were $69.9 million as compared to $71.6 million, with the decline primarily attributable to lower sales of premium home theater speaker systems.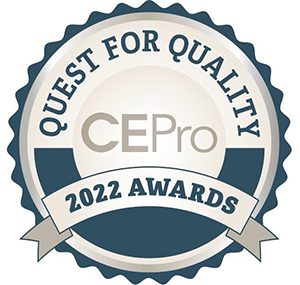 CE Pro urges integrators to recognize their suppliers that go above and beyond to deliver premium support and service. Cast your vote today to recognize the services (not the products) from your favorite manufacturers and distributors.
Cast your vote today!
"We are watching this closely, and we'll adjust purchasing schedules to keep pace with consumer sentiment."

— Pat Lavelle, President & CEO, VOXX
Lavelle says the downturn was largely due to lower buying by big-box retailers, who cut their inventory levels after they had weak sales in the first three months of 2022.
"We are watching this closely, and we'll adjust purchasing schedules to keep pace with consumer sentiment," adds Lavelle. He said demand for Onkyo and Pioneer products has remained strong.
He says the company took steps to secure necessary components last year, some of which had the aforementioned 42-week lead times. That product is due to come in at the end of the summer and Lavelle believes that will position the company to ramp up production and grow revenues.
"Near term, the addition of the Onkyo, Integra Pioneer, Pioneer Elite, TEAC, and ESOTERIC electronic brands should help offset any pullback by the consumer and we expect to significantly grow our overall audio business. In addition, over the next two quarters, new product launches should trigger an increase in demand for Klipsch and Jamo products as we will be introducing all new models across several categories, including our new reference line, Jamo home theater systems, portable speakers, sound bars, and subwoofers," he told investors.
The news is not as good for the company's automotive sector. Lavelle expects chip shortages to last "well into 2023." He said the auto industry is on track to produce just 13 million to 14 million cars, which is a level that has not been seen since 2011. Among the tactics VOXX is taking is moving more production to Mexico due to increased labor costs in the U.S.