LG Electronics continues to give video customers the best of both worlds – premium OLED and LED flat-panel displays and even bigger options of 4K projection. For the latter option, the company offers a range of solutions and budgets providing theater-scale 4K Ultra HD images while adding in smart home and built-in streaming capabilities.
I've had the luxury of evaluating some of LG's projector options – from a highly portable 1080p option to the premium ultra-short-throw 4K laser model and in between. One of the newest models is the LG CineBeam HU710PW 4K UHD Hybrid Home Cinema Projector, which at $2,499 falls in the middle of that range, and I spent time with it recently.
Like others from LG, the HU710PW can sufficiently function as an all-in-one video bundle, incorporating popular streaming services access, local file storage/server access, built-in Internet browsing, screen share casting from Android devices, and Apple AirPlay 2 and HomeKit capabilities, and more.
It also has advanced picture calibration settings and the ability to serve up stunning images of around 300 diagonal inches from its hybrid laser and LED light source.
My overall takeaway is that for the price and performance, the HU710PW is an absolute bargain. Let's dig into some of the reasons why.
In this updated Wage & Salary Report, you'll find out results for salaried occupational categories broken down by 14 regions of the U.S. & Canada. Uncover valuable information about where your company stacks up when it comes to paying your important people by
downloading your free copy today!
LG HU710PW Features & Setup
Out of the box, the projector comes in a white chassis and is built like a tank. For installation purposes, integrators should know the chassis is rectangular but deeper than it is wide (it's 10.2 x 4.8 x 15.3 inches W x H x D, and just over 14 pounds). I've evaluated projectors of all shapes and sizes, and some fit better in my home theater setup than others. The HU710PW worked out well and even looks nice out in the open if it can't be ceiling mounted.
Unlike some projectors that have a gently curved chassis, this one has sharp edges and corners, and a matte finish, with the lens slightly off-center. The zoom and focus knobs are hidden under a slide-out hood right above the lens, and I liked how LG incorporates the concealment, perhaps a minor detail but underscores such considerations.
Probably something that could not have been avoided, but know the power cable is like a small brick. Fortunately, I had enough slack in length from the cord to the outlet to keep it from dangling.
For connectivity, along with the power port, the rear panel offers three HDMI ports (one HDMI 2.1 and two HDMI 2.0); two USB ports, through which users can connect keyboard/mouse/gamepad; a digital optical audio output; and RJ45 LAN.
It generates virtually no noise, and I sat watching with my head almost level with the projector and used its rather good built-in 10-watt (5W + 5W stereo) speakers. Compared with other projectors the fan did not interfere, so as noted it would fit even on a table beaming at a screen or wall (I did use eco mode, which is a couple of dB less than high brightness mode).
LG also provides Bluetooth audio support, so besides connecting with the digital output, users could pair it with Bluetooth speakers or, perhaps if they don't want to disturb others in the house, appropriate headphones.
Unlike LG's 1080p portable projector I recently reviewed that came with a plasticky remote, this CineBeam model bumps it back up to the company's sweet Magic remote I was familiar with from past projectors.
It's more of a point-and-click style remote that would be intuitive I think for younger users and might take a little getting used to for older viewers – but it is loaded with convenience, efficiencies, and features that complement the projector's wealth of options.

Indeed, the options overload is something I consider to be a major plus of LG's projector products. I've noted previously about the home screen navigation and here, too, tons of video services, web browsing, connected media storage access, and more are at your fingertips in well laid-out fashion. The only component I connected was a Sony Ultra Blu-ray player, but I've used portable hard drives in the past and found that content very accessible from LG projectors.
I had placed the unit about 11 feet from my Elite Screens 92-inch 2.35:1 screen, which it filled nicely as I worked with the manual focus and zoom. LG provides lens shift of +/-60% vertical and +/-24% horizontal. It also offers digital keystone correction that goes from basic to more granular with 4-, 9- and 15-point warping edge adjustment – I played around with some of the left-side points in the 15-point onscreen adjustment to dial in the image and appreciated the level of selection there.
LG HU710PW Performance & Conclusions
Like other LG projectors, as mentioned performance is strengthened by versatility and that includes the aforementioned Magic remote. There are quick buttons to go straight to webOS 6.0 services such as Netflix, YouTube, Amazon, and Vudu, and giving the remote a little shake triggers the backlighting so you're not lost using it in a darkened room.
Enlisting the ellipsis (…) button brought me to several interesting picture options for the projector (or Blu-ray functions, since the remote "learned" my Sony remote). Functions included LG technologies such as Adaptive Contrast (high, medium, low, off); TruMotion (off, cinematic movement, natural, smooth movement, user selection for de-judder); and HDR Tone Mapping (on/off).
I found these mainly to be a matter of taste and mainly kept them off except for HDR Tone Mapping, which seemed to add to the projector's HDR10/HLG high dynamic range capabilities. I tend to turn of TruMotion type processing, which I find very unnatural looking as much as it smooths out fast-paced and panning images.
Hitting the button on the upper right of the remote, I dug into some uber settings. HDR Picture mode (standard, cinema home, cinema, game optimizer, filmmaker, brightest, vivid) let me see which presets worked with various video content. Overall, I have to say I preferred the filmmaker mode, which appeared the most natural to me and I kept coming back to. I used brightest and vivid at times, especially when I had some ambient light in my room, but overall filmmaker mode delivered the best combination of brightness, sharpness, and color.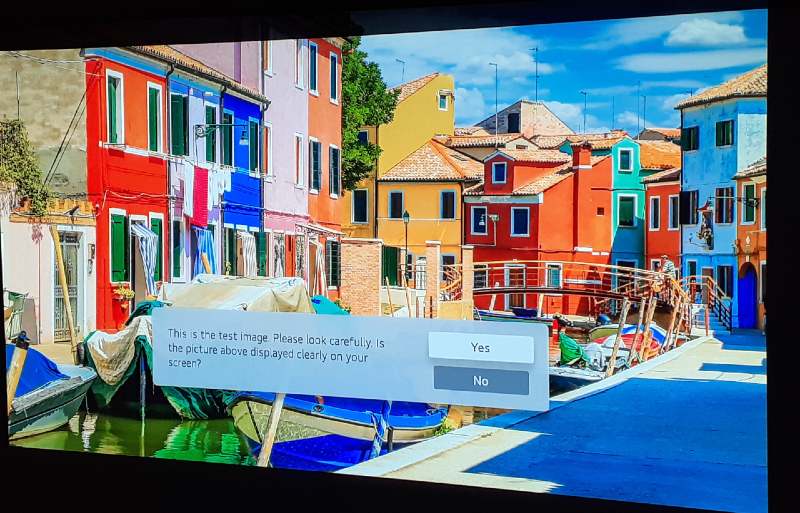 LG specs the HU710PW's hybrid laser LED light source to produce 2,000 ANSI lumens of brightness, and I think that contributed to being able to enjoy filmmaker mode on essentially all content even with some ambient light.
Other settings from that Magic button included: sound out (projector speaker, Bluetooth device, optical out the device, HDMI arc device, optical out device plus projector speaker); game optimizer; sleep timer; network settings (I had connected to my Wi-Fi just about the first thing after initial projector boot-up); PJT Mode (how it's installed, so there's flexibility if ceiling mounted vs. table mounted, for instance); and "all settings" to drill down into more picture tweaking.
Before I discuss picture quality performance, one more nugget from the settings that seemed to validate what I was seeing from Netflix, YouTube, Disney+, and UHD discs. I clicked on LG's screen "self-diagnosis" feature and it brought up a beautifully colored image of houses on a canal and asks if it is being displayed clearly – a rainbow of colors, house textures, brick, roof detail, crisply visible antennae, and more.
I clicked and it showed an edited full HD pic side by side with UHD and you could see how much more natural detail was in the UHD image on the right vs. the full HD one that appeared smeary in places.
Indeed, the 4K HDR images produced by the HU710PW were brilliant. I started with some YouTube nature relaxation videos of New Zealand mountains, meadows, and flowers, followed by a video showing eight hours' worth of different birds and backgrounds.
The former highlighted how even distant images are rendered with strong detail like contours, cracks, and outlines that viewers will notice, giving pictures more depth and realism. With the birds, I was struck by how many differences you could see in the layering, textures, and colors of various species' feathers, for instance, including the gradations of black feathers.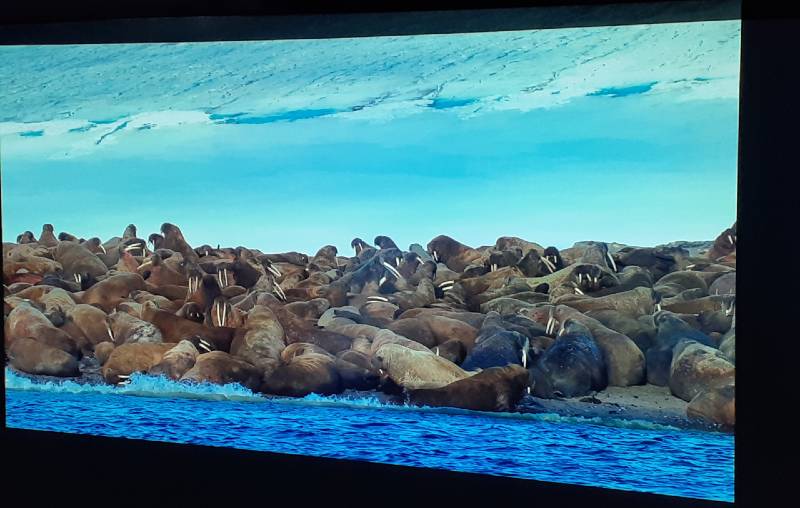 Also on the nature examples, I used BBC Earth's Oceans: Our Blue Planet Ultra Blu-ray disc, wanting to see potentially troublesome water effects that I've noticed plenty of noise and artifacts with other displays.
The LG projector delivered countless blue gradations of the water, plus all the textures from the waves, ripples, and sunlight penetrating the surface … it passed the test with flying colors.
Even scenes showing hundreds of animals managed to look fantastic because of all the detail – a scene with dolphins swimming and splashing in a pod didn't suffer from motion judder or pixelation; another scene with a herd of walruses was fascinating to view on a large screen as each animal was well defined down to detail in their tusks, leathery fur wrinkles, and incredible variations of browns.
Shifting to Netflix, I watched the first episode of the current Stranger Things season 4 and was thoroughly impressed by the microdetails and inky, well-saturated colors. For starters, all of the textures of different clothing materials, from wrinkled white t-shirts to denim, to colorful blouses and button downs, basketball jersey shimmer, sweater stitching, etc., highlighted the depth and realism of the images.
Additionally, the way the episode is filmed with so many closeup shots, I was amazed at how well the LG HU710PW does it lot of justice where other displays could miss the mark – the facial features like natural skin tones, eye makeup, lipstick, little pimples, and blemishes, shave marks on chins, hair waves, eyebrows – these little things capture the essence of what 4K projection is all about.
I found similarly sharp and lush imagery while watching Star Wars: The Rise of Skywalker – and scenes such as Rey's Jedi training in the jungle particularly popped with vibrant colors – and Disney+ shows such as The Mandalorian and its rich assorted landscapes.
Overall, viewing big-screen content on the LG HU710PW was pure joy, and using the myriad options afforded by the projector just adds to the experience and its value proposition. I even tried out features such as the voice control button on the remote (which surprisingly worked well when I asked for "Obi-Wan Kenobi") and search functionality of the streaming services (looking for "John Cusack" brought up several options, with the service icon letting me know which platform they were available on) that savvy owners can take advantage of too.
With the DLP laser LED hybrid light source rated to deliver up to 20,000 hours, the LG HU710PW stands to provide videophile customers years of great 4K HDR viewing pleasure. With its flexibility and versatility, easy navigation and streaming content access, LG has truly hit a home theater home run.
LG HU710PW Projector Manufacturer Specs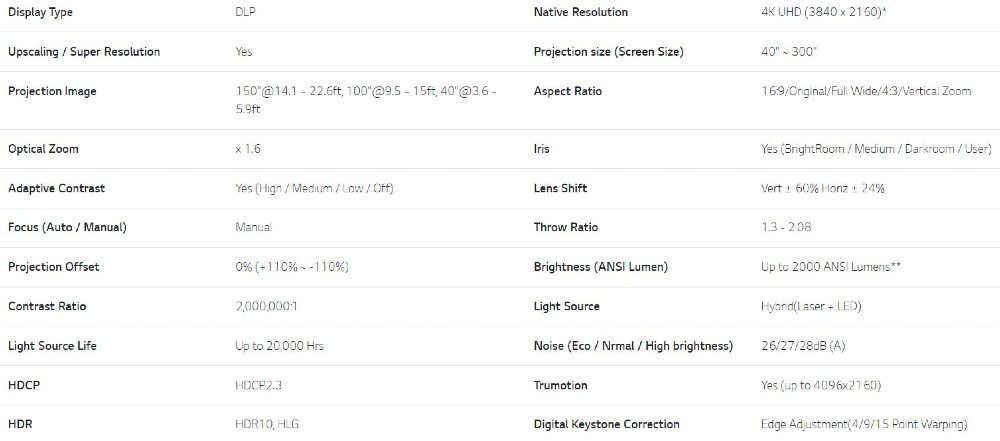 CE Pro Verdict
Pros: Excellent 4K HDR image detail, vibrant colors, realism; webOS 6.0 access to popular streaming services; navigation via Magic remote and home screen is simple
Cons: Depth and shape of projector needs to be considered if not ceiling mounted; same with stowing power brick