Carrying a compact, lightweight projector from one room to another is quite a bit easier than hauling a 65-inch, 45-pound TV. At least, that was one of the premises that attracted me to review the PF610P projector from LG.
The display manufacturer bills the unit as the PF610P Full HD LED Portable Smart Home Theater CineBeam Projector, which is a mouthful but calls out important traits for integrators and customers to know off the bat. No, it's not a 4K projector, it's a 1080p model; the LED light source speaks to its long lifespan; like other LG products it offers a smart ecosystem; and it's very portable indeed.
I saw the projector as a good opportunity to review more so from a user-friendliness perspective – namely in comparison to budget smart TVs as this is a budget projector – than comparing it with recent 4K projectors I've evaluated. After spending time with the sub-$800 CineBeam PF610P, it was easy to find the appeal in what could be considered a portable smart TV … one that can produce a whopping 120-inch image.
LG CineBeam PF610P Features & Setup
LG crams a lot of technology and functionality into this projector, which measures only 8.9 x 7.6 x 2.7 inches (W x D x H) and weighs just 3.7 pounds. The CineBeam PF610P ($769) won't take up much room no matter where you place it, and for starters I paired it with the Elite Screens motorized screen about 9 feet away in my multipurpose media room.
The company specs the projector's DLP 4-channel LED brightness at up to 1,000 ANSI lumens with 150,000:1 contrast ratio, able to produce images between 60 and 120 diagonal inches. It offers a 1.195 throw ratio with fixed optical zoom and no lens shift feature, however. So the portability factor is key – it works well with or without a projection screen and does not even need to be a permanently installed solution.
In this updated Wage & Salary Report, you'll find out results for salaried occupational categories broken down by 14 regions of the U.S. & Canada. Uncover valuable information about where your company stacks up when it comes to paying your important people by
downloading your free copy today!
Toward that end, LG really turned this unit into an all-in-one entertainment hub type of fun projector. The rear panel of the CineBeam PF610P incorporates power, RJ45 LAN connection, two USB ports, optical digital audio out, two HDMI ports and 3.5mm/wired headphone out. But with wireless connectivity, built-in 6-watt speakers (3W + 3W stereo) and features such as Bluetooth support, you can set this up as I did without attaching any source components and only require a power outlet.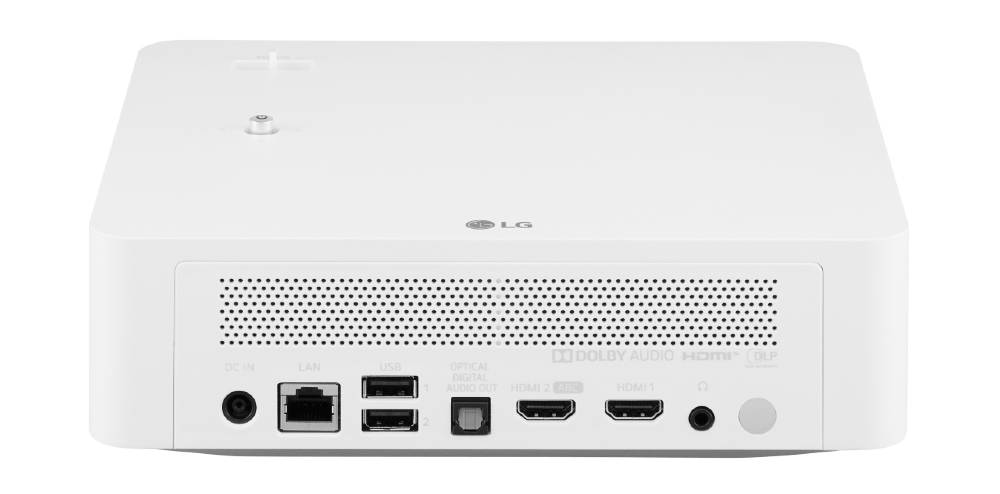 Like a smart TV, the smart projector fires up virtually instantly when it's powered on and makes very little fan noise (24dB in eco mode). The LED light source, which LG says provides up to roughly 30,000 hours' lifespan, aiding the quick bootup and its quiet operation are good for the plus column when considering the PF610P for daily usage and potential placement near seating.
To get started, I first went into the network settings and connected the projector to my Wi-Fi. For this and other operations, I employed the included remote, which features many buttons streamlined to access functions, settings and features that you can also navigate from the on-screen home page and various menu sub-pages. It's a lightweight, button-filled traditional remote instead of LG's mouse-like point-and-click Magic Remote offered with step-up models, but it's easy to use especially when you're familiarized with its layout.  
The same can be said of all the myriad operations and settings available via the on-screen interface. There is a lot of navigation to be had, whether it's selecting from the supported streaming services, downloading new apps for even more entertainment, tweaking video and other projector settings, sorting through content from any connected devices (I plugged in via USB an external drive filled with photos and music), using the web browser and more.
Indeed, LG provides a glut of options, furthering the appeal of the CineBeam PF610P as a single-box hub – and I did not use other supported features such as Apple AirPlay 2 or the wireless mirroring via MiraCast to engage more content on the device.  
In terms of picture settings, integrators and owners can adjust as little or as much as they'd like – LG provides a wealth of basic and advanced menu options. On the simplified side, the first thing you'll encounter are quick picture mode selections – vivid, standard, cinema (user), sports, game, HDR effect, brightest, expert (bright room), expert (dark room).
When I used the projector with ambient light in daytime hours, I found the bright room expert setting best, while in a dark environment I liked being able to adjust how I wanted to in cinema mode. When you click on the mode, it leads to a sub-menu for contrast, brightness, sharpness, color, tint, color temperature adjustments; advanced controls; picture options; the ability to apply to all inputs and to reset.
Within the advanced menu, users can really dial in the image with options for: dynamic contrast (off, low, med, high), super resolution (same, make blurry or difficult to see areas more vivid), color gamut (extended/auto), gamma (1.9, 2.2, 2.4, BT.1886), white balance – which takes you into another sub-menu for method (2 points, 10 points IRE, 22 points IRE), point (high/low), RGB, color management system (color to be adjusted – then saturation level, tent, luminance). I mainly left these alone though I was intrigued by the super resolution processing, and found it worked well with landscape details on YouTube nature videos.
LG CineBeam PF610P Performance & Conclusions
So speaking of YouTube, it's one of the many content areas to explore with the smart projector. I wanted to dive in more to the overall navigation and functionalities in the "performance" section here, because while the picture quality is as solid as I've come to expect from LG (especially for a budget projector), the usability experience is a major part of the enjoyment.
One thing that impressed me is that there are just so many ways to poke around this projector.
For starters, understand the main home page splits between two navigation bars. The bottom nav has divisions for accessing the recently used areas, followed by LG content (a large directory of streaming services), Prime Video, Disney+, YouTube, AppleTV, web browser, photos/videos, and music – followed by access to edit and settings.
The edit button can be very powerful to customize and simplify your navigation – as it shows, the Intelligent Edit will let you rearrange what apps are shown; it defaults to most frequently used first.
Then there's an "add YouTube channel," so I added a couple of popular ones (NBA, Universal Pictures) that happened to be listed, and as soon as I clicked add, they showed right up on the bottom nav bar; very convenient.
From Intelligent Edit, I could select the apply button to change the order if I didn't want them based on recent frequency of usage, and also reset the data usage.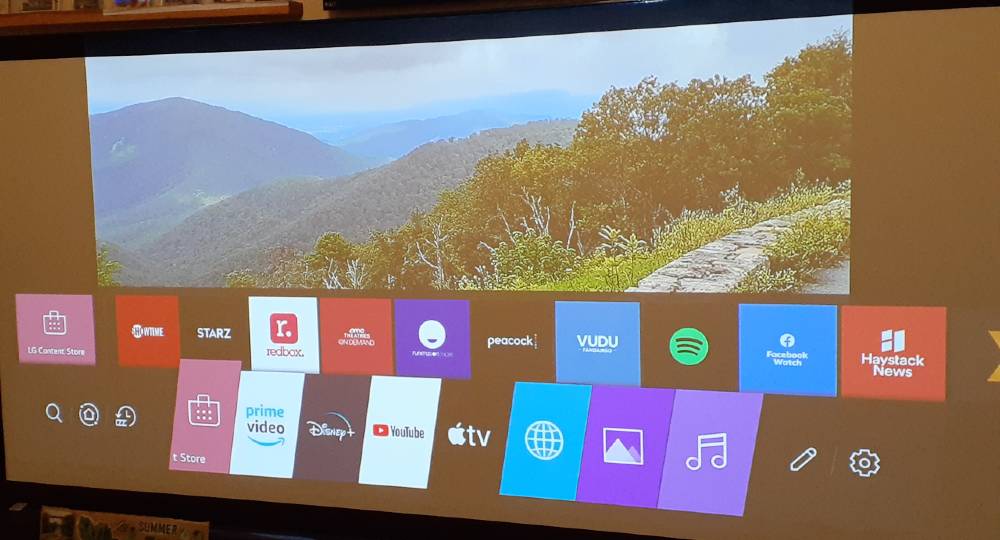 The top bar is more of a quick drilldown into each of the bottom nav's options … so for LG content it showed a list of "hot" apps; for Amazon Prime Video it listed several videos to choose from, same for YouTube, for instance.
One thing I'd say is LG's content menu system makes it really quick to switch between apps – I could be playing something on Disney+, hit the Home button on the remote and get right to the huge menu of options leading to YouTube, or my photos/videos, music (Spotify is among the supported apps), etc.
There are also quick-launch buttons on the remote that aggregate some supported services to search movies and TV shows in the currently used app, or show app icons on the content graphic denoting where said movie is available (both the Prime Video and Vudu icons for "Ghostbusters: Afterlife," or AppleTV + icon for "Greyhound," "Sing 2," for instance); plus you can search Apps, Music and Photos.
Meanwhile, after I connected my external hard drive I had a good time scrolling through the photos and music menus too. It's a very different perspective seeing family photos, vacations, pet pictures and more with a roughly 100-inch screen, and LG makes playing slideshows with background music a streamlined task. There are multiple ways you can sort folders and files on an attached storage drive to aid your navigation; I was pleased the projector could playback my FLAC and high-res FLAC24 files.
Further on the sound front, the Bluetooth support benefits those who might want to pair it with Bluetooth speakers or headphones. In a multipurpose media room, that works well for gamers and anyone who might want to enjoy a movie or sporting event late at night without bothering others in the house. Or you can connect wired headphones/earbuds via the 3.5mm jack.
Given the range of platforms I used and varying degrees of content image quality, the CineBeam PF610P served up a consistently good picture. The projector produces nicely saturated and natural colors, smooth panning and motion delivery and good black level detail and definition.
The Blu-ray disc of "Crouching Tiger, Hidden Dragon" when I connected my Sony UHD played rendered well, for instance, as one I often test for darker scenes. The colors of "Up" in the Pixar Blu-ray were nice and punchy, as were those for shows such as "Squid Game" and "Cobra Kai" on Netflix. Disney+ content looked fantastic, whether it was a history show on Nat Geo, rugged cinematography of "The Mandalorian" or CGI effects and fast-paced scenes in Marvel movies.
No, it's not a 4K projector, but LG's CineBeam PF610P is a bargain big-picture performer and offers much more as a highly portable smart display and entertainment hub. Fill up a secondary or multipurpose media room wall, or when the weather allows bring it outside for a backyard movie night.
LG CineBeam PF610P Specs

CE Pro Verdict
Pros: Access to wealth of content services and apps; Wi-Fi, internal speakers assist all-in-one big-screen entertainment hub; solid color and detail; highly affordable projection
Cons: Native 1080p not up to modern 4K; lack of zoom or lens shift capabilities