LG Electronics makes an array of impressive video products, and in the past few years besides the picture quality they're also big on smarts and convenience. I've had the opportunity to review or see at tradeshows several in action firsthand, and my recent time with the AU810PB 4K Smart Dual Laser CineBeam Projector illustrates how the company continues to distinguishes itself.
My entrée into 4K home theater projection came via a couple of products that would fall under the more "entry-level" label, though very capable. The two 4K LG projectors I've used in my own home theater system – the fantastic ultra-short-throw HU85LA unit and now the AU810PB – underscore the benefits of going a step or two above entry level.
Of course, another benefit of taking that step up with an LG product is the company's experience and evolution of its intelligent webOS platform and interface that bolsters the AU810PB with the type of streaming services accessibility and navigation of a smart TV plus other functionalities.
LG AU810PB 4K CineBeam Projector Features & Setup
This projector is a solidly constructed product, you can feel its heft at just over 24 pounds, and with its sharp lines has an aesthetic that works well in a blend of interiors. It is rectangular but compact and not nearly as deep as the ViewSonic X100-4K LED projector it replaced in my review queue; it was also smaller than a BenQ model I tested out.
It fit much better in my setup, but LG provides for installation flexibility with plenty of vertical (+/-60%) and horizontal (+/-24%) lens shift capabilities. Also, the dual laser light engine LG projector emanated much less fan and other noise.
I was able to easily align the projector image with my 92-inch Elite Screens 2.35:1 motorized screen. The manual adjustments for lens shift, zoom and focus made things relatively easy for me to zoom and fill my screen when I wanted to go from 16:9 to 2.35:1 depending on content.
Plus, in the projector's video settings, you can tweak the aspect ratio of the picture using the remote control to do vertical or four-way zoom that adjusts positioning vertically, horizontally and diagonally.
Note that vertical and horizontal lens shift knobs are on the side panel near where LG placed the unit's offset lens. If I look at the projector, the adjustments are on the right side, which was pretty tight next to my AV receiver at first; thanks to the horizontal lens shift I moved the AU810PB and create more space to squeeze my hand between the components to make adjustments more comfortably.
Like others, the projector offers many preprogrammed video settings with preset levels of brightness, contrast, sharpness, color, tint, color temperature; plus LG provides many advanced controls and extra settings/options. In LG's case, HDR picture modes include Standard (user), Vivid, Cinema Home, Cinema, Game, Filmmaker Mode and Brightest. I stuck with the Standard, where I found the defaults almost exactly to my liking with some slight adjustments to lower the brightness and up the sharpness.
LG understands that integrators are putting projectors into more home environments, and incorporated its Brightness Optimizer technology that enables you to further account for bright/dark room conditions. You can choose between bright/medium/dark iris mode settings and high/medium/low adaptive contrast, which LG says adds more depth to the image by adjusting the laser output to boost contrast.
Beyond that, integrators can dig deep into the AU810PB's picture settings to calibrate more precisely. The Picture Options menu allows you to set levels of Noise Reduction, MPEG Noise Reduction, Smooth Gradation, Black Level, Real Cinema and TruMotion processing. I typically turn these things off or to low for more natural presentation and that remained the case in my experience here; I always turn off motion processing at my first sight of weirdly sped-up-looking images.
Meanwhile, the Advanced Controls menu lets installers do the same level adjusting for areas of Dynamic Contrast, Dynamic Tone Mapping, Dynamic Color, Color Gamut, Super Resolution (which LG says helps clear up blurry images) and Gamma. I kept these features mainly on low and the Color Gamut at extended versus the auto option.
For additional video settings, you can also turn on/off HDMI Ultra HD Deep Color, Instant Game Response and Filmmaker Mode Auto Change. I set these all to 'on' and even though I realized there would be a big difference, toggling the Deep Color just validating why it's important to ensure this setting is on.
Note that LG also includes pre-set CalMan software so pros can connect to a PC and program calibration in roughly a half hour, according to the company.
LG AU810PB 4K CineBeam Projector Performance & Conclusions
My theater room actually doubles as the display in my home office, so I was using the projector during both daytime and nighttime hours and varying degrees of ambient light potentially impacting performance. There are a couple of windows, one with complete blackout shade and the other covered by blinds that let in some natural light.
It really didn't matter, as mentioned earlier, the LG unit showed benefits of buying a step-up projector and here, the laser light engine was great creating an image that looked solid during the day and stellar as the room darkened.
---
LG AU810PB 4K UHD CineBeam Projector Specs:
DLP dual-laser light source, 20,000+ hour life

Native 3840 x 2160 resolution
Vert ± 60% Horiz ± 24% lens shift
1.3 – 2.08 throw ratio; 40-300-inch image; x1.6 optical zoom
Up to 2700 lumens brightness; 2M:1 contrast ratio
Built-in 10W (5W+5W) speakers; WiSA-ready wireless dongle included
lg.com; $3,999 MSRP
---
In a nutshell, the performance of this step-up 4K projector versus previous entry-level UHD models I've spent time with earn their keep in areas like image processing, sharpness, smoothness and color accuracy overall.
High Dynamic Range (HDR) content looked striking, aided by LG's dynamic tone mapping capabilities; while clarity of the 8.3-million pixels allowed for very small-scale details – like hikers traversing mountains or the flowing waterfalls taken from distant aerial cameras in the 4K (and even 8K now) YouTube nature videos I love watching – to make more visual impact than mere background blurs.
LG's webOS 5.0 platform provides easy access to services I use quite a bit, especially for 4K streaming content, such as Disney+ and YouTube. If you're familiar with LG's ecosystem, you can also engage the projector interface as a dashboard for connected home activities, and other streaming channels plus the ability to do screen share via Miracast.
I did a lot of YouTube viewing via the projector and through my connected Sony Ultra Blu-ray player, which I also used for Netflix, which offers some 4K content, and disc-based UHD plus legacy Blu-rays and even DVDs since I still own many of those.
As alluded to, I noticed an immediate difference compared with previous, more budget-minded 4K projectors when I began watching the stunningly shot flyover videos showing aerial footage of Iceland, Scotland, Norway, Africa, etc., on the Scenic Relaxation YouTube channel. The other projectors were solid for the price but the LG AU810PB just took things to another level.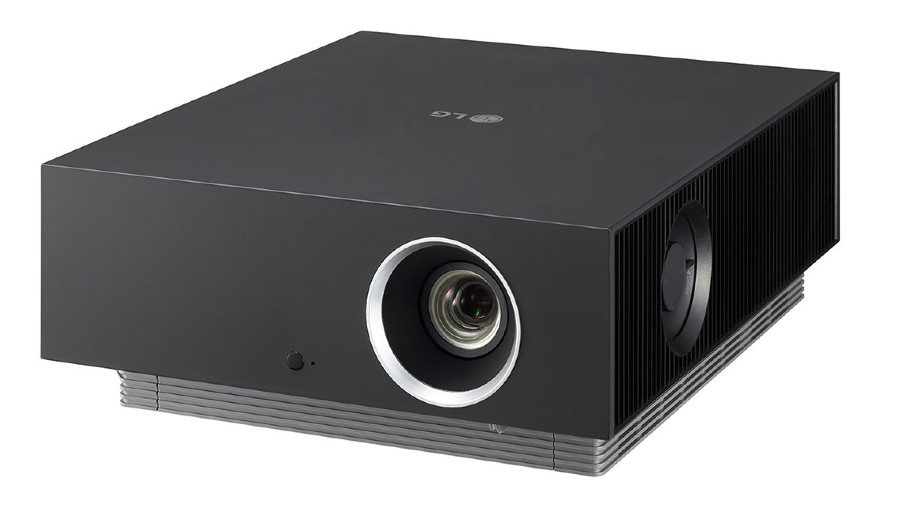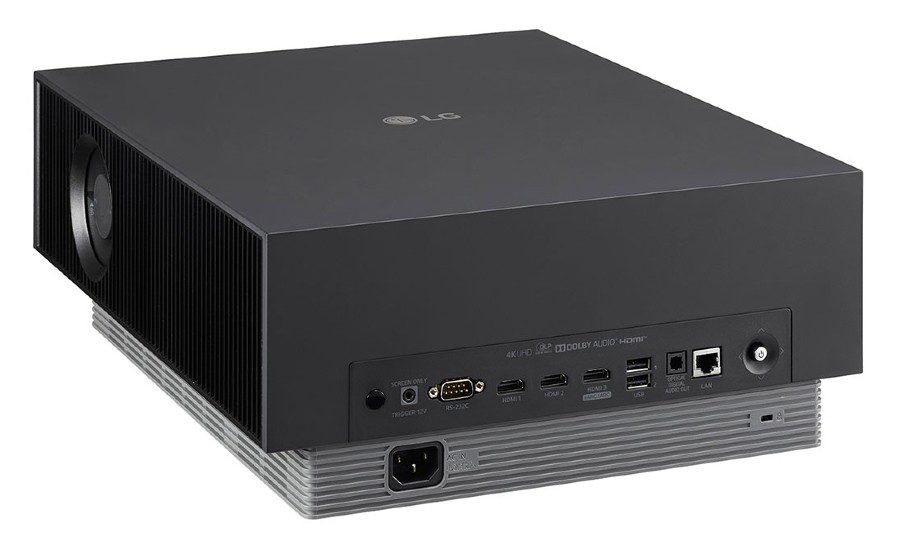 The landscape color spectrum of browns and greens among the various vegetation and rocks/mountains was impressively rendered. Combined with the depth and microdetail from the landscape features and textures that are magnified on a 92-inch screen, those videos looked jaw-dropping (integrators should subscribe).
On 4K Netflix content, the opening scene in a season 1 episode of "Stranger Things" showed the boys trying to figure out what to make of Eleven as she sits on a 1970s-type of couch; there are so many brown/yellow family colors and different fabric textures, but the set decoration pops instead of turning into a muddy mish-mash.
Another opening scene that I like to use, to a season 3 episode of "The Blacklist," on Netflix, has fast-moving aerial shots of a cityscape; plus black detail gradients on cars, uniforms and weapons as part of a shootout. The projector showed it all smoothly with high levels of detail and sharpness for a fast-paced action scene.
The entry-level projectors fell short on processing to fully keep up with panning/moving footage like the nature videos and "Blacklist" scene, and the LG model resolved details that were softer or looked more pixelated via those models.
I was struck by how sharp and punchy older DVDs I own like "Goodfellas" and "What About Bob?" looked, and 1080p Blu-rays were almost as stunning (it always depends to an extent on the original source quality) as Ultra Blu-ray. For the latter, scenes like Rey's jungle training and the final battle from "Star Wars: The Rise of Skywalker" felt wonderfully immersive via the AU810PB.
Another LG differentiator is that the unit also provides for some audio design flexibility. If it's going into a smaller secondary room, the built-in 10-watt stereo speakers might suffice. Of course, integrators will likely pair the projection system with a surround-sound system for home theater, and LG facilitates a potentially simple 5.1-channel option with its WiSA (Wireless Speakers & Audio) Association support and WiSA Ready dongle. The AU810PB also has a S/PDIF audio output.
For integrators who like to highlight the differences between good/better/best types of solutions, LG's projectors provide demonstrative visuals and will please videophile customers in whichever room they'd like to add some big-screen fun.
---
CE Pro Verdict

:
Pros:
High level of detail, color accuracy/gradation, clarity and vibrancy of images; efficient, quick and quiet operation; sleek and pleasant aesthetics of projector to blend

i

n.
Cons:
Price as step-up solution might limit client pool
post