I remember judging our BEST Awards entries last year and, being in the market for a 4K projector, ViewSonic's X100-4K stood out. The company always seemed like more of a commercially focused brand — I've been impressed by their booth at InfoComm shows — but the specs on the home theater projector ViewSonic had entered caught my eye in terms of being fully featured and highly affordable. 
As it turns out, I must not have been the only one. Even though the product did not win the CE Pro award, when I inquired about reviewing it I was told it could be a while because early units were being snatched up quickly for demos and sales. 
Eventually, the X100-4K arrived and after spending time viewing the LED 4K Ultra HD projector, I can see why it's been a hot item for ViewSonic. As an entry-level priced solution, it provides attractive big-screen entertainment option for integrators who are outfitting today's multipurpose media rooms, rec rooms and dedicated theaters at a range of budgets. 
Features & Installation
At a street price of less than $1,900 at press time, you'd be hard-pressed to find a projector that offers much more for dealers and their customers in terms of features and setup. For starters, the X100-4K employs a DLP LED light engine, so customers need not worry about replacing lamps and they should expect the projector to operate for many years based on specs estimating lifespan up to 30,000 hours (maximized if using the eco brightness setting).
ViewSonic states the projector offers 2,900 lumens of brightness, Rec.709 compatibility, 1.03 billion colors and 3840 x 2160 resolution.
For installation flexibility, the X100-4K provides vertical (+60%, -0%) and horizontal (+25%, -25%) lens shift, +/-40-degree keystone, and a 1.2x optical zoom capability. I appreciate how the company makes it easy to find the manual adjustments for those, and they are concealed by an integrated panel near the red/blue power status indicator light.
ViewSonic specs the image size range to reach 200 diagonal inches, with a throw ratio of 1.2 to 1.44. In my redesigned multipurpose media space, the throw distance was maxed out at only about 10 feet and the projector filled my 92-inch Elite Screens 2.35:1 aspect ratio screen (the zoom worked out just about perfectly to fill the CinemaScope ratio when I played the super-widescreen format). 
---
CE Pro Specs:
2,900 lumens brightness DLP LED projector
3840 x 2160 4K Ultra HD resolution 1.2-1.44 throw ratio; throw distance 3.28- 10.43 feet
Display size 40-200 diagonal inches Vertical (+60%, -0%), horizontal (+25%, -25%) lens shift
4 HDMI 2.0 ports, USB 3.0, USB 2.0, VGA, micro USB, 2 Ethernet LAN, 12V triggers, RS232 control, SPDIF audio out, 3.5mm audio out
2 x 20-watt Harman Kardon speakers
Dimensions of 16.4 x 18.2 x 6.3 inches; 16.9 pounds
$1,817; viewsonic.com
---
Connections are stealthily located on a side panel with the power outlet on the opposite side. ViewSonic provides four HDMI 2.0 ports, one USB 3.0, one USB 2.0, one VGA, one micro USB, two Ethernet LAN jacks, 12V triggers, RS232 control, SPDIF audio out, and 3.5mm audio out. If you aren't tying the projector sources into an audio system, your customers can simply use the built-in 20- watt Harman Kardon speakers for an easy room AV solution. 
Installation and setup of the projector was straightforward, and for testing out in a manner I think users will commonly approach it, I basically kept my viewing to the Sony Ultra HD Blu-ray player I ran to one of the HDMI ports.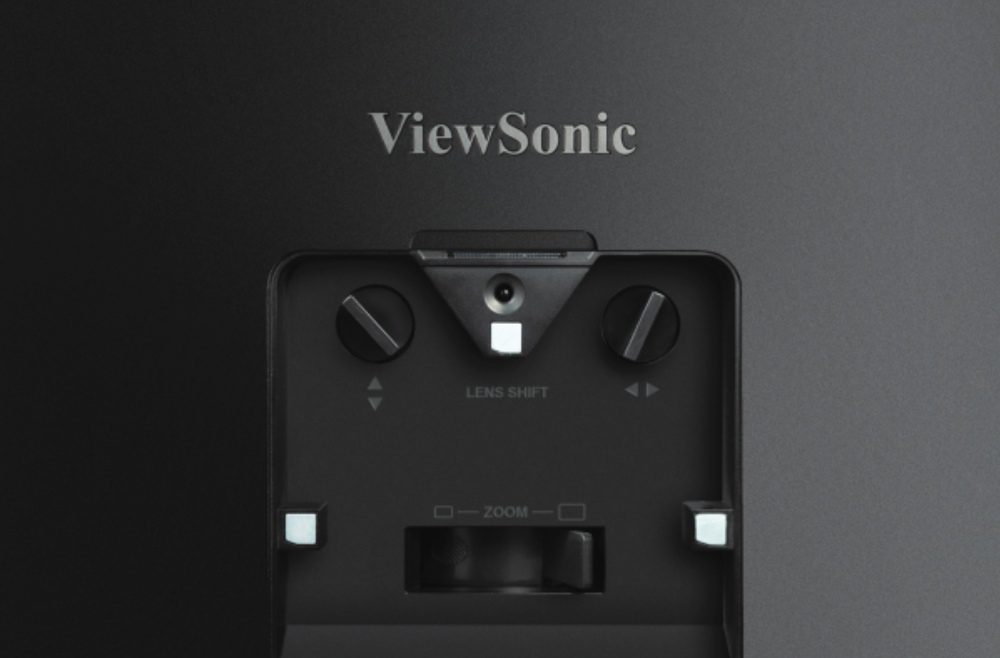 Other features included Amazon Alexa and Google Assistant voice control support; a suite of apps called Aptoide on the X100-4K home screen for content and other web services; screen mirroring capability via a Google app; and file management tools for local files.
I largely eschewed these functionalities, but I did use the file management when I plugged into the USB 3.0 port an external hard drive of mine that has AV content. I used the projector remote to scroll through selections, and when I played one of a 1080p concert video it worked fine — I kept audio to the built-in speakers, and with Harman Kardon doing the engineering they will fill a rec room easily. 
The ViewSonic remote is bare-bones but lets you quickly dig into menu items if you know which buttons to hit — for instance, the automated focus button is right below the power button and comes in handy. Actually, in my experience the combination of LED light source and automated instead of manual focus (usually via a ring around the lens) are nice differentiators typically uncommon at this price point. I don't like manual focus because it always seems to drift a smidge; meanwhile, the image settings menu will take you to a test screen to help dial in the image clarity. 
Performance & Conclusions
Rather than work with the included apps, which did not seem to work for me too consistently, I used the Sony player to access Netflix, YouTube and Blu-ray and Ultra HD BD disc content. As I did with a recent BenQ 4K projector review, via the Sony player I watched a range of UHD content such as nature, travel and concert footage on YouTube, shows such as "The Blacklist," "Stranger Things" and "Breaking Bad" on Netflix, and discs that included "Star Wars: The Rise of Skywalker," "Oceans: Our Blue Planet" and "Die Hard" plus regular Blu-ray HD discs.
Scenes from "The Blacklist" showcased the X100-4K's strong work on detail with close-up shots like facial features, revealing all the little wrinkles, creases, shave marks, makeup caking and other fine skin/hair textures. Simple but satisfying images like a scraped up, dirty old car in a shot meant to take place on the busy streets of Indonesia really captured the authenticity of the backdrop.
On a "Flying over Scotland" video on YouTube, absolutely breathtaking in Ultra HD with vistas of craggy mountains, emerald green pastures, cliffside waterfalls and such, which the ViewSonic projector did a solid job rendering the rich landscapes and gradients of green color and texture in the grasses and forests in particular. The slow panning of the scene occasionally caused a minor amount of motion judder – users can play around with some of the processing settings in the menu like the Frame Interpolation, but I found leaving it o was still better than having it look unnaturally smooth.
I did play with the color temperature settings in the image menu, since the default seemed a tad warm and green hued. ViewSonic has preset color settings for movie, gaming, tv and user-generated, and for the most part I stuck with movie and at 7500 Kelvin.
Other nature scenes on YouTube and the "Oceans" disc gave me a good sense of how the X100-4K handled more fine detail like animal fur and skin, and here too it proved more than capable delivering a solid image. The lifelike visuals in "Oceans" including all the waves, rocks, clouds plus the slow-motion effects, came across well for an engaging large-scale experience. Picking out small people and other nuggets from high aerial views is one of the fun advantages of big-screen 4K, and between the YouTube channels and "Oceans" disc the X100-4K proved capable.
Overall, the projector exceeded my expectations given the cost of entry into upgrading from, say, a 55- inch display to a 100-inch or greater 4K screen. If customers have not experienced this size picture before, installers can really wow them at a budget price.
I did not dig too deep into the image settings, but calibrators have an arsenal to fine tune the color management by individual colors, and ISF-certified technicians can access the ISF Day and Night modes to optimize color in different light conditions. 
This could be a solid selection for customers seeking secondary big-scale media rooms, and in case the projector must be left out in the open I'll add that it is very cool looking. You will need to account for its depth, but the X100-4K is more elliptical and sleeker than your average projector. A winner all-around for serving up entry-level but large-size 4K fun.
CE Pro Verdict:
Pros:
Colors are nicely saturated and inky
Crisp detail provided by 4K
Budget price point for more potential customers 
Cons:
Some fan noise
Non-4K imagery could be tad soft depending on source
---
Editor's Note: Due to a production error, the CE Pro Digital Edition of this review was missing a paragraph under the "Performance and Conclusions" section. This has been rectified for this online version and the Digital Edition will be amended.