SnapAV surged in popularity this year in the networking category among CE Pro 100 home-technology integrators. Its Araknis brand of networking gear is now offered by 50% of the largest integrators, according to the CE Pro 2018 Brand Analysis, compared to 32% last year. Pakedge, owned by Control4 maintained its lead in the category, and more top integrators also embraced Luxul, another custom-centric brand for routers, switches and network management.
This was the first year CE Pro asked dealers to indicate any cybersecurity brands they preferred. There was no contest there, with SonicWall crushing all competitors.
In both categories, some integrators noted their preference for companies like Access Networks and WhyReboot, two companies that provide networking services for the home-technology channel.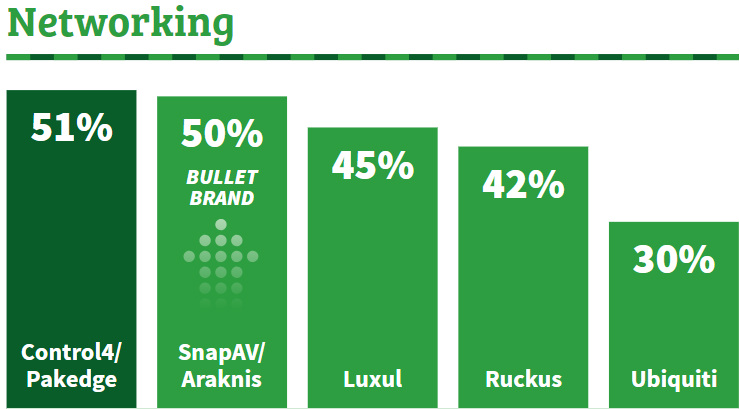 Top 5:
Control4/Pakedge: 51
Araknis (SnapAV): 50
Luxul: 45
Ruckus: 42
Ubiquiti: 30
Other Brands:
Access Networks: 28
Cisco: 20
Netgear: 15
Eero: 15
Apple: 15
Eero: 15
SonicWall: 8
WhyReboot: 8
Linksys: 6
Meraki: 6
Ihiji: 5
Trendnet: 4
Unify: 4
Asus: 3
Krell: 3
Engenius: 2
HP: 2
Domotz: 2
Mimosa: 1
Previous Year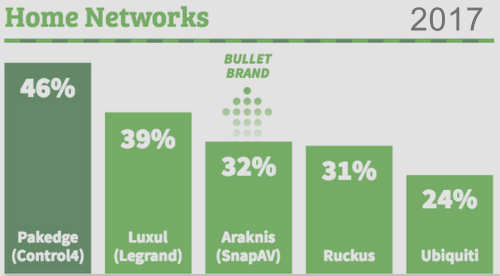 Check out this years top custom electronic brands across 58 product categories.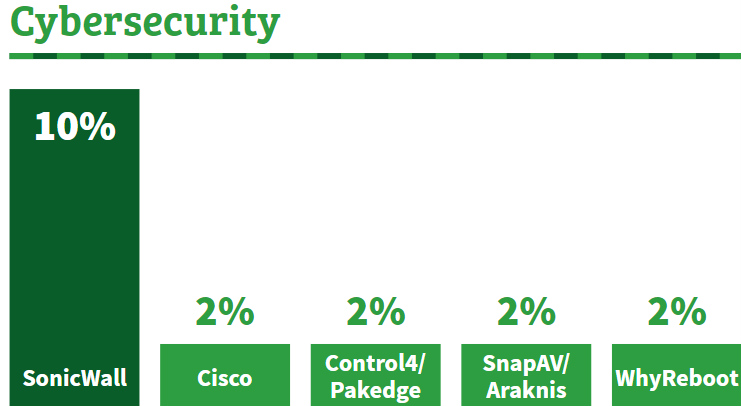 Top 5:
SonicWall 10
WhyReboot 2
Pakedge 2
SnapAV Araknis 2
Cisco 2
Other Brands:
FireFX 1
Access Networks 1
Ruckus 1
Ubiquiti 1
Previous year is not available due to cybersecurity being a new category for 2018.
CE Pro 100 Lists & Analysis
CE Pro's annual Brand Analysis study surveys the top 100 highest-revenue residential integration firms, otherwise known as the CE Pro 100, to determine their preferred brands in the categories of audio, video, home automation, networking, lighting control, security and more.
Key Links