Even with three patents and nearly 40 years designing high-end outdoor planter speakers under his belt, Art Powers, Jr., is eager for the next chapter.
Powers, owner of newly named Intelligent Audio Products based in Bridgeport, Conn., is transforming the Planter Speakers brand from Madison Fielding beyond the roots of its former name of just making outdoor planter speakers to produce various new form factors.
Today, the company's custom-targeted product line includes several types of outdoor table speaker designs, slick lamps that double as housings for Sonos One wireless speakers, and even 360-degree pedestals that house a Sonos Connect Amp and can perform double duty outdoors or indoors.
Powers and his father (Art Powers, Sr.) operated the iconic Madison Fielding brand and its spinoff Planter Speakers brand for 38 years in nearby Port Chester, N.Y. He moved the company in April 2017 into an expansive 12,500-square-foot factory in Bridgeport following a fire caused by renovators working in another portion of the old factory building.
The new facility location houses more than $1 million in giant CNC machines with an expanded capacity that has the company better positioned to take its unique speakers nationwide versus just on the East Coast.
Along with the new factory, Powers has partnered with master craftsman Humberto Adrian, a legendary woodworker who has built speaker cabinets since the 1970s for the likes of McIntosh, Boston Acoustics, Polk Audio, Definitive Technology and a/d/s.
"We really need to ramp it up," says Powers. "We are custom. We make high-quality, American-made custom-configured loudspeakers. That is what we have done for 38 years. We now have the capacity to build units for California, Florida and Texas. We have built our reputation in the Northeast but been limited in our expansion by our limited production capabilities."
Planter Speakers, Tables, Lamps
The company's planter speaker product lines include: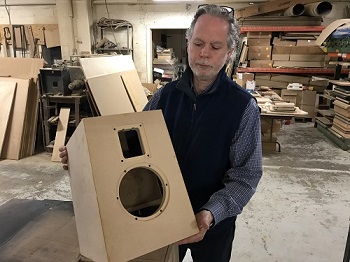 "We now have the capacity to build units for California, Florida and Texas."
— Art Powers, Jr., Intelligent Audio Products
Flagstone – A contemporary classic design planter speaker that house a 4-inch mid-range, 1-inch tweeter and 10-inch woofer. The line comes in four colors and two sizes.
Sedona – Modern compact planter speaker with a 5.25-inch driver that includes a custom Smart Pot planter insert for drainage.
Terra Cotta – A double-rolled rim planter designed for patios and terraces made of durable 10-year UV-rated polyethylene housing either a 5-, 6- or 8-inch driver in a patented reflector wrought iron stand.
Lattice – A cypress-wood planter with different speaker configurations and the Smart Pot drainage system.
Piermont – Made from reforested teak and available in three sizes, this planter speaker offers "subtle luxury" in its stacked design. It is available in three sizes with 90 and 180-degree directional configurations.
But Powers' latest creations are not planters, but entirely new form factors, and all are suitable for either outdoor or indoor use.
West Hampton/East Hampton – Similar to the look of the Piermont, the new outdoor West Hampton and East Hampton tables are a heavy stacked teak design that houses drivers capable of 270-degree directional dispersion. The units are made from 25 stacked pieces of teak wood connected together with stainless steel screws.
Pedestal – This new unit is 12-inch square, 38-inch tall unit that is capable of 360-degree speaker configuration. The unit is specially designed to accommodate a Sonos Connect Amp that can be tucked into the Pedestal to drive the speakers.
Lamp – The most unique design from Intelligent Audio Products isn't a loudspeaker at all, but simply a stylized housing for a Sonos One speaker that is designed to look like a lamp. The Sonos speaker slides right into the Lamp housing, which has an opening on top for controlling the speakers.
Powers is seeking independent reps nationwide for the newly expanded brand. The new Intelligent Audio Products name that does not pigeonhole the company as solely a firm that makes only planter speakers. However, the company's website is still planterspeakers.com.
Given its latest designs, the company's new slogan is: "If you like the way they look, you are going to love the way they sound."
If you enjoyed this article and want to receive more valuable industry content like this, click here to sign up for our digital newsletters!