Meeting the growing demand for after-hours support is one of the biggest challenges faced by integrators today. Risks include employee burnout and excessive costs.
Flipping this cost-center into a profit center through effective RMR strategies is something of a Holy Grail in our industry. However, clients continue to demand increasing levels of support with a defacto expectation that it will be provided around-the-clock at no charge.
"Most integrators agree that the vast majority of connected-home owners will pay a monthly fee for monitoring."
A paid support model is the way of the future. And the good news is that changing your clients' expectations about after-hours support is easier than you might think.
Most integrators I speak with agree with the notion that the vast majority of connected-home owners will pay a monthly fee for the monitoring, management, and support of their technology. Companies like Verizon and Best Buy have already made the move. And what we've found through our work at OneVision is that, for those integrators willing to make the leap, the opportunity to begin monetizing after-hours support is also here, today.
Seizing this opportunity will create better work-life balance for you and your team and improve your business' bottom line. Most importantly, you will simultaneously create a more reliable, consistent, and enjoyable technology experience for your clients.
The best part is, with a methodical process in place, transitioning your business to a paid support model can, in fact, be accomplished in a matter of months. Here's how…
4 Steps to Start with New Clients
You can start your company transition to paid after-hours support with new clients right away as there are no previously held expectations that support is provided free of cost. This blank slate allows you to start fresh.
1. Ensure You Have Proper Service Infrastructure
The first step in successfully moving your new clients into a paid support model is to ensure you have the systems in place to execute on your promise. You'll need dedicated service channels (phone and email) your clients can use with the assurance of being able to get support after-hours, 24/7. Be prepared enforce the use of these channels if your clients continue to call your personal cell phones.
You'll need a ticketing system to ensure that 100 percent of the issues are properly captured, tracked, resolved, and documented. An on-call/notification management system is critical for ensuring that the right people are notified at the right time for all support events.
And lastly, you'll need to continually enforce a culture of excellence-in-service within your company to ensure that your clients always receive best-in-class support.
2. Establish Tiered Service Plans
The next step is to create a well-defined structure around your service offerings. This means establishing a tiered plan structure with varying levels of service. These levels should be based on the quality of support, including things like guaranteed response times, hours of support availability, and proactive monitoring. We recommend continuing to provide basic remote support during business hours on a complimentary basis but leaving flexibility in your language to change this later if you so choose.
Once you've created your plans, you'll need to set up a subscription management system to track client membership status and allow for easy client sign-up. At OneVision, we use Chargify. However, a Google search for "subscription management software" will turn up many options.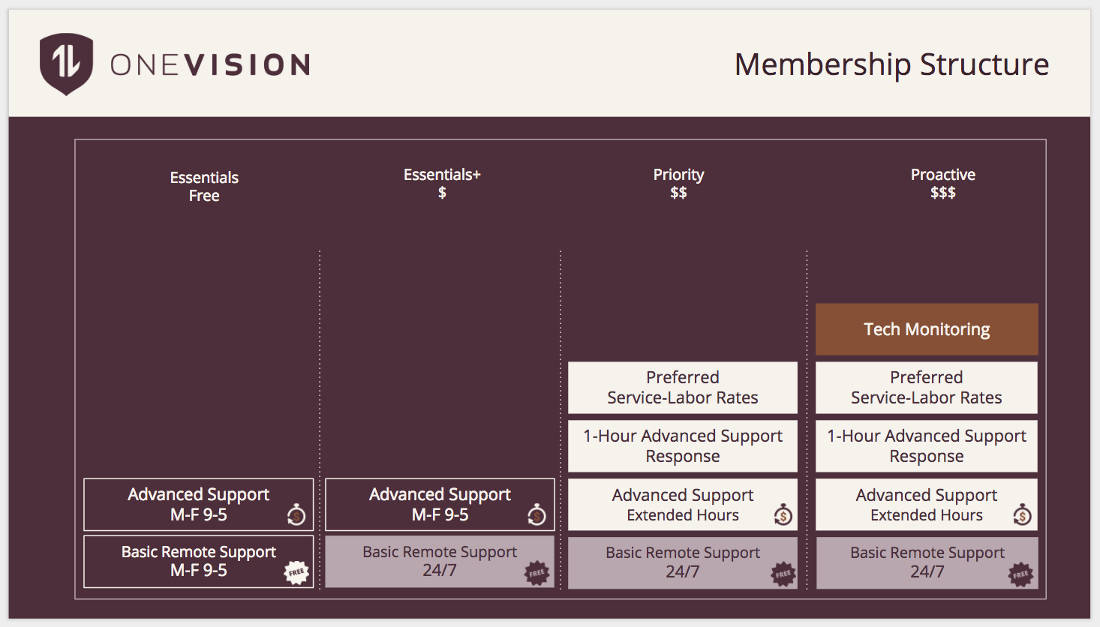 3. Position and Prepare Clients Properly
The next step is about changing how you and your team position service during the sales process. Lead with service and support as a core part of why a prospect should pick you over your competition. Make it clear that tech is fallible no matter where they purchase it from or how much they spend. Take a page from the Rackspace playbook and convey that you can't promise tech will never break. But you can promise to be there 100 percent of the time when it does.
Be bold and confident in your presentation. Make your prospect understand the importance of service and support to their overall technology experience. Then demonstrate how you plan to deliver that experience through your well-defined service offerings.
Lastly, never shy away from the fact that your competitors may not offer paid options. Daring to state that your company thinks differently about service and then confidently demonstrating why your approach is in the prospect's best interest will win the day (and put your competitors on the defensive).
4. Make the Handoff to Service Smooth
Once you've set proper expectations about your service offering and have landed the project, the next step is to ensure a smooth handoff to your service team upon completion, instilling client confidence in your ability to deliver a premium support experience.
Ensuring a smooth handoff requires that you create a repeatable process with clearly defined transition points. At OneVision, we base the start of the project-to-service transition on a concept we call "Day 1" — the first day that a client is expected to use the technology on their own.
Starting immediately on Day 1, your service team should take ownership of the punch-list and become the primary point of contact for the client. This reinforces the notion that a dedicated service team is in place to manage the technology and the project team's involvement ends when the installation is complete. Be sure to communicate with your client early and often about how the project-to-service transition works. Setting clear expectations ensures your client feels comfortable with the change in responsibility from one department to another.
What About Your Existing Clients?
Once you've put the processes in place to get new clients onboard with paid after-hours support, you still need to tackle your legacy clients. This part of the process is more difficult because your existing clients likely have set expectations about after-hours service being free, but it can be done.
"Provide incentives like 25% off the first three months of a premium plan to motivate clients to switch early."
Think of this transition much as you would a straightforward price increase to your hourly rates. All business relationships evolve over time and, when communicated properly, the vast majority of clients are OK with a change in policy.
Transitioning existing clients starts with communicating your new service offerings in a straightforward manner, highlighting the changes you are making. Avoid diving into excessive detail about the reasons or trying trying to use flowery language to soften it up. Simply state what you are changing and how the new policy will enhance your ability to continue providing them with the exceptional support you're known for.
Build in a transitional period of one to three months during which you continue to provide after-hours support for free. However, during the transition period, send periodic reminders to ensure your clients receive the message and take action. Provide incentives like 25 percent off the first three months of a premium plan to motivate people to make the switch early.
Proactively reach out to your most active/important clients to personally deliver the message and sell them on the overarching benefits of your new approach to service. Consider giving these clients an extended grace period to preempt any grumbling but be firm in the necessity of transitioning to a paid service model.
As the transitional period comes to an end, be comfortable with providing discounts or grace periods to any clients who did not receive the initial messaging. Making this transition is about setting your business up for long-term sustainability. In other words, giveaways or discounts in the short term are worth it if they help maintain the long-term relationship.
"You'll need to be willing to accept the risk that you may lose a client or two."
Not all of your clients will be OK with this change to your service, but a small "olive branch," such as six months of a free premium plan will likely smooth things over.
Lastly, you'll need to be willing to accept the risk that you may lose a client or two. To reconcile with the risk of a small amount of attrition, consider two facts. First, you will be more profitable and sustainable providing support for the vast majority of clients who are likely to stay with you.
Second, in my past experience implementing these sort of changes as an integrator, the ones who leave over the change in policy were universally the clients who represented the biggest drain on my existing service operations (both financially and emotionally). Dealing with these situations is not easy but it's critical to not let the exceptions define your entire process.
A Leap of Faith… Be the First
Some trepidation over being the first-mover in your market with a paid support offering, or of how existing clients might react, is perfectly natural. But it's important not to let these concerns dictate a static approach to a growing challenge.
The demand for round-the-clock support is only going to grow over time. And as clients have become increasingly dependent on technology to drive every part of their homes they have also become increasingly receptive to new models of service delivery; models that provide them with an exceptional support experience and ensure that you'll be around to provide it for them indefinitely.
Ongoing support of the nature today's clients demand represents a significant drain on any company's resources, both human and financial. Changing your business to a more sustainable paid service model is a daunting challenge. However, with a methodical approach and the right messaging, you can successfully make the transition in less time than you might think possible.
If you enjoyed this article and want to receive more valuable industry content like this, click here to sign up for our digital newsletters!