Could this be the new business model for the custom installation industry? Chris Matthews, principal of Acoustic Designs Group in Scottsdale, Ariz., certainly believes so. Matthews, along with business partner Kevin Flower, have completely reorganized their custom integration company into three distinct divisions to best take advantage of the changing market dynamics.
The 14-year-old $5 million company, which previously went by the name Acoustic Designs Inc., has 21 total employees and is now composed of independent divisions for:
Lighting Design
Electrical & Shade Control
Audio/Video
"This is a game-changer for the industry and immediately places us as a trendsetter for our industry, in my opinion," says Matthews confidently about the new structure. To better communicate its new three-pronged business model, the company recently purchased and built out a 15,000-square-foot building with a 5,000-square-foot showroom and a 2,500-square-foot warehouse. The remainder of the space will be leased.
The showroom is a microcosm of Acoustic Designs itself, with three distinct areas for lighting design, including humancentric (circadian) lighting, shades and electrical, and audio and video. The A/V space features three individual sound rooms, each highlighting a single high-performance audio brand: Bowers & Wilkins, Focal and Sonus Faber. A dedicated home theater rounds out the A/V experience.
Lighting Design Feeds the Business
Quick Stats
COMPANY: Acoustic Designs Group
LOCATION: Scottsdale, Ariz.
REVENUES (PROJECTED 2019): $5 million
YEARS IN BUSINESS: 14
NUMBER OF EMPLOYEES: 21
KEY BRANDS: Crestron, Savant, Lutron, Vantage, LF Illumination, Focal Utopia, Sonus Faber, JL Audio, SAE, Chord, Bowers & Wilkins
FYI (one piece of advice to another dealer): Lighting design is a game-changer for the industry.
The most radical of Acoustic Designs' focus areas is lighting design. Flower previously ran his own lighting design firm, called Light Control, earning an elite Lighting Certification designation from the National Council on Qualifications for the Lighting Professions (NCQLP).
That Lighting Certification program was initiated by the lighting industry in 1991 and is designed to set a baseline standard covering the entire scope of the vast lighting field. To achieve the designation, candidates must pass an in-person four-hour, 180-question test, with a chunk of the questions focused on job-related case studies.
In his 10 years creating lighting designs and specifying lighting-control systems for Light Control, Flower established many long-term relationships with architects, interior designers and electricians. He also began collaborating with Matthews … and later joined the integration firm as partner.
"As our working relationship developed, we decided to merge and revolutionize, in our opinion, the A/V and lighting design industries by bringing those two capabilities together," says Matthews. "Lighting design is just at the beginning stages for A/V integrators. Bringing an experienced guy into the business was a game-changer for us."
The focus on the lighting design business was a determining factor for Acoustic Designs to move from the ProSource buying group to Home Technology Specialists of America (HTSA), which was an early proponent of the lighting-fixture business. Acoustic Designs now sells lighting fixtures.
According to Matthews, the ability to offer lighting design to clients acts as a funnel for the rest of the business.
"Clients always vote with their pocketbook," Matthews says.
"Clients will automatically say they don't want to spend $50,000 to $75,000 on a high-end lighting solution. But you present it anyway and after you talk with the client for a while, you discover he has a hallway lined with expensive artwork that needs to be highlighted. We actually have one client who collects rocks that are unique and expensive. The only way to highlight them to accommodate the results he desires is through lighting fixture specification."
To showcase its lighting-design business, Acoustic Designs has outfitted its new showroom with an array of fixtures, including tape lighting, cove lighting, recessed and surface-mount.
"When clients come in, we can show them what they can get for their budget. When you physically show them what their ceiling detail will look like with a trimless LF Illumination recessed light, all of a sudden, a light bulb goes on for them, and the budget stops being their primary focus," Matthews says.
"Aesthetics, lifestyle and what a particular fixture can do for them starts becoming the focus."
Ultimately, in Acoustic Designs' experience, the clients do buy the lighting system with fixtures that accommodate the design of their home. Matthews explains, "We have changed the whole conversation based on lighting design, and that broadens into other parts of the project and ultimately brings us more revenue."
Circadian Lighting in the Showroom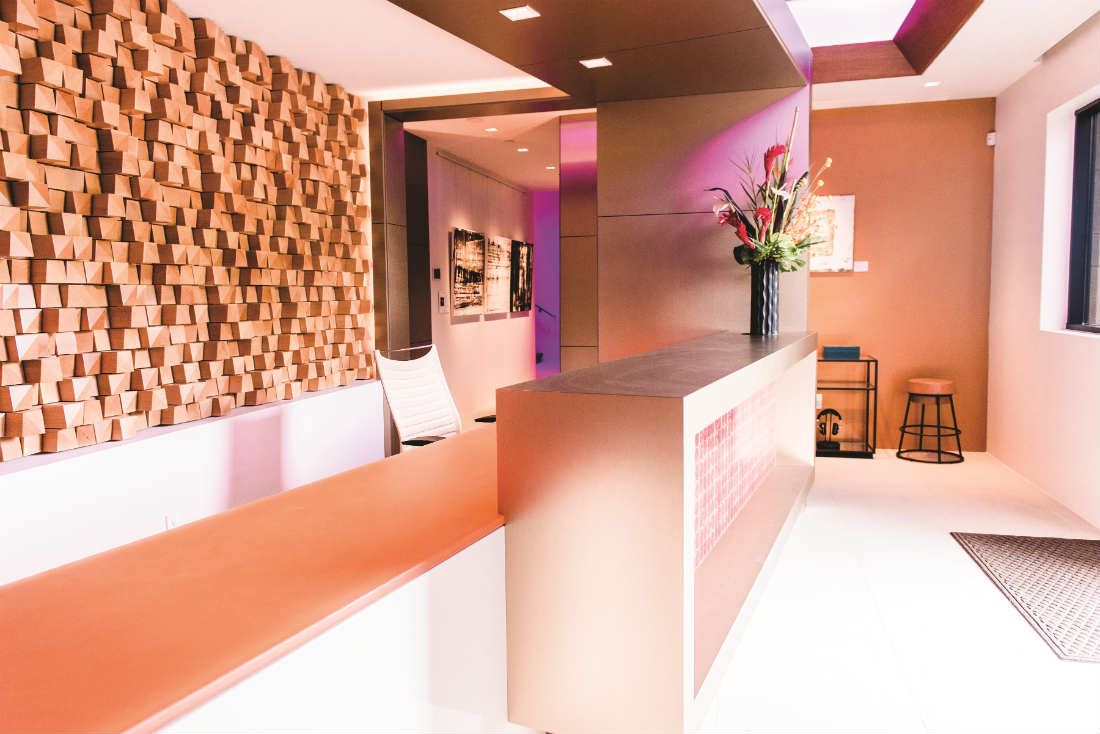 Increasingly, there's another big part of the conversation for Acoustic Designs: biophilia and human-centric lighting. Biophilia refers to humankind's innate connection to nature, including the 24-hour day/night cycles that inform our circadian rhythms.
Absent our exposure to the outdoors, the next best thing is to simulate it with tunable fixtures that mimic the intensity and color temperature of natural daylight, from dusk to dawn — so-called circadian or human-centric lighting (HCL).
"People are aware of it, but most don't understand it, especially when we start to discuss the various lighting fixture costs," says Matthews. "We have three different locations in the showroom that showcase circadian lighting. We find it is more successful to try to sell circadian lighting in a specific area of the house rather than the whole house."
He says there is not one particular room of the house where Acoustic Designs specifies circadian lighting, noting it tends to be spread among kitchens, bedrooms and home offices. Matthews says many clients are still grappling with the increased cost for circadian lighting before they buy, which can be as much as $700 to $800 per recessed can.
"I don't think anybody other than lighting designers really understands the full capabilities of circadian rhythm lighting."
— Chris Matthews, Acoustic Designs Group
"Until the cost comes down, people are weighing, 'Do I really need this? Can I add it later?' We are getting those types of questions," he says. "Right now, it's a hot topic in the industry and clients are asking about it. I still think it's cost-prohibitive and most clients are going to shy away from it until the cost comes down."
For now, Acoustic Designs is letting the showroom display do the talking. Flower has circadian lighting set up in his office, and as an experiment the company installed it in one of the two-channel listening rooms.
"We decided to just put circadian lighting into practice in the showroom," Flower says. "Is it really going to change someone's demeanor or mood, or create an environment that's going to help us sell a product? That's why we put it in one of the two-channel rooms. We don't have any data yet as to whether the circadian rhythm lighting has affected sales."
Matthews is bullish on biophilia, but says there is still a lot of education that needs to take place.
"I don't think anybody other than lighting designers really understands the full capabilities of circadian rhythm lighting," he says. "Architects and designers tend to know about it, and they want to see it and experience it, but they need more education on it."
Electrical and Shade Specialties Highlighted
Once Acoustic Designs bought into a lighting division, it made sense to launch an electrical group as well.
"When we were forming this new company, we didn't want to rely on somebody else, especially on the revenue side," Matthews says. "A lot of times electricians aren't going to take a job unless they are selling the lighting cans. If they are not selling the fixtures, they are only billing for labor for pulling wire, so we get that."
It's a dilemma echoed by many other integrators who get into the light-fixture business: Electrical contractors don't want to just pull the wire.
In any case, launching an electrical division "gets our own electricians on the project so we are selling the lighting fixtures and keeping it all in-house," says Matthews of the four-person electrical group.
A funny thing happens when you have an in-house electrical crew: You get into projects earlier. And when you get into projects earlier, you can more easily present other offerings. For Acoustic Designs, the big "other offering" would be motorized shades, which had previously been just a modest initiative for the company
Read Next: Biophilia and the Reason Smart-Home Pros Can Own the Wellness Category
"It was almost an afterthought. Now as part of our lighting design business, we are on the project much earlier than an average A/V company would be," Matthews says. "When you are talking to the designer, architect, builder and client about where the lights should be, it becomes a significant advantage on the shade side. We are able to have that conversation early in the construction process rather than at the tail end."
From barely dabbling in the shade control business, Acoustic Designs is on track to do $1 million in shade control in its first year focusing on the category.
He describes a typical sales process these days as early engagement on lighting design with the architect, followed by a discussion about shades, and then automation.
"It's hard for a builder or a client to manage a separate A/V company, shade company, and an electrician," says Matthews. "We are eliminating multiple phone calls and scheduling problems. … It's just one email to us."
As much as it simplifies the project for clients and trade partners, it also makes the process simpler for Acoustic Designs, according to Matthews: "We now have visibility into what the different trades are doing and what is needed at any particular moment on the project. Managing a project becomes much easier when you aren't relying on a third-party electrician or a third-party shade person. The communication lapses don't occur because it's all internal for us."
Scripted/Unscripted Demos in Showroom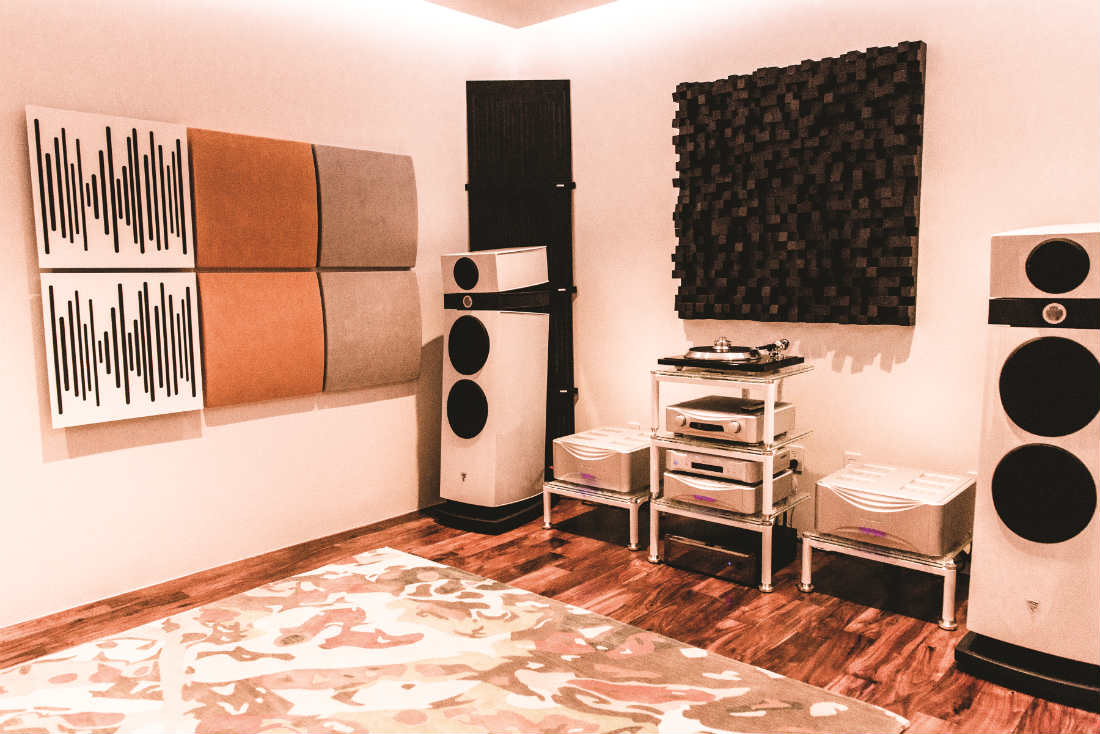 The building of the new showroom is the culmination of many years for Matthews, who started as a one-man shop back in 2005. Like many other integrators, the business evolved from working out of a home garage to a storage unit to a small office to a small showroom.
"About one year ago, my lease was coming up," he recalls. "I just decided it's going to be better to buy a building, invest in that building, and have space to grow."
Construction on the new Acoustic Designs Group space began in August 2018 and the facility held its official grand opening in April 2019. The 5,000-square-foot showroom was designed by Brissette Architects with a modern motif with exquisite finishes, including a SubZero kitchen, game room with a giant Planar video wall, plus the three sound rooms, and a 2,500-square-foot warehouse. It has only been open for just a few months, but Acoustic Designs is already experiencing the benefits.
"It's part of our story. We want clients to know they will get the same high-end experience behind the scenes. From start to finish, we want to show our professionalism."
— Chris Matthews, Acoustic Designs Group
"There's no question the showroom is going to increase our average project sale," Matthew says.
"It already has. We have already had clients decide to use us for everything because it is easier for them. Anytime they have a question about lighting, shades, electrical or A/V, we are a one-stop-shop. Anytime they come to our showroom, they can meet with a suite of four different people and get their questions answered. Whether they want to increase the proposal or change something out on the proposal, it's done."
In the showroom, the demos of the circadian lighting are particularly effective. The backbone of the lighting is Lutron. Flower can simply use the Lutron app to run clients through a circadian rhythm demo, show them trimless versus recessed cans, round versus square trim bezels, etc. The demos themselves are not scripted.
For the A/V, Acoustic Designs Group performs more of a scripted demo. For home theater, particular clips are triggered on the Kaleidescape media server with heavy bass and heart-pounding action. Those are usually followed by concert footage focused on vocal clarity.
If clients are interested in two-channel audio, the company has a specific salesperson focused on that category who can conduct vinyl demos. Also, there is a headphone lounge for customers.
Related: Creating the 'Perfect' Scripted Demo, Showroom Tour
"We allow customers to sit in the lounge and listen to different headphone amps at their leisure rather than have a salesperson standing over them," explains Matthews.
Visitors are also invited to tour the warehouse, which has finished coating on the floor and is neat and organized.
"It's part of our story," says Matthews. "We want clients to know they will get the same high-end experience behind the scenes. From start to finish, we want to show our professionalism."
The company has already hosted events on lighting design for the Arizona Residential Architects and local Realtors, as well as an event for all the trades that worked on the showroom. The grand opening in early April was the first client-focused event.
The facility is set up for walk-in clients, though most of the appointments are scheduled.
If you enjoyed this article and want to receive more valuable industry content like this, click here to sign up for our digital newsletters!