Nest might have started life making learning thermostats back in 2011, but since then the company has rolled out a slew of security-related products, including connected smoke and CO alarms, indoor cameras, outdoor cameras, and a steady stream of updates along the way.
Then came Nest Secure last year, a UL-rated home security system with a home-automation hub (Nest Guard), sensors (Nest Detect) and optional professional monitoring.
"We've been growing our security portfolio layer by layer," says Gene LaNois, general manager of the Nest Professional Channel.
That growth comes not only from Nest's new product lines, but also new software and services for existing users – things like sound recognition, people recognition, facial recognition, native Google Assistant, video verification for alarm systems (via iView), video-casting from cameras to TVs (via ChromeCast) and more.
In all of this, however, "One thing we had not completely addressed is the front door," says LaNois. "And that's the first place people really start to interact with their homes."
Last fall, Nest addressed that critical entry point, introducing the Nest Hello video doorbell and a highly integrated Nest x Yale door lock (formerly "Yale Linus"). Both products are available today in stores and online.
True, Nest already supported plenty of smart doorbells and locks through cloud-based integration, but the company felt it could do more by building systems from the ground up to ride its highly evolved architecture.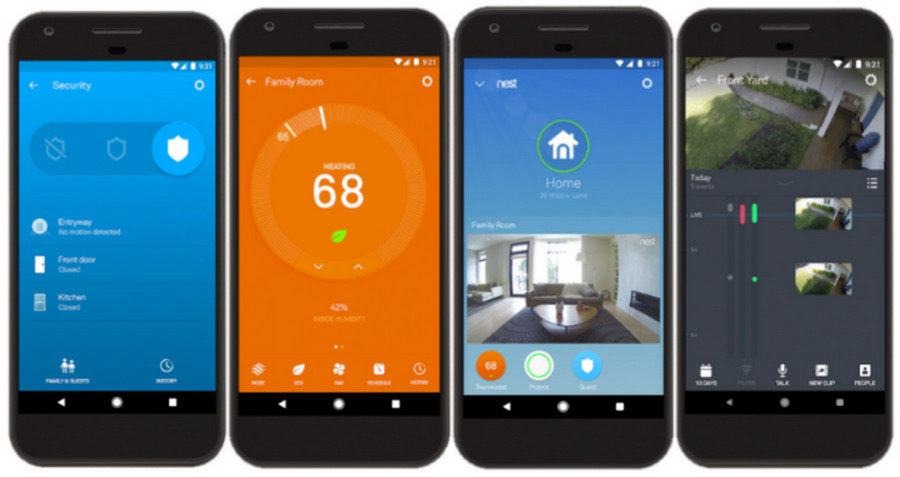 "Many consumers are already comfortable with Nest … and they want to continue building on that foundation."
— Gene LaNois, Nest
Nest's Established Platforms
Even before Google acquired Nest in 2014, the thermostat maker had developed and deployed a fairly comprehensive set of platforms addressing everything from the smart device to the cloud … and beyond. That includes local device communications, cloud-based learning and analytics, cloud-to-cloud integration, IoT security, apps, user interfaces and more.
Not only has the Nest ecosystem proved reliable over all these years, but to many consumers it's the only "smart home" experience they've ever known – whether they came to the brand through a thermostat, smoke alarm or camera.
"Many consumers are already comfortable with Nest – the brand, the experience, the ecosystem – and they want to continue building on that foundation," LaNois says. "The same goes with professional home-technology installers, many of whom were nudged into the product line years ago when customers began asking for Nest thermostats by name."
Integrator All in for Nest
That's exactly how Ian Weiss of Shangri-La, a Los Angeles-area integrator, came to Nest. It started with requests for Nest thermostats; then he began pitching Nest Protect smoke and CO alarms and Nest Cam surveillance cameras.
After going all in, Shangri-La gained "Nest Pro Elite" status, and the leads started coming in from Nest's online installer finder. The more products and improvements Nest announced, the more business rolled in to Shangri-La.
For example, last year's introduction of Nest Cam IQ outdoor, powered over a low-voltage cable, brought calls from customers who wanted a clean install with the cord running through the wall – something you couldn't do with Nest Cam outdoor, the company's original AC-powered model.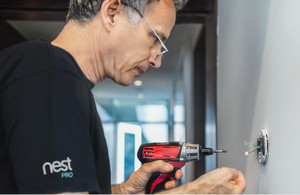 "All the Nest products are available through a single app. That's what most people like."
— Ian Weiss, Shangri-La
Nest Pro Elite dealer
"Also, we could install it where you couldn't before," Weiss says, noting the opportunity to sell more outdoor cameras per property at $349 retail plus labor.
Now he can't wait to add Nest's new doorbell and lock to the offerings. His company already installs video doorbells from other popular brands, but he'd rather keep his clients in a single smart-home environment if possible.
"All the Nest products are available through a single app," Weiss says. "That's what most people like. That's why I'm pretty sure I'll be installing a lot of Nest Hello doorbells."
The new doorbell has some of the same intelligence as a Nest Cam IQ, distinguishing people from other "visitors," recognizing familiar faces, and issuing alerts based on sound. (Some features require a Nest Aware subscription and may be disabled in certain locales.) Also, the UI is the same, so it should be a "familiar experience" to existing Nest customers, as well as pros, Weiss says.
The doorbell camera appears like any other Nest camera in the ecosystem, so users can find the video from all devices in a single view, and interact with them through a single voice interface – Google Assistant. They can even cast surveillance video to a television set via Google Chrome Chromecast: "OK Google, show the front door camera on the living room TV."
As for the Nest x Yale door locks, this will be Shangri-La's first real effort in the category. Weiss says the company was waiting for a Nest-native device before diving in.
The wireless lock integrates seamlessly with the wired doorbell, which serves as a gateway to the home network. With this architecture, the lock does not need battery-sapping Wi-Fi onboard. Instead, it communicates through the doorbell (or standalone Nest Connect gateway) over Nest's power-efficient Weave home-automation protocol.
One Ecosystem, One Growing Opportunity
With the new products, the ecosystem just gets stronger: If the Nest Hello camera (with a Nest Aware subscription) recognizes the dog walker during a set time, it can trigger the system to unlock the door automatically … or send an alert to the homeowner who can then unlock the door with the press of a button.
Weiss expects fresh leads for these new products, especially since Nest explicitly recommends professional installation for the doorbell, as explained online:
Nest Hello requires a wired doorbell, chime and the right transformer. Check out the Nest Hello FAQ to find out if your home is compatible. We recommend installation by a Nest Pro.
From there, Weiss says, it should be simple to add a door lock to the sale.
In his experience, Nest sales and installations feed off each other. He explains, "I was just at a house doing cameras and I told the owner he should have Nest Protect smoke alarms, too. He already had a Nest thermostat. Next we'll do the Nest Hello."
Nest's LaNois says many pros like Weiss appreciate the ability to "offer customers an array of products that all talk to each other."
Many of the popular consumer brands have "great one-off solutions," he says, "but Nest has a lot of products that address many different needs, and they all integrate seamlessly with each other and with Nest and Google cloud services."
From the pro's perspective, Weiss adds, "Oh, and you can go to one place for tech support."
If you enjoyed this article and want to receive more valuable industry content like this, click here to sign up for our digital newsletters!