You've sold, designed and installed the latest incredible AV and automation system for your very satisfied customer, a job well done. But every integrator knows, of course, the project doesn't end there. You'll be dealing with that customer service for the life of the system; the big question is, will you still be profiting from it?
It's something CE pros continue to wrestle with, how they can earn revenue from all the inevitable customer service that goes hand-in-hand with system sales. Fortunately, these days manufacturers are making the task of customer service easier with platforms and products that allow integrators to address many issues remotely, and third-party services have also become available to further assist.
Whether integrators have developed their own services department centered around solutions such as OvrC, Ihiji, Domotz, BlueBOLT and the like, or enlist remote managed service providers such as OneVision Resources and Parasol, they may still need to figure out how to monetize it — including how to broach that discussion with clients who may be reticent to spend more on top of what they've budgeted for the actual technology systems.
The industry as a whole is improving; last year's CE Pro State of the Industry study found that the percentage of income integrators derived from recurring revenue (which largely stems from services and could be monthly, quarterly, annually) rose from 3% to 13.3% in the past five years. And median recurring monthly revenue (RMR) earned was $12,720 in 2018.
Despite the growing traction, there remains a large chunk of integrators who aren't cashing in on all of the great customer service they're providing. During the CE Pro Summit, held as part of November's Total Tech Summit in Fort Worth, Texas, "Remote Managed Services: Get in the Ring" panelists Henry Clifford, president of integrator Livewire in Richmond, Va., and co-founder of Parasol, and Joey Kolchinsky, founder and CEO of OneVision, tackled some common questions, concerns and benefits of boosting subscription-type service offerings.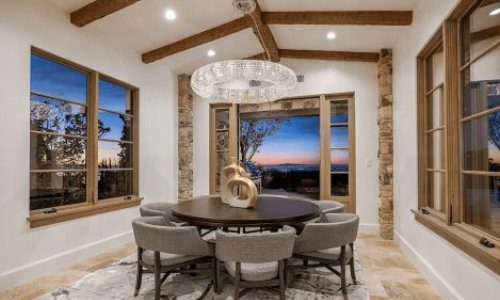 As a custom integrator, lighting is in demand. Effective communication, education and showcasing the value proposition of LED light fixtures in conjunction with integrative control systems are the keys to overcoming challenges and closing sales in this specialized market. Join us as we discuss the future of digital lighting and control with David Warfel from Light Can Help You and Patrick Laidlaw and Mark Moody from AiSPIRE.
Register Now! 
Capitalizing on Integrators' Relationships & Experience
The panelists offered a couple of basic premises regarding the notion of profiting from remote services: technology does, in fact, break; and consumers will, in fact, pay good money to have such problems resolved. And, of course, the integration firm itself possesses elements critical to the continuing care of those clients.
"Quality integrators have the local brand in your market that clients already trust. Quality integrators have the resources on the ground, you have the trucks, you have the tools, the skills, the knowledge. You also have the pipeline — amazing relationships that are driving high-net-worth people into your arms every single day, willing to pay thousands of dollars for lots of technology," Kolchinsky says of why his company found a partnership with CE pros attractive.
"The secret is, when people have lots of technology they also tend to have lots of problems. They're willing to pay a premium to make those problems go away."
OneVision helps provide integrators with a means to deliver guaranteed 24/7 service, not just remotely but onsite if needed. Kolchinsky adds that the service extends to areas such as priority scheduling, network security, parental controls and more that piggyback on the customer relationship.
"If you do that right, then you can profit from that relationship that you've spent years cultivating," he says.
Clifford explains that Parasol grew out of a collective frustration over how customers were being serviced, expressed at previous CE Pro Summit roundtable discussions with, among others, eventual company co-founders Greg Simmons of Las Vegas-based integrator Eagle Sentry and Ted Bremekamp of ETC in West Palm Beach, Fla.
"We had tried for years to effectively service our customers, starting in 2007, 2008 with Ihiji and we started monetizing our product, but quickly realized we were selling one thing and delivering a completely different experience and the customers were really frustrated by it," Clifford says.
It stayed that way for years doing what Clifford called a "DIY mode" solution until the light bulb went off for the trio about a need to scale customer service. They started by remote monitoring each other's customers, "and we learned a lot by doing that," he says.
The three integrators took each other's support calls and began to improve the practices and processes, to the point where they decided to expand. With all three being members of the ProSource buying group, they looked at 25 more trustworthy companies to continue what was essentially still an experimental customer service learning lab.
"About a year ago, the floodgates opened and the product became a way to take the customer and give them a place where 24/7/365 they could call, text, email, chat and somebody's on the other end of the line," Clifford says. "And not just anybody, an integrator."
So Parasol hires for these support staff positions like any other integrator would, and rather than the customer experiencing a typical "call center" scenario their issues are handled with a "by integrators, for integrators" solution that's appropriately skilled and vetted.
Overcoming Service Talk Stumbling Blocks
Clearly there's a reason for service departments to exist, but at the same time there's a trepidation for many integration firms to discuss service needs, costs and options with clients. It's an issue integrators shouldn't shy away from.
"I think there's a lot of fear around us acknowledging that technology breaks," says Clifford. "Owning that as an integrator, owning that as a sales professional is tough. But we found once we made that shift we completely changed the dynamic … we're using it as a selling point."
He adds that if a competitor ignores that important part of the sales equation, you can capitalize as a "second mover" — without saying anything about a competitor's service stance, by making yours known up front the consumer will then raise the question with said competitor.
"I think there's a lot of fear around us acknowledging that technology breaks. Owning that as an integrator, owning that as a sales professional is tough … we're using it as a selling point."

Henry Clifford, Livewire & Parasol
In the case of Livewire or another integrator using Parasol, they have the confidence share with potential customers how a repair or troubleshooting situation will play out, Clifford says.
"We will visualize for them, we'll say, 'OK, it's a year from today, you pick up the remote and your system's not working … it's after hours, what are your expectations?' And then we just shut up," he says, then relaying the likely response. "'Well, somebody better be available!' 'Great, I was hoping you'd say that.'"
And then Livewire can discuss the potential "pain" and talk about the "medication" that 24/7/365 remote support will provide.
If that doesn't work and the customer maintains the "I paid all this money, it should just work" transactional mindset, Clifford says, another approach to the topic is making it analogous to other types of home services that well-heeled customers can appreciate. "'Would you plant a garden and never weed it? Would you pay a lot for landscaping and never mow the lawn?' Again, it's shifting that mindset, and for us it's a long-term play," he says.
Continuous Conversion Opportunities Await
The good news for integrators is that the long-term outlook for increasing service revenue appears to be sunny. Both Kolchinsky and Clifford shared reports of near five-star customer satisfaction ratings, and expressed positive perspectives on prospect conversion rates.
OneVision, which employs a tiered subscription model for those using its service, enjoys an initial adoption rate of 42%, says Kolchinsky. But he adds that the other 58% represent ongoing potential subscribers — every time someone calls in with an AppleTV issue, for example, is an opportunity to gain another account.
And more good news for integrators who do utilize or offer remote support is that those calls and emails come most frequently during evenings and weekends, not exactly when CE pros want to be on the clock and/or rolling trucks.
As Kolchinsky notes, when those customers who initially turned down a service contract inevitably end up calling for "help right now" that right now will often be at 2 p.m. on a Saturday afternoon.
"You get that conversion opportunity every single time. What you start to see is in that first month, or first three months, it was a 40% conversion rate but what it really is it's 40% today and then 40% of those remaining tomorrow, and 40% of those remaining the next day," he explains. "And what you do over time is you build up a larger and larger base of clients who eventually all realize, 'Oh, yeah, I guess I do need that remote support.'"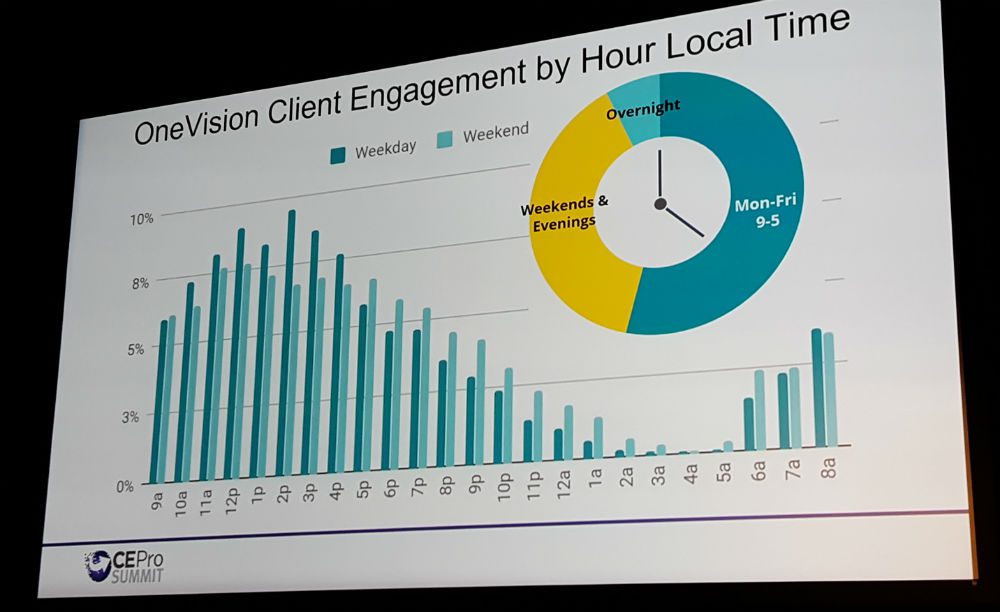 Like any other service industry, customers won't want to wait to have someone come out to their home if they don't have to. Client demand data collected by OneVision and Parasol validate the value in providing services for — and getting customers to pay for — engagement in those off hours.
OneVision receives around 10,000 calls and emails per month, Kolchinsky says, of which only about half of the interactions come during the Monday-through-Friday, 9-to-5 time frame.
Furthermore, while typical workday daytime calls peak around 2 p.m., OneVision has found that after leveling off around dinner time calls and emails pick up again and persist to midnight. Weekend interactions averaged by hourly time frame are pretty evenly spread out.
"Fifty percent of all the interactions we engage in are after hours, on weekends, evenings or overnight," Kolchinsky says. "Clients are willing to pay for this. There's a lot of value in what we're doing, and clients are starting to appreciate that value as well."
Parasol looked at interactions for the Eastern time zone and, again, Clifford notes that the spikes tend to come when an integration shop is closed, like 7 p.m. on weekdays and 6 p.m. on weekends.
"Clients are willing to pay for this. There's a lot of value in what we're doing, and clients are starting to appreciate that value as well."

Joey Kolchinsky, OneVision Resources
Clifford notes that unlike the commercial AV industry, where it might be expected that interactions take place during normal business hours, the residential side and dealing with high-net-worth clients in particular, can't afford to simply ignore customers after hours.
"I'm sure everyone in the room can relate to the angry text message," he says. "The proof is in the pudding."
Kolchinsky adds the analogy of AAA car service for those who might think they don't need to offer remote support because their own company's experience differs. "This isn't just about, 'I don't have that many phone calls in the evening.' Well, people's cars also don't break down that often and yet AAA has over 50 million subscribers," Kolchinsky says. "The point is, offer it. Let them tell you, 'I love that,' or 'I don't love that' and then watch as they start to consumer services."
How Much Will Clients Pay?
With value in remote support being recognized more, the next question is how much will customers pay for it? Naturally, CE pros could consider a range in pricing depending on average project size, geographic region they do business in, etc.
But based on Parks Associates research Kolchinsky cites that price elasticity is still a truly undetermined amount, and one that integrators likely are continuing to undervalue. He showed a Parks graph that depicted the likelihood of clients to pay for additional support at a certain price point; at $10 per month, for instance, it showed about 45% of respondents said they were willing to pay and 55% were not. As the price is raised to $15, $20, $30 per month, the same number of people are likely to pay.
"What they uncovered is that we haven't yet reached the max, we actually haven't figured out that value," he says. "People are actually willing to pay a lot more than you think. What [Parks] should have done is shown price points of $10 to $50 to $300 to $500 … we are just scratching the surface on what people are willing to pay for."
Meanwhile, OneVision offers what Kolchinsky describes as pretty aggressive pricing of $30 to $50 per month for remote support from its integrator partners. "We push the price points high, and are always talking to our partners to have the confidence to go out and sell these services at higher price points," he says.
However, he says the bigger profit opportunity comes from offering extra services that in some cases do not require much overhead for integrators to offer. Customers will pay a little more, especially as you go higher up the project budget ladder, for things like: discounted rates, priority scheduling, parental controls, network security, proactive monitoring, annual tech reviews, and faster response times, to name a few.
"You start to layer additional things on top, and as with most businesses the margin comes from the add-ons … and priority scheduling, annual tech reviews and proactive monitoring barely cost anything," Kolchinsky remarks.
He does add that while luxury market customers may pay more, volume retailers have huge potential for RMR due to the amount of clients. "I would rather have 10x the customers paying $30 a month than the one paying $50 a month," he says. "If you're thinking about profitability in service it's not just going after luxury end users."
Implementation Requires Patience, Buy-In
Despite the growing interest among clients, Clifford underscored that profiting from remote support RMR is not something "that happens overnight" and urges integrators to be patient with the business model.
He likens it to starting an exercise program, in which results happen over time, with routine, discipline and belief in what you're doing.
"And it required more than just that one or two key people in the organization, it required an organizational buy-in," Clifford says of his own company's success in service revenue.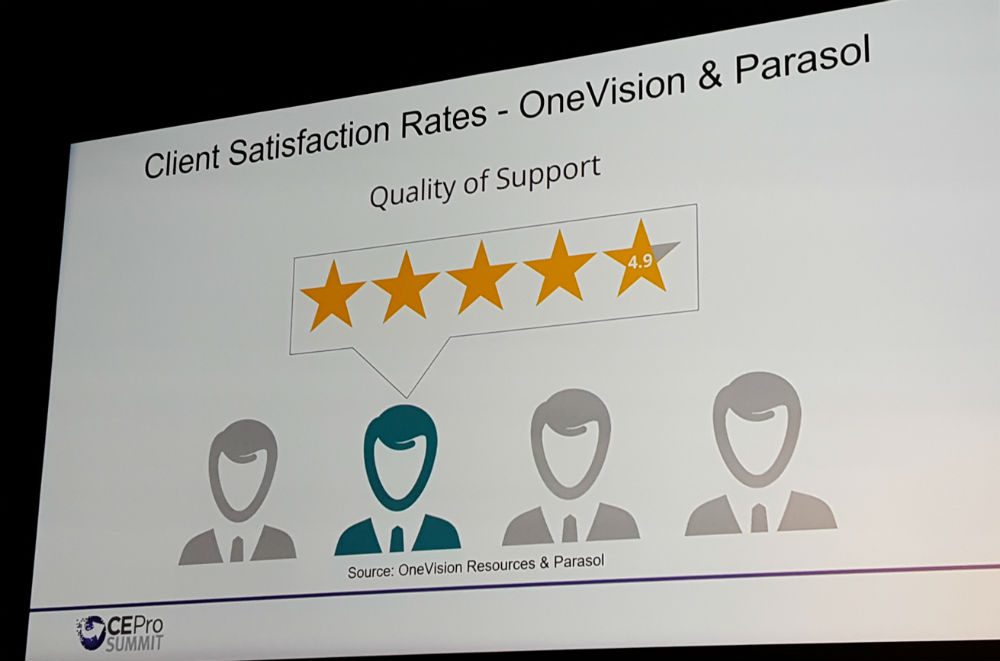 He goes back to the change in mindset required, considering that this industry tends to attract employees who want to please customers with all the great things their new tech can do rather than merely focus on revenue.
"For years, we've all been giving away support," Clifford says. "There is probably a little bit of a no man's land in your company between where you are today and success [at pivoting to service revenue]. The early days of it might be a little bit disheartening … it's hard, but it's really, really worth it."
To continually push services, Livewire's service and sales team members have been trained to talk about it with every client engagement and to bring the subject up early in the sales process. On the company's website, there's a "Door No. 1, Door No. 2, Door No. 3" set of options for every project interaction to make services selection simple for whatever the customer thinks is best for them.
"That results in a high attachment rate, and even if customers don't sign up for 24/7 support they're still subscribing to a kind of limited support per incident program," he explains. "So it's that muscle memory, that healthy stepping through the door so they're not going to turn around later and say, 'Wait a minute, you guys are supposed to be available for free at my beck-and-call at 3 a.m. for no charge!'"
Clifford says Livewire further entices customers by shortening standard warranty periods to 90 days but offering an expanded two-year warranty. He adds that integrators should also keep in mind designing systems with appropriate products and solutions that can facilitate leading remote management platforms.
And to proactively show the value of signing up for a service plan, Livewire creates home health report cards so customers can learn exactly what services have been performed and what they've saved over time.
If you enjoyed this article and want to receive more valuable industry content like this, click here to sign up for our digital newsletters!