CE Pro 100 in 2019: Lighting, Recurring Revenue, AI, and Efficiencies
Members of the CE Pro 100 share thoughts on which new technology categories and markets they plan on expanding into, shoring up operations efficiencies, hiring and retaining talent, customer service and RMR strategies.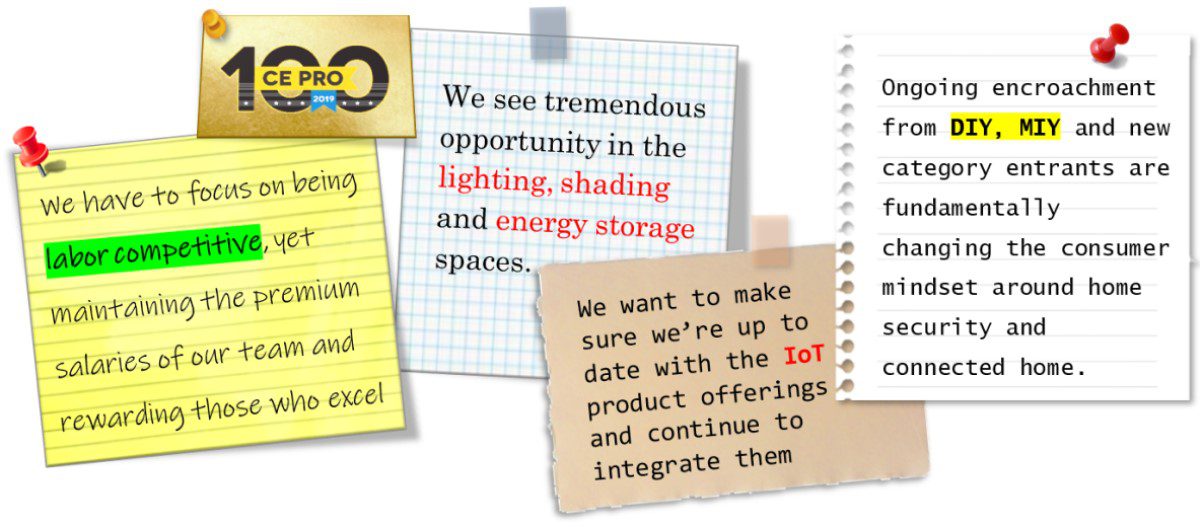 The annual CE Pro 100 rankings may reveal numbers that put some high-revenue custom integrators in elite company within the industry, but make no mistake these firms are wrestling with the same challenges and considering the same potentially lucrative opportunities as hundreds of other integrators.
Every year as part of compiling the entries for the CE Pro 100 we also receive data about preferred brands as well as solicit responses to what challenges and opportunities may be shaping their 2019 business outlook.
The former helps CE Pro tally the annual Brand Analysis; the latter provides verbatim insights into the custom industry landscape and is presented below.
Whether your company just missed making the CE Pro 100 list, is just getting off the ground, or finds itself among the wide-ranging and mostly small-to-medium businesses somewhere in between, there's sure to be some nodding of the head to what these integrators replied. Or perhaps you'll find commonalities that are worth bonding over the phone or email to further explore how integrators are handling them.
With many challenges and opportunities relating to particular themes echoed repeatedly by CE Pro 100 members, we've grouped them into certain areas that stood out. Read on and see if your company can relate.
---
True Smart Home
"Today, homeowners can manage their security system, locks, lights, cameras and more from a panel or app, but they want more than these intelligent devices — they want an intelligent home. They're looking for their smart home to learn their routines and patterns of behavior to improve security, comfort and to simplify their lives.
"Vivint automatically manages the connected devices in a smart home, including locks, lights, thermostat and security system … an average of 15 per home. Machine learning algorithms use data from these sensors, as well as from mobile devices and system usage, to provide intelligent recommendations and take action to streamline the home experience." —Aaron Searle, Vivint
"We want to make sure we're up to date with the IoT product offerings and continue to integrate them into our automated solutions. We're really seeing our clients willing to upgrade their solutions and keep up with the technology along with making investments in maintenance contracts." —Wes Bradshaw, Sunbelt Technology
"Consumer-focused home automation systems are the biggest opportunity that we may have ever encountered. We're addressing by creating enticing solutions using household brands and charging for the value we bring." —Matthew Walin, Brilliant AV
---
Capitalizing On/Combating Retail & DIY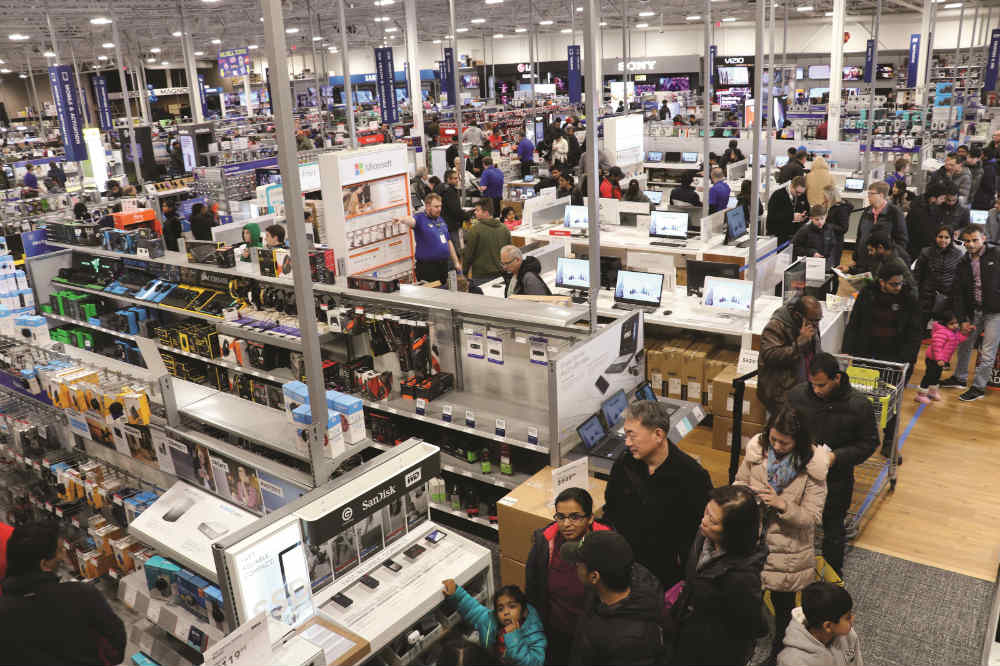 "Staying competitive as so many other dealers are shutting doors on retail. Standing behind our reputation as 'the house that service built' — letting customers know we're here to stay and continuing to grow the business. We'll continue to add to the store by bringing in new products and providing the customer with a better experience.
"Noticing mergers and other A/V companies going out of business and seeing an increase of service work will generate system upgrades and new customers." —Greg Porthan, Abt Electronics
"The explosive growth in the DIY market led by Ring/Amazon and Nest/Google continues to be a serious challenge to our business model. We have embraced this market and have begun to offer installation services for those who are uncomfortable installing them and stepping customers up to more sophisticated systems when the customer desires more." —Jim Lind, Nebraska Furniture Mart
Related: What Integrators Can Learn From Best Buy
"Ongoing encroachment from DIY, MIY and new category entrants are fundamentally changing the consumer mindset around home security and connected home. Evolving hardware financing models are giving us excellent opportunities to completely reimagine and restructure our historic value proposition." —Justin Demek, Guardian Protection Services
"Competition is growing from DIY products that continue to be introduced to the marketplace. We shy away from them and promote the benefits of legacy wiring and proven winners, for a consistent home automation experience. Education about the importance of having an enterprise network Wi-Fi solution to adequately provide the bandwidth to support all the devices has become essential." —Eric Smith, Intech
"Biggest challenge is getting Millennials to see the value in professional installs when they are already familiar with DIY systems." —Neal Check, SoundCheck
---
Recruiting, Training & Retaining Talent
"Finding technicians and salespeople who are qualified. Also expanding our operational software requirements to support efficiencies in our growing business endeavors. Supporting a profitable 24/7 service offering. Improving efficiencies in the field." —Robert Kaufman, Audio Command Systems
"Finding, training, and retaining the top professionals in the industry. We try to provide a positive work environment that is positive and rewarding both financially and personally." —Jonny Osborne, Peak Audio & Video
"We are in the final months of converting all Systems to NetSuite in the cloud. The latest generation of workers require more transparency to performance, goals and metrics." —Chris Pearson, Service Tech AV
"Our biggest challenge is growing properly. We experienced 50% growth for each of the past three years, and expect that again this year. We have a lot of already closed contracts that will almost put us where we were in 2016 and that's not including all the other potential clients. Finding technicians who are hard-working, knowledgeable, and willing to put in the hours is hard to find.
"We've already grown another two people since beginning of year in preparation of these huge projects. Overall, we've also learned (or like to think we have) to read employees and be more selective before we hire people." —Robert Burns, Audio Video Concepts & Design
---
Addressing Other Business Operations
"Keeping overhead down, especially labor cost. Audio Interiors is a 37-year-old company with top tenured staff and a very highly paid installation team. We have to focus on being labor competitive, yet maintaining the premium salaries of our team and rewarding those who excel with bonus compensation. We will address these concerns by being as efficient with labor as we possibly can be; i.e., not sending two techs to a job when one can accomplish the task at hand." —Neil Greenberg, Audio Interiors
"The biggest challenge we continue to face is to be more efficient as well as cost effective. In 2019 we will take the time to define our priorities and be more efficient than ever." —Joseph Akhtarzad, Just One Touch / Video & Audio Center
"Challenges: 1) Managing a growing company with multiple locations; 2) educating clients about a better experience, increase ASP; 3) implementing a unified software platform.
"To address them: 1) Utilize elements of the Entrepreneurial Operating System (EOS) platform to move ahead, KPI; 2) scripted tours of our showroom for every customer and referral source; 3) modify processes to fit software vs. trying to customize or abandon the software." —John Carter, Home Automation
"We will be asking more of our vendors to do closed trainings at our facility as opposed to sending staff out of state for training, wherever possible." —Deborah Ross, Audio Video Excellence
Read Next: CE Pro Brand Analysis 2019—Familiar Brands Dominate the Market
"We are switching over to a different CRM, one that can easily track all workflow stages for our multiple locations. We have hired accounting/CRM experts to 'deep dive' into our business to determine what is the best option for Signals." —Todd DeAngelis, Signals Audio/Video
"Continual challenges with hiring more staff as we expand our team. With that comes a refinement in standardization and scaling, creating defined job roles for new positions that are needed as we grow." —Lee Travis, Wipliance
"We recently hired a project manager, Rich. He is a huge asset! While Rich's main job is to oversee projects, his day-to-day work involves relationships with our clients. He has been awesome at following up with clients, which many companies do not do anymore." —Stacy Abramson, SoundWaves Custom Home Integration
---
Entering New Tech Categories/Markets
"The entire lighting and shades category led by Lutron, including fixtures, is our major growth vehicle." —Franklin Karp, Audio Video Systems
"I would argue that if a homeowner moves every seven-to-10 years, many who had a system [in a previous home] will opt for more basic system now — Sonos, Ring, Nest — not that there is anything wrong with that. But take the top 1% of the super high-end market, and I believe the average sales price will diminish significantly over the next two years. The good news is reliability will better and we can then build on this over the next few years. I also believe that if you do not have a separate service department that is constantly checking in with your clients you are setting yourself up for failure." —David Welles, TVTI
"We see tremendous opportunity in the lighting, shading and energy storage spaces. Colorbeam has been a good initiative to get started with packages of LED, RGB and outdoor lighting without having to necessarily adopt their entire interior Cat-5 lighting package. Shading continues to be a growing part of our business." —Bryan Gorog, BCG Concepts
"The biggest opportunity is in designing and delivering shades, and lighting control solutions. … We have additional opportunities in creating standard solutions so that we can deliver them efficiently with higher margins. This will allow us to grow our residential business by at least 10%-15% in the coming year." —Bill Aziz, Artisan Systems
"The most important advancement we've seen is in lighting control. Keypad based lighting systems are moving down market and now smaller, less expensive homes are prioritizing lighting control as an important feature rather than a luxury. We're extremely excited by new advancements in lighting technology, such as circadian lighting.
"This presents a huge opportunity to differentiate ourselves and create advanced lighting systems which offer feature sets that cannot be replicated by our competition. Any electrician can install fixtures but having unique features which needs advanced programming will help new revenue growth in a category we have not had much access to in the past." —Spencer Clark, Audio Breakthroughs
"We have set ourselves up to capture more commercial projects this year than ever before, since our focus was mainly on residential. We're focused as a team on this chapter of the company and making sure each project receives the attention that we are known for." —Brian Richards, Precision Media Solutions
"There seems to be a downward trend in the housing market for the beginning of 2019. We will make greater efforts to secure commercial installations through outreach and marketing programs in print ads. We're also changing how we present options to our clients, starting with higher-end brands and then adjusting the proposal where it makes more sense to our customers budget." —Rick Goren, Technology Interiors
"Networking: There are so many options for clients for inexpensive DIY products to Comcast and Verizon providing products for the homeowner. These do not work in our clients' environments with the large energy-efficient homes and automation systems that require a proper network. First you have to educate the client on the differences and what they will experience, and the features and benefits. This also opens up an avenue for managed and proactive services." —James Shapiro, Audio Video Intelligence
"The biggest opportunities we see in 2019 are related to cybersecurity, and staying on top of the ever-changing advances in the technologies that we provide, monitor, install and service." —Kenneth Beam, Mountain Heritage Systems
---
Sales Process & Showrooms
"Getting involved in the project early enough to be integral in the design process. A/V is often an afterthought in new construction projects. Our challenge is to enter the conversation earlier, so that we can collaborate with the architect, designer, GC, etc. to ensure a smooth project with artfully blended technology." —Jordan Wills, Cloud9 Smart
"Continue to increase gross margins on the company. We moved our gross margin 8% last year, which was amazing!" —Shawn Hansson, Logic Integration
"Creating and implementing new revenue streams to help support the business in growth and diversity. … Partnering with designers and architects to offer a full suite of products for the entire project." —Kimberly Bucholsky, All Systems Audio & Video
"Competitive pricing pressures, especially with online competition. Building a recurring revenue model that makes sense for my business." —Alan Guyes, Audiotronics
"We have opened up our experience center running a full Crestron system with a little Control4 sprinkled in. We've started to aggressively expand our security division with access control and recurring monitoring just last year." —Jeff Bosler, Integrity
---
Customer Service, RMR
"Solutions continue to get cheaper and cheaper, but better and better. Attaching high-quality product remains the opportunity. Service contracts and monthly revenue has potential and [we] hope to roll it out." —Robert Cole, World Wide Stereo
"We are in the process of developing a recurring revenue stream through the introduction of service plans to new and existing clients. Our biggest challenge is defining our service plans so that they are practical, profitable and a value-add to our clients. Rolling out our go-to-market strategy would be our next biggest challenge to ensure we are properly communicating the new service model and being fully transparent by educating on the value of a dedicated plan versus a la carte service.
"For those that don't want to enroll in a plan, we've identified the need to increase our service rates, and are also challenged with communicating the uptick in pricing." —Gina Romanello, Innerspace Electronics
"As we've continued to grow we've had to delegate more workforce toward service, which seems to be a break-even arm of our business on a very good year. And when we do complete that service call — many times it's the Internet provider, or other outside sources that caused the issue — and have an upset client who doesn't feel they should have to pay for this service … we don't want to risk the potential of a bad online review, so often our arm is twisted into comping the call.
"We have created new processes to do our best to streamline, set expectations early, etc. and hope to continue to formulate new ways to deal with this. We just signed up with Parasol and will incorporate the 24-hour phone support into the maintenance contracts we started selling three-to-four months ago." —Stacy Worley, Desert Valley Audio Video
"We see recurring monthly revenue as one of our largest opportunities for growth in 2019. The creation of a third-party provider, Parasol, has allowed us the ability to provide 24/7 support for our clients and opened an avenue for growth in revenue at the same time." —Henry Clifford, Livewire
"The biggest opportunity in front of us is to grow our recurring revenue model. We've created several avenues to create recurring revenue, but our service plans provide the single biggest opportunity. We have invested a significant amount of time and energy to create a world-class service experience for our clients which includes paid membership levels." —Randy Schram, Smart Home Systems
"Continuing to be competitive and provide value-added services. Moving toward a profit model primarily derived from labor/ services as margins erode on commoditized products." —Scott Fuelling, Phoenix Unequaled Home Entertainment
---
Working With Homebuilders
"The building market in our area is booming. We are hiring new staff to be able to complete more projects." —Bryan Naquin, Acadian Home Theater & Automation
"Biggest opportunities: Control4 Certified Showroom traffic; growing in custom shades category; smart home systems as a standard feature in our production and custom home communities (the Sacramento area continues to grow)." —Mark Buzzard, Liberty Bell Smart Home
"We sell to residential builders, so we are subject to what the market is doing. Builders are integrating home control as a standard in the homes, so we find that to be an excellent opportunity to go in and upsell product to increase revenue." —Laurie Lovely, e4 Control Systems
Related: 140 Control4 'Certified' Smart-Home Showrooms Debut – UPDATED
"One of the biggest challenges is new homebuilders providing a smart home experience as a standard base package more regularly. While this creates an opportunity to sell more as a standard, it has diminished our ability to sell high-end margin upgrades. Buyers have the impression that everything they may need for a home is included at the base level and are spending less money on options as a whole.
"More complete base packages are offered due to competition between homebuilders. Whether it is flooring, countertops, or home theater, the buyers are spending less on the upgrades. Optional upgrade packages are very profitable; less option selections have severely diminished our margins.
"One big opportunity for us is the ability to offer more personalized service when competing with large companies. We cannot always offer the pricing of our competitors, but we can offer personalized solutions to our customers." —Diana Grady, C&R Systems