2018 Quest for Quality Awards: Category Kudos
Suppliers in niche categories, including Luxul, Bluesound, Logitech and others, recognized for their tech support, customer service and marketing assistance.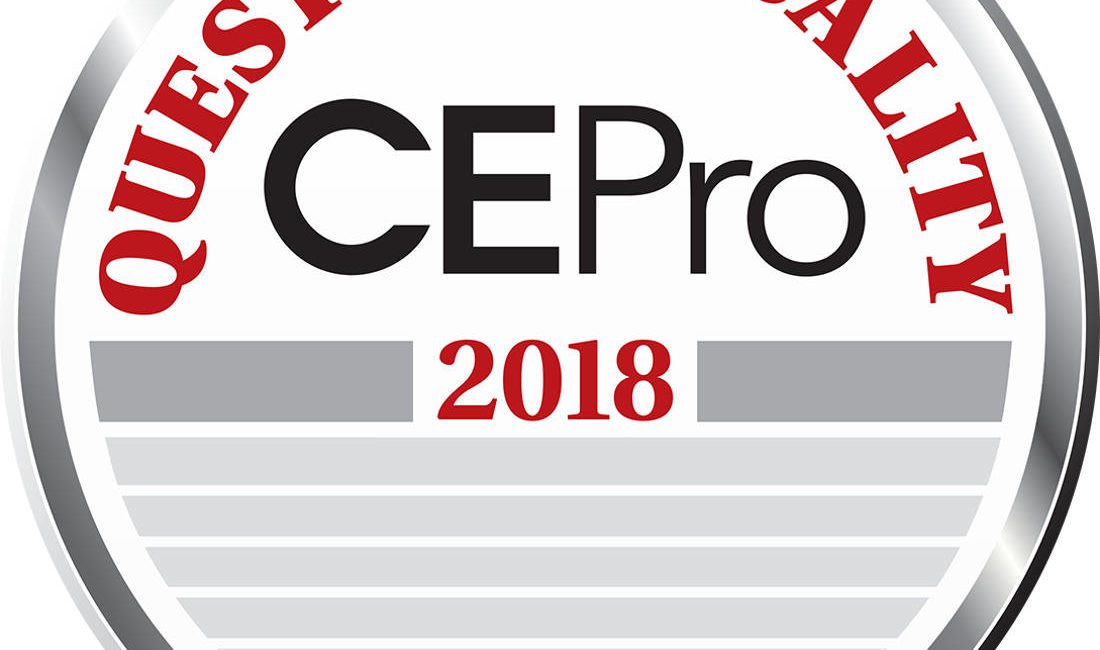 Now in its eighth year, CE Pro's 2018 Quest for Quality Awards recognize outstanding service by manufacturers and distributors. Manufacturers that are focused on a single product category don't get the same amount of opportunity to interact with integrators as more diverse brands that are selling multiple product lines.
That's why the CE Pro Quest for Quality Awards has its "Category Kudos" recognition. This aims to acknoledge suppliers that provide outstanding customer service, tech support, sales and marketing assistance and more. The companies receiving this recognition were named by CE Pro readers as part of the 2018 Quest for Quality Awards survey conducted in February 2018.
Congratulations to all.
---
Tech Support:
---
Luxul-
"Luxul's technical support team members each have a true passion for IP networking, which makes them enthusiastic to be constantly learning more. Luxul also encourages the continued education of their technical support staff, so between their desire to learn and Luxul's support of that ambition, our technical support employees are absolutely specialists in their areas of expertise. They also truly care about supporting our dealers and that shows every time they take a phone call." —Mike Grubb, VP of Marketing
CasaTunes-
"CasaTunes' support online is really fast." —Verbatim response from reader
SurgeX-
"SurgeX has been excellent in the service support area." —Verbatim response from reader
Logitech
"The Logitech Harmony pro team offers the latest tools and technology to efficiently train and support installers in the field. We host webinars, covering the latest topics and offer programming demos based on live installer requests. Our eLearning site, which has a 98 percent 5-star rating, walks the installer step-by-step through the programming process. We also offer dedicated dealer support seven-days-a-week. With relatively standardized (although extremely robust) programming, we can correct most issues for dealers within minutes without pouring through custom code to rebuild a macro. All of these tools allow the installer to get up to speed quickly, while making training far more engaging. On the rare occasion where an installer does need field support, remote management allows us to help dealers directly, often in a matter of minutes. It's an ultra-responsive support solution that provides us with a best-in-class RMA of less than 0.5 percent in the pro channel." —Brett Bjorkquist, Head of Marketing & Strategy – CI/Pro Channel
Savant-
"My Savant rep calls every week to check in, tell us what's new, and talk about technology. The company is good at solving both technical and sales problems and a pleasure to work with." —Verbatim response from reader
Bluesound-
"Bluesound will go out of their way for troubleshooting." —Verbatim response from reader
---
Customer Service:
---
AudioQuest-
"We are delighted to receive this honor — though we can only guess at what separates AudioQuest from its competitors. Had there been a race, maybe we could have glanced sideways and seen a competitor jumping or dancing or otherwise compromising their forward motion, in which case we'd comment about them, instead of about our philosophy. We see necessary customer service more like a race against the clock — we are simply trying to be as good as humanly possible, and then to be even a little bit better than that the next day. We would never urge to people buy a me-too product because of great customer service — for AudioQuest, the product must be superior or we have no right to be in business. However, if one thinks of a best-of-breed product as a truth, then a favorite AQ truism applies; that "even the truth has to be sold." This means easy to order, ships on time, and with great backup and customer service. If the B-to-B relationship isn't healthy, the best product in the world is of almost no use. We're proud to publicly thank and congratulate the AudioQuest customer service team — and to thank CE Pro for recognizing their excellent service."
---
Sales & Marketing Assistance/Support:
---
AV ProConnect-
"AV ProConnect will do whatever it takes to make it work for the customer and me." —Verbatim response from reader
Bang & Olufsen-
"In the B&O Professional channel we have taken an active approach in developing strong Partnerships with our family of CI Partners. As a manufacturer this brings us much closer to the market and in return allows us to offer stronger support. We believe tightly forged partnerships are the key for success; individually we will struggle, but together we succeed." —Henrik Torp Nielsen, Head of Bang & Olufsen Professional & Enterprise
---
Warranty Policies:
---
James Loudspeakers
"At James Loudspeaker, genuine appreciation and respect for our customers has been paramount to the success of our brand. We realize even the slightest imperfection is an urgent matter requiring immediate attention, and our staff knows fixing the issue is the only answer. The team at James Loudspeaker has been trained to take a proactive approach to solving any and all warranty issues in the most timely fashion. Providing great service is an opportunity to enhance our relationship with integration partners while simultaneously analyzing our internal processes for best practices. Unlike many companies, James Loudspeaker does not consider warranty service as profit center, but rather an opportunity to enhance the trust and confidence of integrators and end users." —Mark Schafle, CEO