As applications get smarter, requiring the integration of more and more devices, integrators are beginning to rely on AV over IP (AVoIP) and its scalability to complete jobs of all sizes.
For a while now, AV over IP has been revolutionizing the industry by providing a plethora of solutions that are flexible and scalable for residential and commercial applications alike. AVoIP systems allow installers to manage, transmit, and receive virtually lossless audio/video signals and control hundreds of devices over a local network. The IP network offers greatly improved scalability for AV distribution because adding additional sources and displays only requires additional encoders and decoders.
Have a system that has overgrown your network switch? Not a problem as you can add another switch to grow with the customers growing needs. Imagine the possibilities on projects: You can easily add sources upon request without greatly expanding the budget, making you the hero.

AVoIP offers flexibility to your integration business as well as your system design. The fewer times you need to roll a truck the better and with AVoIP solutions, everything from monitoring, diagnostics, and system checks can be done in the cloud. The most intuitive systems allow you to configure and manage the system UI through a simplified web interface, to be able change audio/video routing, enable different video wall configurations, and scaling media up to 4K or down to 720p. The ability to achieve this level of customization for a client without having to disrupt their lives is obviously desirable for installers.
While AVoIP has gained a reputation as a viable solution for AV distribution, it has also been met with some reticence. The technology is ready to go and can fit the needs of almost any application, but many integrators are reluctant or unprepared to scope and service AVoIP projects. The longer integrators wait, the more they will have to play catch up as the technologies behind AVoIP continue to develop and change. For the companies with earnest desire to grow with these technologies, AVoIP competency is mission critical. By shoring up some core network competencies, an integration firm can strongly differentiate itself and be better prepared for what's to come!
The Task of Troubleshooting
Troubleshooting sometimes seems like a great lost art. We solve big problems for our clients while creating compelling, creative solutions for projects at every level, but I think there is a forgotten basic-level system of problem solving that is overlooked when using new solutions.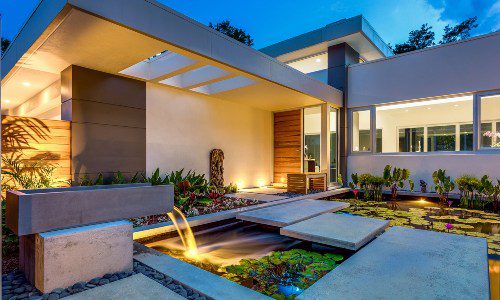 Landscape and architectural lighting create a magical and elegant ambiance for homeowners. The outdoor lighting industry has always been a phenomenal one and continues to grow in popularity. Now is the ideal time to learn more about this rapidly growing and highly profitable industry. Join our panel of esteemed lighting experts that will dive into why it's time for integrators to rethink their role in the outdoor lighting industry.
Register Now! 
Maybe AV over IP solutions are still a new category for you. Maybe you feel comfortable with a matrix and see no reason to transfer your typical applications to network switch. That fear of the unknown should not hold you back from expanding your portfolio.
Simple systems are perfect to start with. Your first AVoIP implementation may not be perfect, so it shouldn't be hideously complex. Someday, every integrator that's still in business will be installing AVoIP systems. When that day comes, you'll need a foundation of hard-learned troubleshooting skills, built by scaling your expertise through more and more complex applications.

Whether troubleshooting in person or remotely, the same basic principles apply:
Only make one change at a time
Swap devices, ports, and cables using known working devices or cables
Always take notes of what you're doing as you go
When in doubt, draw a simple diagram and cross out  If you feel you need a deeper dive on troubleshooting basics, industry resources like CEDIA and AVIXA offer full courses and resources to get you up to speed. Don't underestimate the troubleshooting skill for yourself or anyone on your team – it is critical. Tech is always evolving and being able to fall back on these skills is important.

When you have exhausted your own troubleshooting toolbox, any manufacturer worth their salt will have the customer service and support to get your project across the finish line and help you better prepare for the next one. Choosing the right product partner is key: do your research, talk to your friends in the industry and share experiences. This is how some of the best information circulates. 
Being able to troubleshoot an AVoIP network is powerful. The network can seem opaque to clients – a little expertise in this arena can go a long way in the customer's eyes.
The IT Opt Out
I have heard it from integrators of every stripe, from the security pro to the seasoned AV installer: "I don't want to be the IT person on this project." You can opt out of IT, but it will cost you in the long run.
No one can doubt that AV has become more IT-oriented in general, though experienced IT professionals would probably call it "IT light."  In the recently released PowerHouse Alliance white paper "A Landscape of Change: Charting New Territory in the Custom Installation Industry," members and vendors reported over 200% growth in networking sales in 2020. What area of your business has seen 200% growth? Why would anyone turn their back on that kind of opportunity?
So many of our systems beyond AVoIP require networking expertise. Working with any home-automation platform, the bread and butter of the residential channel, is going to require a strong network. If you don't have a plan for adding network services to your portfolio, it's going to limit you on scoping both AVoIP and other future technologies on projects. I'll encourage you again: look at trainings, talk to your industry friends, and don't leave opportunity on the table. 
AV over IP is certainly not going anywhere, and the technology is only going to continue to advance. We're on an exciting precipice: the adoption of high-bandwidth physical layers like 10 gig fiber in local area networks is up, clearing the way for live audio and video distribution on a unified network infrastructure. The possibilities are limitless—unless you limit your business by avoiding AVoIP. Start now: a solid foundation in networking and troubleshooting skills will serve you well for AVoIP and whatever comes next. 
---
Brandon White is the director of new product development at Vanco International.
If you enjoyed this article and want to receive more valuable industry content like this, click here to sign up for our digital newsletters!