The Q Topanga Apartments are a sought-after multi-dwelling residence in Los Angeles' Woodland Hill neighborhood. The sleek, modern, eight-story apartment complex features a list of luxury amenities, including a full-service concierge, bicycles, restaurants, rentable guest suites, valet parking, spa, fitness center with daily classes, a screening room and more.
The ownership and operations group are so concerned about the guest satisfaction that they have resident experience managers whose job is to ensure that guests are being treated to resort-style living, — overseeing the smallest details, including managing the property-wide AV system.
The AV Deployment
Installed by Fluid Sound, the AV deployment is composed of 17 displays installed across all eight floors, including communal lounges, two-story gym, private dining room, screening room, offices, valet stand, and small conference rooms.
The integration company was tasked with building out an affordable, flexible and easily controlled AV-over-IP system (AvoIP) that the managers could efficiently command. It was a tall order for an AV installation this spread out that also includes access to six DirecTV boxes and two digital signage players.
A traditional video and audio distribution solution would have required lengthy cable runs from every screen to source. It was an approach that was far too expensive, laborious and unscalable, should the owners want to add more screens or sources in the future.
Fluid Sound prides itself in understanding and sticking to AV solutions that work. The Q Topanga is the second of five planned properties that the company had installed. The other property, The Q Variel, served as a successful template, of which Fluid Sound chose Just Add Power's HDMI-over-IP solutions.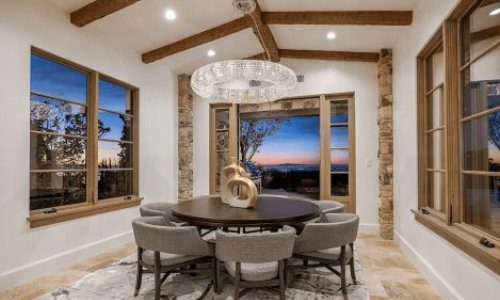 As a custom integrator, lighting is in demand. Effective communication, education and showcasing the value proposition of LED light fixtures in conjunction with integrative control systems are the keys to overcoming challenges and closing sales in this specialized market. Join us as we discuss the future of digital lighting and control with David Warfel from Light Can Help You and Patrick Laidlaw and Mark Moody from AiSPIRE.
Register Now! 
"For a use case like this, a decentralized AV system would've been a disaster," says Dennis Pappenfus, CEO of Fluid Sound. "A networked AV approach really is the only way to achieve the level of control and predictability in an audiovisual experience that the resident experience managers were looking for. With Just Add Power, we could create a property-wide system with an unlimited number of sources and screens and with different presets and event recall control features."
The HDMI AV Distribution Solution
Just Add Power's HDMI AV distribution solution leverages the facility's common network infrastructure. The company's transmitters and receivers are network appliances, conforming to all networking protocols and standards for wiring and reliability. AV signals are efficiently and reliably transmitted anywhere that the data on the network can travel. It is uniquely scalable for the job at hand, no matter how many sources and displays an installation may require.
The system offers ultra-low 16ms of latency from source to screen and supports 4K ultra-HD resolutions and HDMI 2.0 devices with HDCP 2.2. The platform enables seamless switching between any resolution HDMI source as well as uncompressed lossless multichannel audio formats including Dolby Atmos. For the Q properties, high-quality audio distribution was a necessity, allowing it transport of signals to the elevators, parking garage, exterior streets, courtyards and lounges, as well as the yoga, Pilates and spin rooms.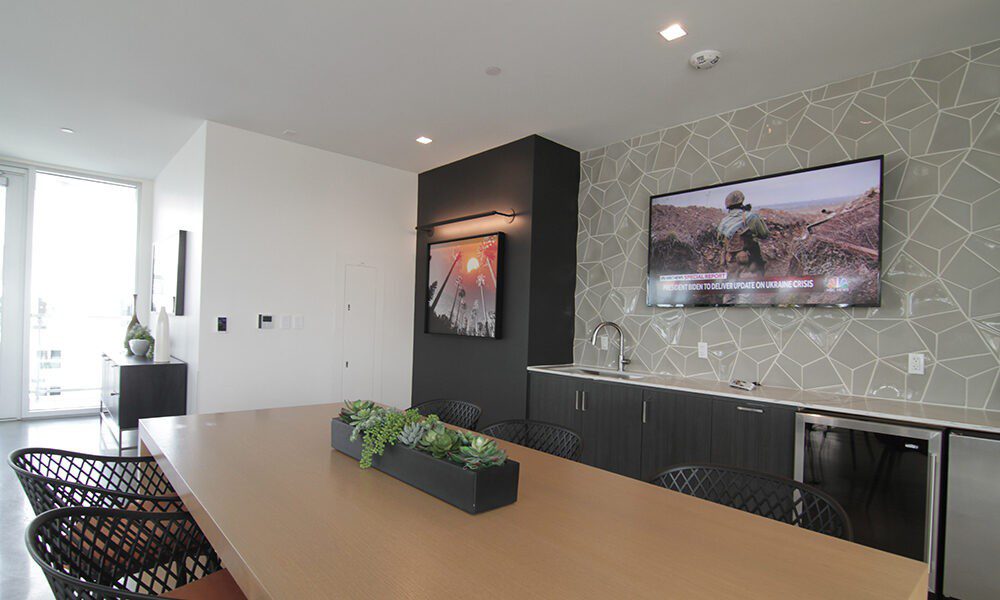 Each one of The Q's sources are connected to a Just Add Power VBS-HDIP-767DSS transmitter, which converts the HDMI signal into a network packet that is sent over standard Cat5 cables. Mounted inconspicuously behind every screen is one of Just Add Power's VBS-HDIP-508POE receivers, which is connected to the display via a simple HDMI cable. The receiver takes the network packets received over Cat5e cables and converts them back into an HDMI signal.
In addition, the meeting and conferencing spaces feature Just Add Power HDMI input wall plates to allow meeting room users to send their content from any source to the screen with ease. To manage the AV traffic on the network, Fluid Sound installed Cisco CBS series switches in 10 IDF equipment closets throughout the building. What's more, the platform is engineered to provide complete scalability, so expanding it with an additional screen or source is as simple as adding another receiver or transmitter.
Another benefit of Just Add Power's network approach is that it allows managers to control the system intuitively from wired Crestron TSW Series touchpanels. Fluid Sound programmed them in conjunction with the Just Add Power devices with presets that allow the managers to quickly set up the building, selecting the video and audio sources and setting the volumes. They also allowed them to automate presets so that the whole building changes at a particular time of day and in different zones.
Building a Scalable, IP-Based Video Distribution Network
For integrators, Just Add Power enables them to not only quickly and efficiently build a scalable IP-based video distribution with support for 4K resolution and a range of audio formats, but also embrace remote monitoring and management (RMM) service models. Because Just Add Power is a network-based system, it supports a remote gateway for integrators to observe and track device performance. They can even verify if a source is present from Just Add Power's image pull feature, including those being sent via the HDMI wall plates.
"Just Add Power goes hand in hand with integrator service models that keep these systems functioning faster and resolves issues more quickly than a break-fix model where a truck needs to get rolled to the property," says Pappenfus. "Rather than troubleshooting starting when a technician gets there, we can start the moment we get the call or if it's triggered during monitoring. A top to bottom AVoIP solution like Just Add Power improves uptime by allowing the AV contractor to access a bigger toolbox of troubleshooting tools to resolve issues remotely."
Those remote capabilities are all part of the small details that matter, mirroring the property's goal to provide a full-service, luxury guest experience.
---
A version of this article originally appeared on our sister publication Commercial Integrator's website.
If you enjoyed this article and want to receive more valuable industry content like this, click here to sign up for our digital newsletters!