To say biophilic design has been growing in popularity is to do it a severe disservice. In the realm of architecture and interior design, biophilic design has become a major staple as more and more professionals in the field attempt to mimic natural forms and environments in their work. However, it's a little disappointing (and surprising), that biophilic technology has taken off as much as its design counterpart.
Let me rephrase: the more tech-based aspects aside from lighting, haven't taken off as much.
As to why, I have a few theories ranging from current limitations of certain technologies to the aspects of biophilic design that are generally being pushed the most.
It's important to remember that rather than being driven exclusively by personal interest on the part of designers and architects, it's something their clients are clamoring for.
You may be saying "Duh!" but that simple fact highlights the power consumer awareness has regarding this particular phenomenon. People know how beneficial natural environments can be, and that's what's driving interest. We can even see that in the integration industry with how much outdoor installations have taken off among integrators and their clients.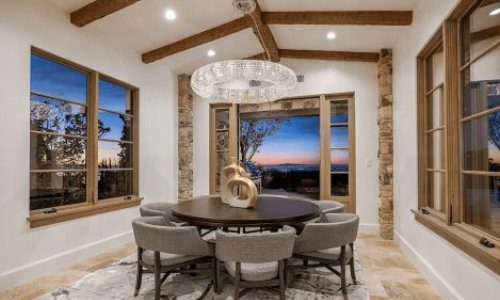 As a custom integrator, lighting is in demand. Effective communication, education and showcasing the value proposition of LED light fixtures in conjunction with integrative control systems are the keys to overcoming challenges and closing sales in this specialized market. Join us as we discuss the future of digital lighting and control with David Warfel from Light Can Help You and Patrick Laidlaw and Mark Moody from AiSPIRE.
Register Now! 
Biophilic Technology Picks Up Where Biophilic Design Leaves Off
There's something immensely soothing about being out in the natural environment, and I'm not just saying that as someone who will spend my weekends hiking and camping as frequently as possible. There are plenty of studies out there that highlight the value of three main elements: natural light, natural audio and natural scent.
It's well documented at this point how natural lighting affects circadian rhythms, which in turn feed into better sleep schedules and better wellbeing overall.
But audio is no different. In 2019, a study by University of Chicago psychologist Marc Berman found that those who listened to nature performed better on demanding cognitive tests than those who listened to urban sounds like cars and voices.
These findings match a study conducted by the University of Sussex back in 2017, where, when listening to more natural sounds, "brain connectivity reflected an outward-directed focus of attention," whereas artificial sound promoted a more "inward-directed focus of attention," similar to anxiety.
Natural sounds also led to an increase in the participant's rest-digest nervous system activity, which is commonly associated with bodily relaxation.
Then, moving over to smell, there was a study conducted in August 2022 that found the smell of fresh cut grass and blooming flowers boosted wellbeing and promoted relaxation.
Despite being a part of biophilic design, design can only address these elements of nature so much. And that's where many modern-day technological innovations come in.
Circadian lighting, biophilic audio and even aromatherapy as an emerging innovation are all facets of technology that, more than simply coexisting with design can elevate it. Given the popularity of biophilic design and the earnestness in which integrators seek to work alongside designers and architects on projects, I generally assume this to be a match made in heaven.
However, when I name off all those topics, readers may notice, of those technologies mentioned, its only circadian lighting that has received some level of mainstream success.
Where Are All the Biophilic Tech Projects?
Look at any of the most recent lighting or shading projects we have on CE Pro, and you can see for yourself how these will often have some circadian or human-centric lighting component included in them—as a highlight of the project or otherwise.
It may not be explicitly stated, but when natural lighting is a core component of the installation, that is the basis of biophilic design.
What lighting and shading has over others in the field of biophilic design is the proven nature of their technologies. Were it not for LEDs, current strategies for circadian lighting would involve constructing buildings either made entirely of glass or using light shafts to funnel natural daylight inward.
With LEDs, we went from static fluorescents to being able to replicate the full trajectory of the sun on a single diode. Tying that in to an advanced control system like Lutron or Crestron then completes the package.
LEDs are a proven, well-developed piece of tech at this point that allows them to fit almost perfectly into biophilic design, whereas other technologies such as biophilic audio and aromatherapy aren't quite there yet. I mean this both in terms of consumer awareness and technological advancement.
If I could speak on audio specifically, there is a surprising amount of nuance required with replicating natural environments. Nature embodies a level of disorder. You never step into the same river twice as the adage goes and likewise, you never hear the same arrangement of sounds twice.
Our bodies can tell when something repeats itself. We're hardwired to pick up on patterns like that, and up until this point, having natural audio meant playing a recording that would inevitably have to loop.
Could be hours, could be days, but eventually, given enough time, we'd be able to recognize where exactly it loops, especially when used where people tend to spend a lot of time.
This Garden Will Grow in Time
During my tenure with DesignWell, I had the opportunity to speak with Evan Benway of Moodsonic on this very topic (thankfully the podcast on it is still up if you want to give it a listen). Moodsonic is one of the few companies currently pursuing biophilic audio in the professional integration space.
According to Benway, it's only through the advent of algorithmic learning and AI that we have begun to develop truly dynamic audio tracks, something that is essential when designing biophilic audio.
Much like how CRI (color-rendering index) acts as a critical value in circadian lighting for getting our eyes to interpret artificial light as sunlight, the dynamism of audio (we may need to find a different name for the value) can be seen as a critical value for creating truly immersive, restorative audio.
The rise of spatial audio technology has likewise added another layer onto creating more immersive, wellness-focused spaces. That, too, is important, because when talking to lighting designers about circadian lighting, light saturation or immersion, is vital to getting the best out of the technology.
However, spatial audio and immersive audio in general remains very demanding with regards to setup and equipment. Companies like Spatial and even Sony with the release of their most recent line of professional receivers are pushing towards greatly simplifying the process of setting up these systems just for professional integrators, but there's still much ground to be gained.
While the technology isn't at the point of mass adoption, it's at a point where AV professionals can begin to reliably work with it and start shaping their futures with it as well. And the best part that Spatial's Wyatt Giampa talks about in his own article on immersive audio is that many of these solutions are hardware agnostic.
This is audio's LED moment, where the functionality of the technology undergoes a fundamental change, and it's likely, to a certain extent, that the future growth we see of this technology will lean a lot into biophilic design and wellness design, given current consumer and industry interest surrounding these two topics, much in the same way it has with lighting.
All of this to say that, in a weird sort of dichotomy, the world's growing fascination and love of natural spaces is only going to drive technology to be used more and more on projects. However, much in the same way it has been with other wellness-focused innovations, advocacy and proper positioning of the benefits surrounding the technology will be crucial in spreading awareness and driving consumer interest.
If you enjoyed this article and want to receive more valuable industry content like this, click here to sign up for our digital newsletters!