We are living in a digitally integrated world, and that's been made ever more apparent by our relationship with audio. Sound plays an important factor in shaping a person's experience in space, and effective sound design has been found to be a differentiator in a variety of environments, whether it's movies, games or commercial spaces. With an immersive, spatial audio set-up guests stay longer, office workers are more motivated, and patients rest at ease.
Already luxury residences are incorporating immersive audio into their spaces for deeper personalization, while commercial environments have wasted no time exploring this new wave of sound design. It's the start of something great, and new innovations in object-based immersive audio are particularly worth noting for everyone from integrators to designers to audio engineers.
What Is Immersive Audio?
Several immersive technologies have emerged in recent years—VR, AR, etc.—but creating more immersive experiences for the real world is essential today. Creative studios are already leveraging immersive sound design to create experiential soundscapes that can influence the texture and tone of a room. The edges of a wall may feel softer to the ear.
Or these soundscapes can completely transport you, replacing those walls with the sounds of environments that fully encapsulate the listener so the distant and nearby chirps of birds, rustle of leaves, crashing of waves or burbling of creeks.
Immersive audio is an evolution of sound design that delivers transformative experiences in a space with complete spatial realism. Rather than having to rely on a 'sweet spot' for listening, the approach uses audio channels scattered throughout a room so that occupants are always at the center of whatever soundscape has been crafted for the space.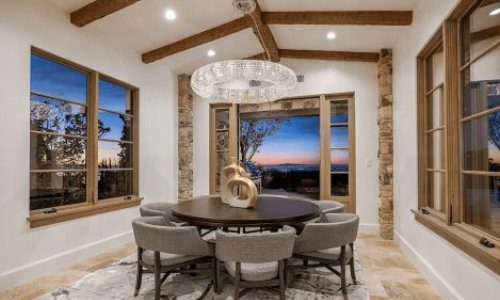 As a custom integrator, lighting is in demand. Effective communication, education and showcasing the value proposition of LED light fixtures in conjunction with integrative control systems are the keys to overcoming challenges and closing sales in this specialized market. Join us as we discuss the future of digital lighting and control with David Warfel from Light Can Help You and Patrick Laidlaw and Mark Moody from AiSPIRE.
Register Now! 
Imagine a backyard environment or outdoor venue that uses spatial audio to transport you to a tropical rainforest or bird sanctuary. Restaurants and bars are already beginning to install this technology to transport every guest by deploying immersive non-looping soundscapes that transform spaces with sounds of real-world environments replicated with realism previously not possible.
The healthcare industry is also developing new applications with immersive audio for various therapies and to enhance patient experiences, which we'll soon see in demand at hospitals and wellness centers. This technology is even being used to uplevel home entertainment systems for luxury residences, creating optimal sound environments – even in spaces with sub-optimal acoustics.
How Is Spatial Audio Being Used Today?
Already, integrators are beginning to see the growth of immersive audio deployments. At the forefront of this adoption will be skilled AV professionals who understand the technology and can work with experiential designers to build and deploy immersive soundscapes to fit each client's needs.
Of course, this type of spatial audio can be so much more than preset sounds or prerecorded, static music. It can be dynamic, engaging, interactive and even affect us on a subconscious level.
With no repetitive playlists and new capabilities to respond to sensors for enhanced realism, object-based spatial soundscapes unlock a heightened level of realism. Sound can now move people in new ways, creating environments that are more welcoming, engaging, exciting, calming, and energizing; meeting the particular needs of the space in the moment.
These sound experiences are growing and professionals in the sound design space are building their capabilities to support integrators by delivering more custom experiences for their clients.
Numerous organizations have already implemented immersive soundscapes that put the individual at the center of a three-dimensional scene, all of which can be deployed to scale for the audio installation. Meow Wolf, who sits at the forefront of immersive art installations, has used the technology in addition to retailers, healthcare providers and hospitality brands.
Wellstar Hospitals, installed immersive audio systems as part of its wellness rooms, enabling stressed frontline workers to be transported with the soothing sounds of waves crashing on a beach or birds chirping in a tropical paradise. The National Geographic Society leveraged the technology to faithfully recreate a climb to the top of Mt. Everest for its "Once Upon a Climb" exhibit.
Pangaia recently utilized the technology for a recent pop up at the upscale Los Angeles shopping center, The Grove. And the UnderTow tiki bar in Gilbert, Arizona, has deployed elaborate installations to enhance their guest experience.
The Next Challenge and Opportunity for Today's A/V Integrators
Audio pros have always adapted to changing demands for their work – learning new audio formats and technologies to keep up with the latest requirements and applications. In the past, they expanded their focus from primarily music, video and live entertainment to include video games, sonic branding, environmental sound design and much more.
While technologies and use cases surrounding audio may change and grow, audio pros regularly uplevel their skills and broaden their industry expertise to meet new demands in their careers. Today that innovation is immersive audio, and all audio pros should take notice.
Why? From Apple's Spatial Audio to Dolby Atmos and Sony 360, there is massive interest in making sound less static with greater dimension. However, the tools allowing integrators and audio engineers to do it themselves, have often been few and far between, at least until now.
Now, emerging technologies are placing the tools in the hands of professionals. This technology allows you to build immersive audio environments by recreating realistic sound experiences with non-looping, dynamic object-based soundscapes with 100% spatial realism. These deployments can work with any speakers and can even be responsive to various sensors to further engage.
Plus, these software centric solutions are largely hardware-agnostic. This means, not only are they capable of creating new installations, but are capable of updating existing audio installations without heavy overhauls or limiting customers and integrators from using their preferred products.
Perhaps, it may be viewed as a novelty today, but integrators who like to stay ahead of the curve may soon be setting up clients on these new systems and establishing themselves as leaders in their own markets.
Wyatt Giampa is Spatial's Creator Community Lead focusing on building an ecosystem for creative minds to succeed in the new world of immersive audio software. With a background in audio engineering and media arts, Wyatt has years of experience building real-world experiences with Spatial.
If you enjoyed this article and want to receive more valuable industry content like this, click here to sign up for our digital newsletters!