Sometimes, it takes a village. That old proverb is especially true for the new 10,000-square-foot outdoor showroom space built at Torrison Stone & Garden in Durham, Conn., where the landscape contractor partnered with multiple trades to construct a lavish "outdoor showroom" area where every element of backyard living can come to life, including outdoor technology.
The trades engaged in creating the demo space cover myriad specialties, including fencing, stonework, landscape architecture, furniture design, security, electrical, custom integration and more. The $200,000 project serves as an example of what integrators can do when they build a solid network of outdoor trades — similar to the years many have spent developing partnerships with indoor contractors such as drywallers, plumbers, cabinetmakers, flooring specialists, interior designers and others.
The result is a showroom space available for the trade partners to host events, as well as meet with new and existing clients on proposed projects. Opened in April 2019, the area is already reaping rewards, with Torrison reporting an average ticket $2,000 higher for customers who visit the space. Likewise, custom integrator Hometronics Lifestyles closed three new projects in the first few months based on its demos there.
With the outdoor market so hot, integrators might ask themselves if they could coordinate a similar level of partnership to create their own outdoor showroom area. That question is especially apropos today, with the recent 2019 CE Pro Outdoor Technology Study reporting that 63% of integration companies expect their outdoor business to grow this year.
Converting a Parking Lot Into 7 Vignettes
Three years ago, Torrison moved to the two-acre location, which already housed a 6,000-square foot office adjacent to a 10,000-square-foot parking lot where the landscaping company piled its mulch and parked its trucks. Working with, among others, Durham Fence, Rockfall Builders, Hometronics Lifestyles, Sonance, ASI Alarm Systems, RLI Electric, DHI Interior Design and its own in-house landscape architect and landscaping team, Torrison converted the lot into the outdoor living showroom with seven vignettes, each containing some level of technology.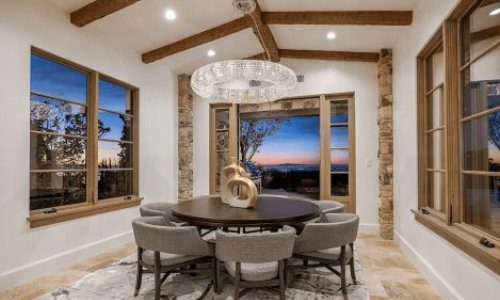 As a custom integrator, lighting is in demand. Effective communication, education and showcasing the value proposition of LED light fixtures in conjunction with integrative control systems are the keys to overcoming challenges and closing sales in this specialized market. Join us as we discuss the future of digital lighting and control with David Warfel from Light Can Help You and Patrick Laidlaw and Mark Moody from AiSPIRE.
Register Now! 
"Torrison Stone is heading into its 20th year in business next year and we have built an awesome group of professional trade partners, including Hometronics. They are all trusted members of our team that we work with on a daily basis. We're all bringing projects to each other," says Kelly Eddinger, Torrison showroom sales coordinator.
"We wanted to create a space where customers could come and actually see, feel and experience the products in real life versus looking at catalogs. It makes a huge difference."
Tyler Gerry, president of Torrison, is the man behind the vision for the landscaping company. Torrison has 90 employees doing both stone masonry and garden work. The two units of the company work side by side on many projects. The entire space is a giant square, ringed by individual vignette seating areas around a central circular lawn with a putting green and a corn hole area.
The construction began in earnest this year. Because southern New England had such a mild winter, Gerry was able to have his crews work on the area without having to worry about frozen ground or heavy snow. The outdoor showroom was completed in April. Another phase of the project will include a new entertainment area inside the 6,000-square-foot main showroom for hosting events.
Deploying Technology: 18 Loudspeakers & More
Jim Sweeney, president of Hometronics Lifestyles in Durham, had called on Torrison for years attempting to establish a trade working relationship.
"They always said they were 'all set.' But the opening finally came when they moved to this location three years ago and started remodeling. That was when the discussion to create the new outdoor living space area first began," he recalls.
Each vignette is designed as a standalone area, but they do share a Sonos source for audio. In total, the space has 18 Sonance speakers and three subwoofers, four cameras, two TVs, heaters, one gas firepit and one wood-fed firepit plus two wireless access points. It is all controlled via an Elan g! automation system using multiple layers of interfaces, including touchpanels in the main showroom, with the primary interface a smartphone.
Two of the vignettes contain outdoor kitchens, with one representing the "Rolls Royce of outdoor kitchens," according to Eddinger. That $50,000 vignette includes a Summerset grill, two Twin Eagles outdoor refrigerators, granite countertops, two heaters, full pavilion, and bluestone flooring. From a technology standpoint, it incorporates eight satellite Sonance Landscape Series speakers with two subwoofers, a Ubiquiti wireless access point, Elan controls, a SnapAV Luma dome surveillance camera, and a 55-inch SunBriteTV outdoor display.
There is also a Luma PTZ (pan, tilt, zoom) camera that tracks movement in the outdoor space and records to a local Luma NVR located inside the main showroom. That NVR will also eventually record images from cameras based at two remote Torrison locations.
"In total, the facility has 16 cameras with 24TB of storage — I've always pushed the envelope in terms of storage," says Sweeney.
The only "low-tech" security in the space is a simple photoelectric beam at the entry area that activates a chime in the office and alerts the staff to look at the surveillance cameras. Hometronics aims to eventually use motion activation in the cameras to alert the staff.
Mancave/She-Shed Vignette
A mancave/she-shed in another corner of the demo space houses the equipment rack with a Sonos source, a 55-inch indoor Samsung TV, and two Sonance Mariner speakers. Outside the 10×10-foot shed are two SnapAV Luma cameras and a Ubiquiti wireless access point. In the rack, there is a Luma security NVR that records the images from the cameras on the shed, storing a full seven days of live, 24-hour-per-day video.
Sweeney believes the extra storage is necessary.
"I don't like my clients to watch just 'Snapchats' of images from their surveillance system," he says. "I want them to be able to watch full videos. I like to record all activity live with alarm events, not record just on motion activity. That is my philosophy."
In the vignette adjacent to the shed are eight Sonance Sonarray speakers surrounding a sitting area that includes a porch-style wooden swing. Sweeney takes the time to bring customers to both vignettes featuring Sonance speakers: the 8-ohm Sonarray zone (about $3,000 without labor or wire) and the 70V Landscape zone (about $7,000 without labor or wire).
He points out how the Sonarray installation is designed to be more localized audio, while the Landscape Series offers a broader area of coverage. Based on the client's needs, that distinction helps influence the selection of the proper set of speakers. A separate area with a large pergola is centered around a large gas-burning firepit, with audio from eight Sonance Sonarray Series satellites and a subwoofer.
Acoustical Layout by Sonance
Sandy Duffy of the Northeast Rep Agency was instrumental in working with Hometronics on designing the audio layout with Sonance.
"The founders of Sonance will tell you that they did not create a speaker company, but they created a design company. It is all about the design," Duffy explains. "You have to know exactly where the rocks are going to be placed in the landscape so you can know where to put your speakers. Everything has to be integrated on a project."
Read Next: Using Landscape Speakers to Open a Revenue Stream
The relationship between Torrison and Sonance has blossomed to the point that when Torrison has a potential new customer, Duffy will visit the client's home and set up a demo system for them to hear.
"We give the customer our smartphone and let them 'push play.' That experience is very meaningful to the customer," he says.
Sweeney adds, "When we get a copy of the landscape design, Sonance has a department that will take that and drop in the locations and the number of speakers necessary based on the shrubbery, the rocks and the full layout. It is a full acoustical plan."
Landscape Architect Loves Introducing Technology
Brian Murphy, the landscape architect on staff at Torrison, was excited to include technology into the outdoor showroom design.
"We've been working with Hometronics for quite a while to learn how to incorporate technology into our designs," says Murphy. He says the level of knowledge among customers about technology options varies greatly.
"We'll get customers who know a lot about it, and they tell us they want smartphone control of music, lighting and other amenities. There are certainly other clients that we have to introduce the technology to. They come to us because they want a new patio, then they find out what else we can offer. We are able to use this outdoor showcase area to introduce everything to them," he says.
Murphy estimates about half of every project he designs includes outdoor lighting, with one-third having outdoor audio; however, he says those percentages have grown by 50% over the past two years, and he believes it will rise even higher with the creation of the outdoor showroom.
"The typical homes we are putting in technology are $75,000 backyard jobs with about 15% of the overall budget devoted to technology, but it is growing," says Murphy. Eddinger adds, "Technology is not an afterthought in our designs. It is a part of it."
Higher Ticket Sales Right Away
"The per-ticket spend on every project has risen by more than $2,000 per customer since we opened the outdoor showroom space," says Gerry. "Technology in the outdoor environment is where everything is going, from lighting to music to TVs, everyone wants to maximize that short season we have here in the Northeast."
He adds, "People making living spaces outdoors is definitely a trend right now. With the outdoor showroom, people are starting to see and feel how they can incorporate technology into their own backyards. It doesn't have to be a new landscape, it is often in an existing home's backyard. That is what makes this even more exciting. Now we can reach out to our old customers, as well as use this space to educate new customers."
Since the completion of the space, Hometronics has captured three projects based on referrals from customers at the new design center.
"I've only had one client not move forward with a system after hearing a demo, and that was because we were simply engaged with the landscape architect in the outdoor portion of the project too late. We did all the indoor technology on that project," says Sweeney.
The new demo space is also fostering new clients. The interior designer on the project, DHI, recently contacted Hometronics on behalf of a previous client who was having problems with their audio system, and the original integrator was being unresponsive.
"We were able to go out there and fix the problem in five minutes," says Sweeney, who now anticipates earning new potential business from that customer, along with referrals. Torrison has already used the space to host multiple events, including the grand opening, an event for all the trade partners on the project, a local Chamber of Commerce gathering, a hosted event for the local board of education, and a "curb appeal" meeting for local real estate agents. Several fundraisers are in the works for the local animal shelter (with wine tastings), and even a dog whisperer training session.
Every Friday in the summer, Torrison has a noon to 5 p.m. open house pizza night (using its own pizza oven) with a raffle to draw in customers to the space. Hometronics also has full access to the location and has planned events with the local ASID group, AIA meetings and the local builder association.
Torrison has added salespeople to staff the outdoor location and educate customers on Friday evenings, all day Saturday and on Sunday mornings. Hometronics is conducting individualized training for salespeople on the technology. The integrator also has leave-behind brochures that the Torrison sales team can hand out.
Indoor Event Room With 2GIG, Elan
In addition to the outdoor space, Torrison has begun converting a large 30×30-foot former garage attached to the main showroom into an area for hosting indoor events. Hometronics has already installed a 2GIG security system, 2GIG GoControl thermostat, a 75-inch Sony TV, and four Sonance speakers. The event room also includes paddle fans, track lighting, recessed lights, and pendant fixtures controlled by Lutron Caséta and installed by RLI Electric.
For control, visitors can utilize either an Elan HR2 remote, an iPad docked in an on-wall charging station from Sonance sister company iPort, or a new NSC Elan Intelligent Control System with the IntelliVision facial and voice recognition. To enable the room to be used for corporate outings, Hometronics installed a Klik wireless presentation system that allows for mirroring images from another device onto the large flat panel.
"I can demo the 2GIG system if a client is looking to control climate, lighting and alarm, but also demo the Elan system if they want full-blown lighting and communication control," says Sweeney.
If you enjoyed this article and want to receive more valuable industry content like this, click here to sign up for our digital newsletters!