It's a forgone conclusion that CEDIA Expo attendees will hear some truly great audio systems, so the power of audio demo rooms really shouldn't be all that surprising anymore. However, it was my first CEDIA, so I left the show floor with some aspirations for my own home. Despite these truly remarkable audio systems, it actually wasn't the audio quality that impressed me. Instead, what left a mark on me this CEDIA Expo was how good the design of audio products are getting.
Nobody wants to see a large black box on a shelf or mounted to a wall, and audio manufacturers and some of the hardware companies serving the category are really stepping up their game to make audio systems either invisible or a part of the natural aesthetic of the home.
Here's a look at some of the audio companies we saw that impressed us with their design.
Leon Speakers
Leon Speakers is best known for making design friendly audio products, such as the FrameBar, a soundbar designed specifically to complement another design-friendly product–the Frame TV from Samsung and at CEDIA Expo 2023, the company was showing off its new Powered FrameBar and FrameBar 44UX, which are designed for larger screens and easy integration with on-board amplification and enhanced performance.
"Everything we are showing in this booth is about bringing a designer approach to TV and audio solutions," says Carolyn Ceccoli, Leon Speakers' director of marketing.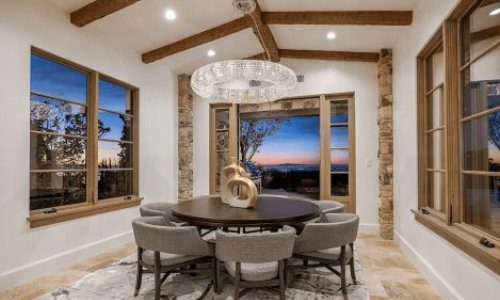 As a custom integrator, lighting is in demand. Effective communication, education and showcasing the value proposition of LED light fixtures in conjunction with integrative control systems are the keys to overcoming challenges and closing sales in this specialized market. Join us as we discuss the future of digital lighting and control with David Warfel from Light Can Help You and Patrick Laidlaw and Mark Moody from AiSPIRE.
Register Now!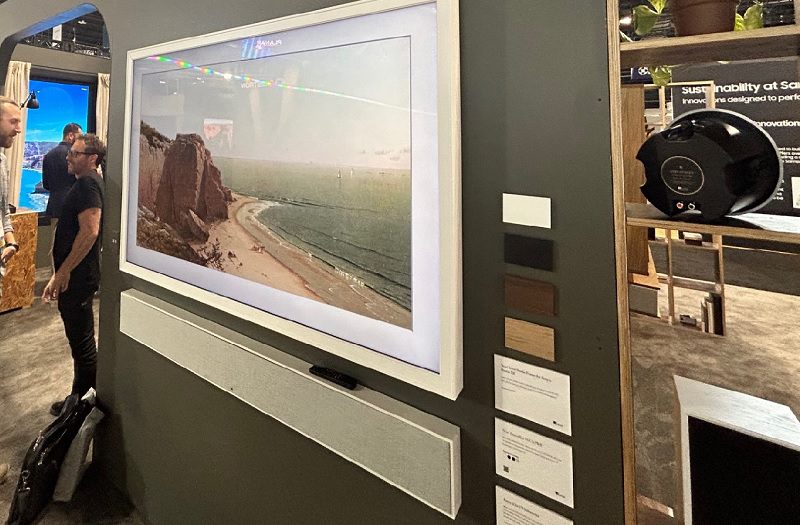 That also includes the studio Frame for Sony's Bravia XR TVs, which can be ordered in a variety of Leon's curated designer finishes. The product also features an app that enables the display of digital art when the TV is not in use, giving it a finishing touch for gallery-style installations.
The company's booth also featured the Mera Sound Sconce, the flagship product of a collaboration with Calgary-based design firm Mera Studio Architects. The sconce is wall-mounted and features a 33UX audio platform and diffused LED lighting for full-range sound and a glow designed to enhance a room's design aesthetics.
In addition, to custom residential solutions, Leon Speakers is also getting more into the commercial market, adding the company's Edge Media Frame solutions to conferencing displays to bring a design aesthetic to conference rooms.
"It's really about materiality and craftmanship," Ceccoli says. "We're proud to be designing and manufacturing our products right here in the US." 
Origin Acoustics
Origin Acoustics' business model is built on creating audio solutions that blend into any environment's design while enhancing lifestyle and entertainment experiences, and the company was doing just that at CEDIA Expo 2023 with its new Boundaryless Listening Experience with Natural Depth Sound (BLENDS) invisible speakers.
Via a collaboration with Amina Technologies, Origin Acoustics has developed a flexible, easy-to-install invisible speaker that eliminates any design issues about speaker placement. However, the speakers also feature Amina's Edge series of products with Distributed Mode Listening technology for room-filling sound.
"It would just look like a normal tile," says Jill Escol, director of marketing, adding that the speakers can also be covered in a thin layer of wallpaper or paint. "You just hear sound out of nowhere."
The company also showed off its upgraded line of Ambisonic Bollard landscape speakers. The speakers feature Ambisonic ribbon tweeter technology, expanded rom two to three sizes of speakers, and also feature a new hexagonal design to compliment residential or commercial outdoor spaces.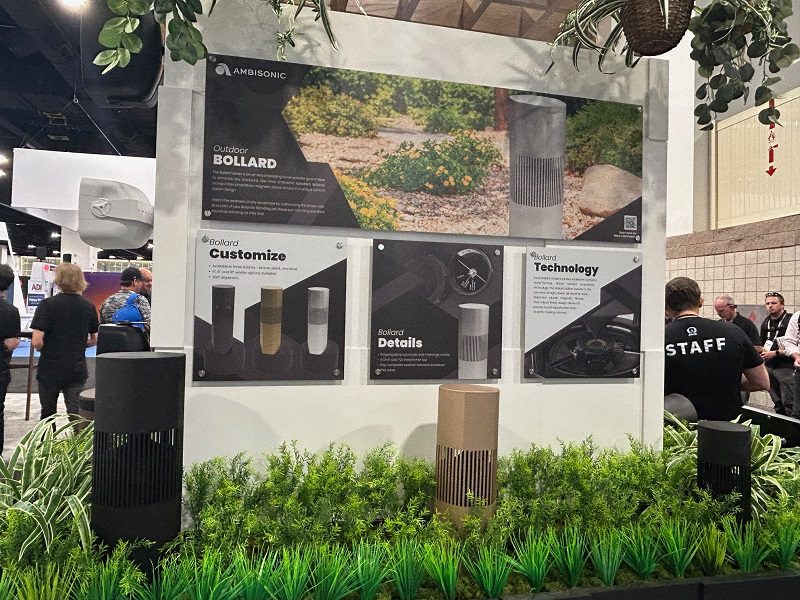 The expanded line includes a medium-sized solution to complete the series for a total of three sizes—Bollard 106 (large), Bollard 85 (medium), and Bollard 64 (small). The new Bollard 85 speaker features an easy-to-bury 8" integrated subwoofer, and a 5 ¼" down-firing driver that disperses 360° sound patterns, and a 22" structure that extends out of the ground. The sub is ported out of the same opening as the mid/tweeter for cohesive sound.
Like Leon Speakers, Origin Acoustics prides itself on being a design-centric manufacturer of audio solutions.
"We're just trying to make everything–whether you see it or not–stunning," Escol says.
Harman
In addition to new JBL DA Series Distribution Amplifiers and new additions to its line of JBL Classic Series of audio products, Harman was showing off several new sleek-looking products, including the new L42ms integrated music system.
The JBL L42ms features the signature sound of ap air of JBL loudspeakers in a compact cabinet featuring a JBL Quadrex curved grill, tapered side edges and a black or natural walnut real-wood veneer finish.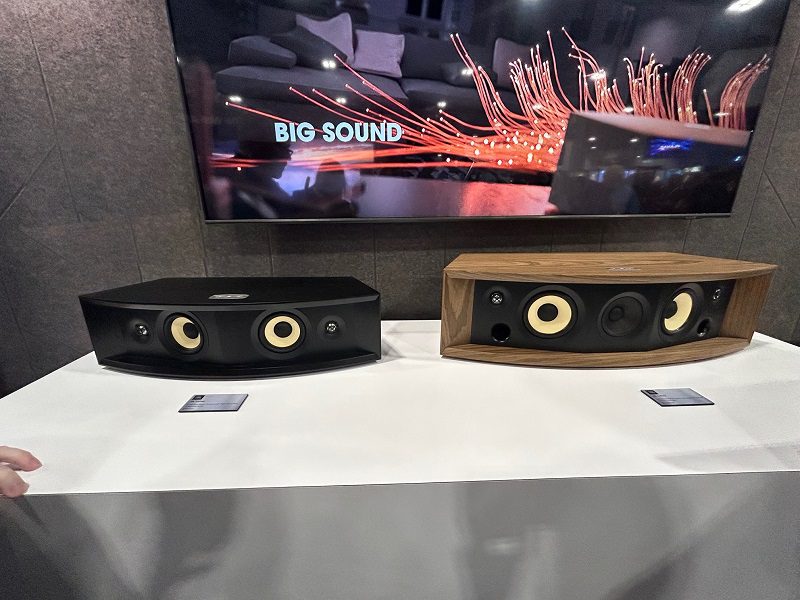 The L42ms follows on the heels of the L75ms, but in a more compact solution while retaining most of the same features. Those features include dual 4-inch woofers and dual 0.75-inch aluminum dome tweeters with waveguides positioned to the left and right, 200W RMS total system power built-in and a 24-bit/96kHz DAC, two sets of analog stereo inputs, HDMI-ARC, Ethernet, Apple Airplay, Google Chromecast and Bluetooth.
In addition, the speaker can also integrate with Roon and SmartThings.
According to Jim Garrett, senior product marketing manager, this is ideal for a homeowner looking to upgrade from a soundbar.
"Pair this with a 10-inch Classic Series subwoofer and you've got a great setup that you can use for gaming, music or whatever you want," Garrett says.
The company also debuted a new White Aspen design finish options for its JBL 4305P and 4329P Studio Monitor Powered Loudspeakers at CEDIA Expo 2023, which, according to Garrett, brings the speakers more in line with current design trends that value the clean white aesthetic.
"This really changes the cosmetics," Garrett says.
In addition, Harman unveiled new additions to the Revel PerformaBe Architectural Series, allowing the PerformaBe floorstanding, bookshelf and now architectural speakers to be mixed in a system.
The new speakers include three in-wall models and one ceiling model.
Stealth Acoustics
The Mount Vernon, Wash., company unveiled a slick new logo for Stealth's 20th anniversary as well as its 8th generation of invisible loudspeaker technology that it has become known for in the industry. The new LinearRadiance speakers, showcased at CEDIA Expo 2023, ramp up the design, audio performance and build quality for integrators to show customers and interior designers.
"What's changing for us is, most notably, an integrated backbox. This acoustically tuned enclosure will be available will be attached to and ship with every speaker that we produce in the 8th generation," explains Stealth VP Brian Azzano. "It's a new thing for us, and ultimately it's going to replace our wood back boxes."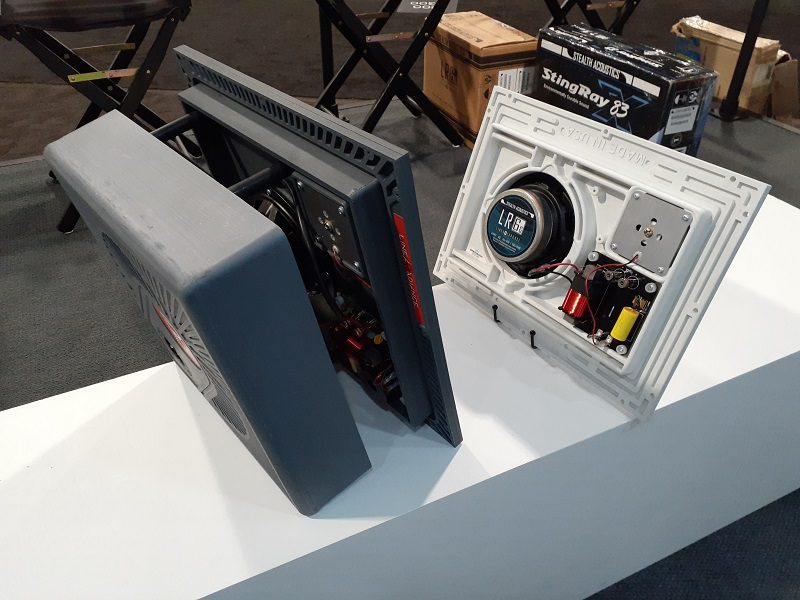 He says the depth of the speaker even with the back box is sill less than 3.5 inches, so it can fit inside a traditional opening as well as one of Stealth's plenum-rated enclosures – so the box does not have to be removed to earn a plenum rating, integrators just need to add an enclosure, Azzano adds. The upgrade also provides the proper air volume load and delivers consistent sound quality for every speaker, he says.
Azzano notes that other enhancements with the latest-generation product include greater efficiency from transducer drivers; a new way of mounting the woofer into the speaker assembly to help produce tighter, punchier bass; a new frame that's been injection-molded at its newly expanded headquarters facility; and a new beveled-edge design, allowing for easier and more seamless installation in more types of wall finishes.
If you enjoyed this article and want to receive more valuable industry content like this, click here to sign up for our digital newsletters!