The wellness market might need a doctor's visit. In August 2020, in the midst of the pandemic, integrators reported that they expected more than one-third of their projects over the next 12 months would have some sort of a wellness-related element in them. Expectations were high.
But as the pandemic wanes in July 2021, integrators admit that just 8% of their projects over the past 12 months actually included wellness technologies, whether that be human-centric lighting (HCL), indoor air quality (IAQ), water quality management, natural soundscaping, motorized shades tied to an astronomic clock, smart sleep tech, digital art, immersive fitness solutions and more.
However, despite the lower-than-expected results this past year regarding the installation of wellness technology, optimism still abounds. CE pros expect the percentage of their wellness-tech installations to nearly double over the next 12 months to 15.5% of all jobs. Meanwhile, the pandemic remains a strong impetus for wellness deployments. Integrators report their wellness business was spurred by a median of 14% since the coronavirus swept the world.
Those are just some of the key results from the 2021 CE Pro Wellness Deep Dive Study, which aims for the second year in a row to gauge the appetite for wellness technologies among custom integrators and their clients. The lower deployment of wellness tech compared with the sky-high expectations could be the result of "wellness fatigue" setting in.
There is no doubt the term "wellness" is being bandied about like a rubber ball to encompass everything from sexual wellness to eating habits to Leonardo DiCaprio's Vitamin C-infused water for his shower (yes, that is real). CE Pro has even written about outdoor "wellness pods" and underground "wellness bunkers" in the past year.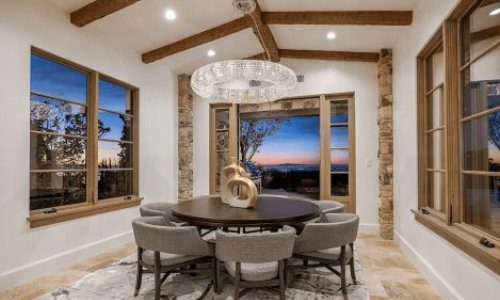 As a custom integrator, lighting is in demand. Effective communication, education and showcasing the value proposition of LED light fixtures in conjunction with integrative control systems are the keys to overcoming challenges and closing sales in this specialized market. Join us as we discuss the future of digital lighting and control with David Warfel from Light Can Help You and Patrick Laidlaw and Mark Moody from AiSPIRE.
Register Now! 
A recent Ogilvy Wellness Gap study dubbed the hype as "wellness washing" and noted that 53% of consumers have trouble telling the difference between real and fake wellness claims. That developing skepticism could be the reason integrators aren't deploying wellness tech as rapidly as they had anticipated during the pandemic.
Who Wants Wellness?
One interesting aspect of the seemingly ubiquitous nature of wellness is that integrators still report their clients and trade partners are seemingly unaware of how technology can provide wellness solutions. According to the CE Pro study, awareness levels of the benefits of wellness tech have not substantially increased over the past year.
Exactly two out of every three integrators say the builders, architects and designers they work with, along with their end-user clients, are only "slightly familiar" with the benefits of wellness technology. Moreover, 65% of integrators say they have "never" or only "infrequently" are able to expand the revenue of a project by adding a wellness-tech feature or amenity.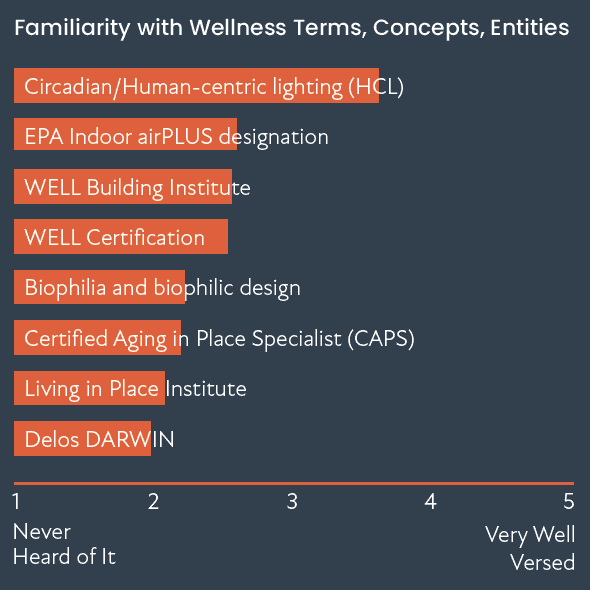 On the positive side, one-in-four integrators say their clients are well versed in wellness-related technology benefits, and only 9% have said their clients are simply not interested in wellness tech solutions at all.
That lack of awareness is also reflected in the dealers' general lack of awareness for some of the more specific wellness-related terms and organizations that can be helpful when attempting to educate or sell clients. For example, recognition for Delos DARWIN, the leading wellness technology platform, remains very low. Indeed, 59% of integrators report they have "never heard of it" while another 12% say they are "vaguely familiar with it." Delos' WELL Building Institute and WELL Certification fared better, but not much. Those entities are more familiar to integrators, but still far less than half of dealers say that they are either "pretty familiar" or "very familiar" with them.
Speaking of terminology, one large custom integration company, Bravas, the No. 7 company on the 2021 CE Pro 100, has experimented using the various terminology with clients and concluded that the term "biophilia" does not resonate with customers at all. According to Nigel Dessau, CEO, the company is no longer using that term with its luxury clientele.
Other entities still lacking recognition among integrators include the Living in Place Institute and its Certified Aging in Place Specialist (CAPS) and Home & Accessibility Trade Specialist (HATS) designations, as well as the term "biophilia" and "biophilic design." Dealers report only being "vaguely aware" of those.
By far the most recognized terminology in the wellness space among CE pros is circadian rhythm lighting/human-centric lighting. More than three out of every four integrators (78%) are familiar with those lighting terms.
Consumer Demand for Wellness Remains High
So the initial reaction to this year's CE Pro Wellness Deep Dive Study might be to think wellness is completely overblown and is the next coming of 3D movies. Not so fast. According to the aforementioned Ogilvy Wellness Gap study, 73% of consumers expect wellness solutions from the brands they use. Meanwhile, 59% of consumers report they will pay a premium for a wellness-oriented solution versus a non-wellness offering.
That Ogilvy study goes on to estimate the global wellness market at a whopping $4.5 trillion. Of course, only a small slice of that is technology related. Adding more fuel to the wellness fire, though, 77% of consumers say wellness is very or extremely important to them, and 80% of people want to improve their wellness. Those results suggest that any custom integration company that can hone its wellness pitch will find success, especially with so many other integration companies clearly flummoxed with how to present their wellness offering effectively.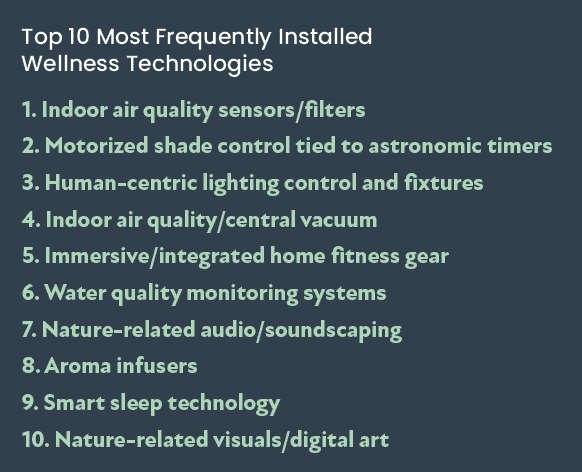 In the CE Pro Deep Dive Study, which was fielded in May 2021, integrators certainly see specific types of clients as being ripe for wellness offerings, namely, affluent clients, design-driven customers and liberal-leaning customers. According to the CE Pro data, 78% of integrators believe their ultra-wealthy clients are either "very likely" or "definitely will" be open to adopting wellness technology solutions.
Likewise, CE pros believe nearly half of their left-leaning customers (49%) are good candidates for wellness. Also, exactly half (50%) of integrators believe their projects that either have an interior designer as a partner or are design-driven in general have strong potential for wellness.
On the flip side, dealers don't think wellness is even a good idea to bring up with conservative customers. Just 12% of dealers think right-leaning clients would be open to wellness solutions.
Wellness Actions Taken, Strongest Categories, Room Locations
Even though wellness adoption is slow, integrators are not sitting around twiddling their thumbs. According to the study, 55% of dealers have seen an increase in the amount of indoor air quality systems they have sold as a direct result of the pandemic. Likewise, installations of motorized shades tied to an astronomic clock to maximize natural light control have also picked up, with 45% of integrators reporting increased sales due to COVID-19.
Other wellness-oriented equipment categories spurred by the coronavirus include HCL (44% of dealers reporting an uptick), immersive home fitness (33%) and central vacuum/IAQ systems (35%). Outdoor entertainment, water quality monitoring and sleep-related tech were also elevated during the past 15 months of lockdowns.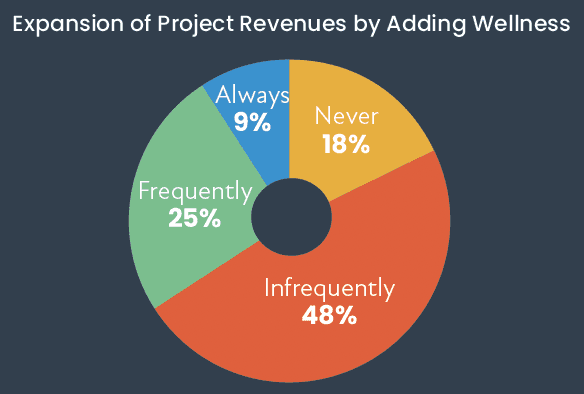 While the overall increase in wellness-centered tech installations was just 8%, some integrators reported tremendous jumps over the past year. Nearly 23% of dealers had a spike of more than 50% in their wellness projects, with 5% of dealers even seeing a nearly doubling of their wellness business. Heading into the second half of 2021 and into next year, nearly one-in-three CE pros expects a 50% rise in the number of wellness projects, with 10% anticipating to as much as double their wellness revenues.
One surprising piece of data from the 2021 CE Pro Wellness Deep Dive Study was the shift in room locations for wellness technology. Last year in the 2020 survey, integrators by far cited the kitchen as the key room of the home where they expected to deploy wellness solutions. This year, the home office leaped to the top of the list, surpassing not only the kitchen, but also the great room and master suite as the most-likely area for wellness.
However, there is a bit of a dullness to that shine. Last year in the 2020 survey, kitchens, great rooms and master suites were all ranked as having between "good potential" and "high potential" for wellness. In this year's study, not a single room of the home ranked that high. Indeed, home offices were rated the highest and they fell between "medium potential" and "good potential."
On a positive note, CE pros expect to see more whole-house wellness solutions adopted, bringing HCL and other elements throughout the home versus having it isolated in a single area. Integrators are also taking action to elevate their wellness business. In total, 59% of dealers expect to add wellness-related information to their sales and marketing presentations and websites. Also, 55% report they are ready for some level of wellness training, while nearly half (46%) are prepared to learn more and pursue a wellness strategy for their business.
Other actions that many integrators plan to take include incorporating wellness into their showroom, attend CE Pro webinars on the subject, and explore new vendor opportunities in the space. Nearly half (47%) are hoping to meet wellness-related suppliers at the upcoming CEDIA Expo or other trade shows. Few dealers are ready to commit to adding payroll for wellness just yet, with only 16% of dealers saying they would (or already have) hired someone as a wellness specialist for their company.
To reach wellness nirvana, dealers say they need help from suppliers, with 71% asking for more education on the topic, 60% looking for manufacturers to elevate awareness among end users, and 56% wanting marketing support literature or information. Other desires include margin on wellness products, end-user referrals from suppliers, and available product targeted at the custom installation channel.
If you enjoyed this article and want to receive more valuable industry content like this, click here to sign up for our digital newsletters!