International Systems Europe (ISE) 2021 will look very different than it did in 2020, and custom integrators can now register (go here) for this year's ISE Live & Online events, which are slated to take place in June.
While most industry tradeshows pivoted to digital in response to the coronavirus pandemic in 2020, ISE was among the last in-person expos held as originally scheduled last year.
What was supposed to be ISE's farewell to Amsterdam as a host city and celebratory transition to Barcelona filled the RAI with four full show floor days last February as the impact of COVID-19 was only beginning to be felt.
ISE, a joint venture of owners CEDIA and AVIXA, had hoped to bring the industry full circle – or at least the European contingent on the attendee side – as likely being among the first in-person events in 2021, with online elements in conjunction with the in-person show for the first time at the Fira Barcelona venue.
ISE Live & Online Includes 4 European Cities
Plans moved from February to June (originally nearly bumping up against InfoComm before AVIXA switched that show to October) to help accommodate. With the pandemic ongoing and safety protocols continuing to take priority, it was announced recently ISE would shift to four European cities and two-day events instead, and ISE Digital as well comprising ISE Live & Online.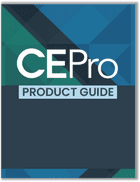 CE Pro's 2022 Product Guide showcases some of the latest and innovative solutions from manufacturers serving the custom electronics industry in a cross-section of categories.
Download the guide now!
As now scheduled, attendees can register for the two-day events and online show venue. ISE Live will take place: June 1-2 at Fira Barcelona in Spain; June 8-9 at the MAC Forum in Munich, Germany; June 15-16 back at the RAI in Amsterdam; and June 23-24 at Evolution in London. ISE had already detailed new features for attendees as part of the hybrid show format this year.
"All along there has been a clear demand for a four-day ISE show in Barcelona in June. However, uncertainty surrounding the pandemic and international travel remains, which means we are unable to run ISE 2021 in its traditional format," Integrated Systems Events managing director Mike Blackman had stated in the recent rescheduling announcement.
"Our exhibitors have made it clear that there is a desire to get the industry together, but on a local level. In response, we are targeting Europe's key markets across the AV sector and aim to deliver a quality audience who want to meet potential suppliers, existing customers and network with their peers."
Outlined on the website, regarding safety and health protocols attendees at the in-person ISE Live events can expect things like: temperature checks before venue admission; touchless interactions where possible using the badge system; mask wearing; continuous cleaning and sanitation measures.