Everything's bigger in Texas, they say, and apparently Trinnov Audio took that as a challenge when it came to pulling together perhaps the biggest home theater demo at CEDIA Expo 2022. The high-performance AV company is anchoring the "ultimate immersive audio demo" in its booth #26097 at the Kay Bailey Hutchison Convention Center in Dallas for this year's show, and attendees will not be disappointed.
The booth hosted a preview of what it will be demonstrating during the Sept. 29-Oct. 1 CEDIA Expo, sharing the whopping 11.12.6-channel Dolby Atmos home theater stage with Kaleidescape, Barco, McIntosh, Sonus faber, Seymour-Screen Excellence, madVR Labs, AudioQuest and Officina Acustica.
Driving the seat-shaking demo, which included scenes from Top Gun: Maverick, The Greatest Showman and Dune, is Trinnov's Altitude32 processor handling the decoding and calibration of the Dolby Atmos configuration, for which it can work with up to 34 channels.
"When I started the company 20 years ago, this is more or less what I had in mind for the future of sound, and we've been really active and a pioneer in advancing the sound technology," says Arnaud Labourie, CEO, Trinnov Audio.
"What you can see – or what you don't see – in this room is a combination of a lot of technology. Combining the best complement – so best loudspeaker, best processing, best science processing, best source – we achieve the best possible experience. That's the goal of this demonstration."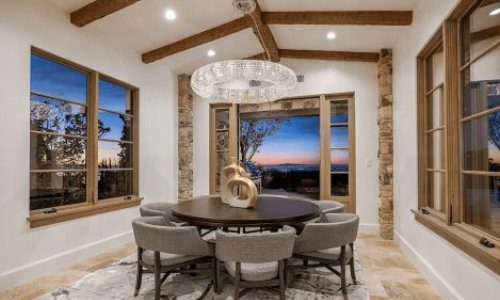 As a custom integrator, lighting is in demand. Effective communication, education and showcasing the value proposition of LED light fixtures in conjunction with integrative control systems are the keys to overcoming challenges and closing sales in this specialized market. Join us as we discuss the future of digital lighting and control with David Warfel from Light Can Help You and Patrick Laidlaw and Mark Moody from AiSPIRE.
Register Now! 
Labourie adds that they were able to build all of it in a mere day-and-a-half, thanks to some logistics problems. It gives an idea what integrators can be capable of, especially if they work with a company like Officina Acustica. The European-based company specializes in its holistic approach to room build designs, because the room itself is an important and often overlooked piece of the puzzle.
"We built what is the single most important component – sorry [AV] guys – of the whole thing, which is the room itself. Our philosophy is start with the room," says Officina Acustica's Peter Aylett, who is being honored as a CEDIA Fellow during CEDIA Expo 2022.
"If you use the 'food in a restaurant' analogy, you go the restaurant because of the chef, not because of the raw ingredients. However, great chefs need the best raw ingredients, so that's where these guys come in. If you have the best raw ingredients and give them to a terrible chef, you end up with a terrible meal … so what we do as a company is put everything together into the kind of room you'll want to see. It's incredibly modular, and that's how we manage to put this together in a day-and-a-half."
On the power side of the equation, the reference theater room incorporates an overload of glowing blue that visitors can see on the wall outside – 19 McIntosh pieces of gear all beautifully stacked to fill the wall. That includes 11 MC611 amplifiers to fuel the LCRs and surround speakers.
'Why Not Create the Best Experience?'
Speaking of loudspeakers, the complement features a Sonus faber array of Arena 30 LCRs, 14 Arena surrounds and height speakers and 12 Sub S15 (eight up front, four in the rear) models for LFE and bass management.
"Our customer can go from his own two-channel system to a private theater, so why not create the best experience for the customer? We need to create something that is exceptional … when the customer pays for something, we need to give the best," says Roberto Gamba, business development manager, Sonus faber (McIntosh Group). "What you see hear is a solution made by some of the best partners in the industry."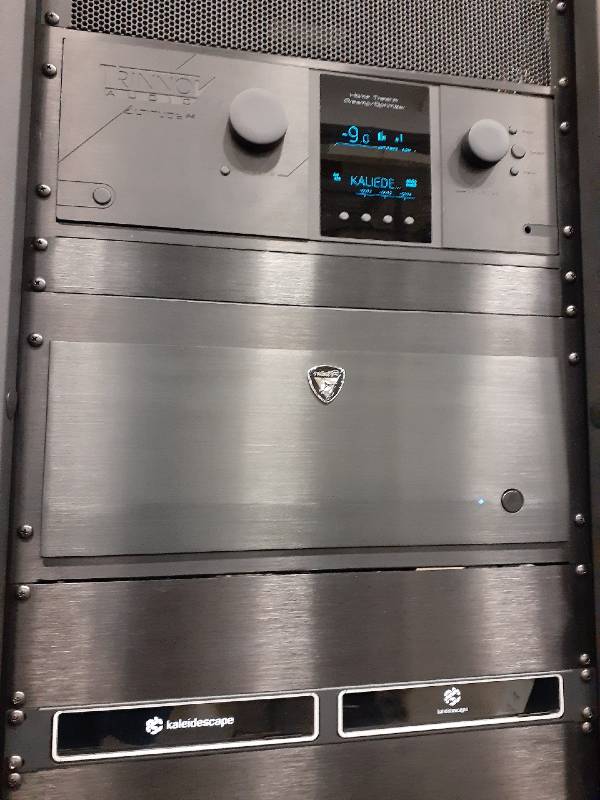 Kaleidescape's 4K Strato C and Terra movie player/server system – one of about 30 rooms featuring Kaleidescape as a source at CEDIA Expo 2022, CEO Tayloe Stansbury notes – provides the demo content.
"If you want to have the best movie playback source, you've got to go with Kaleidescape," he says of the best-of-breed partnership. "We produce files that are about 10x the bit rate and depth of what you get through a streamer, both for audio and for video.
"We love working with Trinnov and McIntosh Group, Barco. Particularly Trinnov – all of our movies that we get for review, particularly the studio masters, we process them and review them before we send them out to our customers, and they're actually reviewed on a Trinnov. So it's been a delightful partnership," Stansbury adds.
A Barco Njord Cinemascope 3-chip laser projector beams up to 9,000 lumens of brightness onto the roughly 14.5-foot-wide Seymour-Screen Excellence screen. The vaunted madVR Labs Envy video processor optimizes the image quality so the video is on par with the audio in the room.
"With the video processing you saw here the whole idea is to be transparent and look amazing," says Richard Litofsky, co-found and CEO, madVR Labs. The company's Envy model does HDR dynamic tone mapping on a frame-by-frame basis, he notes, and other advanced technology such as non-linear stretch is highlighted in the demo.
"Maverick is actually in 1:85, but you watched it at Scope," he says of the aspect ratio. "You watched it at full screen and probably didn't even notice – that's our non-linear stretch plus platform. … What we're able to do is expand it in such a way that the distortion is so minimal, unlike what's been done before, you can't even really tell that it's happening."
The patent-pending technology compresses vertically and expands horizontally, to get the aspect ratio to fit the full 2.35:1 screen.
If you enjoyed this article and want to receive more valuable industry content like this, click here to sign up for our digital newsletters!