The numbers are in for the first-ever CEDIA Expo Virtual and the numbers are notable. Held September 15-17, 2020, the online experience drew 7,600 trade professionals who made a startling 161,740 visits to the 110 virtual exhibitors. Meanwhile, there were 14,288 visits to the 80 CEDIA education courses, 18 TechTalk panel discussions, and four keynotes over the three days.
Some of the other key pieces of data include:
49% of registrants had not attended CEDIA Expo in the past three years
48% (nearly half) of registrants had a job title of President/Owner/Partner/CEO
2,000 international registrants, from 100 countries
235 media registrants
400 interior designers, architects and builders
CEDIA Expo Virtual's Most Popular Sessions
The most well-attended programs at CEDIA Expo Virtual were TechBites with 511 registrants, "Rise of the Home Office" with 375 registrants, and the "Power of Light" with 324 registrants. The panels had an average time spent listening to the panel of 35 minutes. Proving that with engaging content, attendees will come and stay at a virtual event.
"While we all wish we could have been together for CEDIA Expo this year, this year's show displays the perseverance, creativity and loyalty displayed by the individuals that make up our industry," says Ashley Sprengnether, associate show director, CEDIA Expo. "Our exhibitors and attendees were 'all in' in order to support the digital experience and saw a lot of value with the digital format as it connected them with an international audience that is not as accessible with a live show."
Exhibitors from across the custom integration channel took advantage of their virtual booths by hosting training sessions and announcing new product and partnerships including AudioControl, Brilliant and ADI, Crestron and Delos, Sony, Samsung and many more.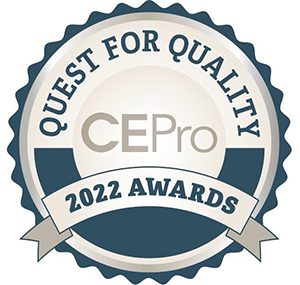 CE Pro urges integrators to recognize their suppliers that go above and beyond to deliver premium support and service. Cast your vote today to recognize the services (not the products) from your favorite manufacturers and distributors.
Cast your vote today!
"Virtual CEDIA was a valuable interactive resource that enabled Savant to present important educational content and new product information to thousands of attendees. Looking at the amazing number of both exhibitors and attendees who participated in Virtual CEDIA, we are proud to be part of a strong community that has constructively banded together in the face of challenging times," says Angela Larson, senior vice president of customer operations at Savant.
Design Track, TechBites Are a Hit
Robust programming hit on topics intended to help integrators grow their businesses including boosting brand awareness, lighting, wellness, security, the home office, and more. Designers, architects and builders were also invited to take part in the virtual experience with specific programming intended to grow awareness of the custom integration field and how they can find integrators in their local areas. All led by industry experts, TechTalks, Design + Connection panels, and keynotes will be available on cediaexpovirtual.com until December 31, 2020.
The Design + Connection track, anchored by the National Kitchen & Bath Association (NKBA), featured brands like Kohler Konnect, Delta, BSH Home Connect, LG Electronics, and the Living in Place Institute. The 2020 virtual experience saw an interest from design-focused brands and attendees in the residential technology industry, with around 400 of the CEDIA Expo virtual experience attendees being either interior designers, kitchen and bath designers, architects, or builders.
The TechBites program also returned for the virtual experience, but this year in a competition format. All eight participating brands pitched their newest or most innovative products to a panel of industry media and influencers. Brilliant, a leading smart home control and lighting company, was named the "brand with the biggest bite" and the winner of the TechBites program, live, during CEDIA Expo Virtual.
"We're honored to be named the winner of the 2020 TechBites competition," said, Aaron Emigh, co-Founder and CEO of Brilliant. "Recognition like this from the industry reinforces the huge opportunity for integrators and home builders to make every home smart. Thanks to those who tuned into the program and we look forward to connecting with you throughout the remainder of the year."
CEDIASTRONG, Educational Sessions at Forefront
CEDIA continued to offer top-rated education courses at the virtual experience. With over 80 courses offered, ranging from beginner to expert-level, CEDIA offered ways for each integrator to continue their education and certifications.
During the virtual experience, CEDIA announced the establishment of the CEDIASTRONG Scholarship Fund, which aims to provide grants in 2021 to up-and-coming home technology talent. With the onset of the COVID-19 pandemic, CEDIA started the CEDIASTRONG foundation as a way to empower members with virtual events, roundtable discussions, and webinars. So far, thousands of members have participated in CEDIASTRONG events and taken advantage of member resources as a way to build new skills and adjust their business models for success.
"CEDIA Expo provides a wonderful forum to learn and grow from the best minds in the industry," says Tabatha O'Connor, CEDIA global president and CEO. "Through the massive amount of CEDIA Education courses offered virtually this year, learners from around the world who tuned in were treated to an array of subjects covering everything from hot topics and emerging trends to knowledge that will kick off a brilliant career and advanced offerings for industry veterans. The learning won't stop, either, as all CEDIA Education courses at CEDIA Expo are available to be viewed on demand and from the comfort of where you are through the end of the year."
Additionally, Emerald Expositions committed to matching all donations made to the CEDIASTRONG foundation during CEDIA Expo. On Thursday the 17th, CEDIA Expo hosted the #CEDIAStrong Scholarship Fund Benefit Concert featuring the CEPro All-Star Band as a way to encourage donations and finish off the virtual experience.
"Emerald Expositions is honored to support the industry in the establishment of the CEDIASTRONG Scholarship Fund," says Brian Pagel, executive vice president at Emerald Expositions, owners of the event and publishers of CE Pro. "The long-term growth and prosperity of our industry will rely heavily on attracting top talent and providing them with world-class professional education opportunities."
To donate to the CEDIASTRONG Scholarship Fund go to https://cedia.net/cediastrong. All virtual programming will be live on cediaexpovirtual.com until December 31, 2020. The next CEDIA Expo is scheduled for September 1-3, 2021 in Indianapolis, home to the CEDIA association.