Historically, when unemployment numbers rise, so does crime. So Ring is sitting right in the wheelhouse as a smart home security solution for integrators heading into CEDIA Expo Virtual. The company has several big debuts set for the show, including its new integration with Lutron, a new upgraded Holovision gate entry unit powered by Ring, and the latest on the Ring X line exclusive for installers.
"We made a commitment last year to the channel that we're going to invest… we're going to go deep. And I'm happy to continue to deliver on that journey and that commitment," says Andrew Vloynetes, GM at Ring. "For us, it's really the continuation of strategic partnerships within the custom installation channel. First and foremost, we're here to announce that we're partnering with Lutron."
Now, lights controlled by a Lutron system can be set to turn on when a linked Ring device detects motion, or the doorbell is pressed. Adding lighting to these events adds another layer of security and furthers the impression someone is home. The new integration is supported by the Caséta by Lutron and RA2 Select smart lighting control systems, and compatible Ring devices.
Vloynetes says other possible integrated scenes could be when the Ring doorbell senses motion or someone presses the doorbell, Lutron can turn on the porch lights.
"We are real excited. Lutron is a fantastic partner to do business with, and it's a top-notch product and lighting solution," he adds.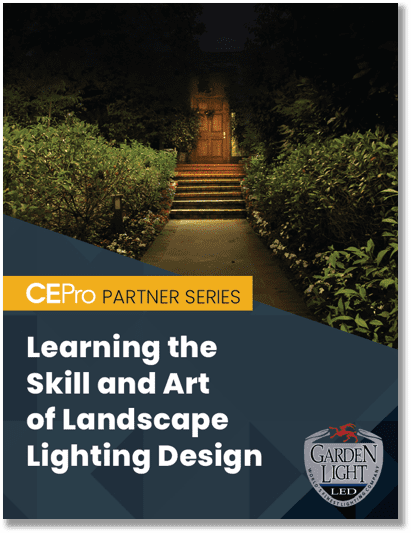 Experts recommend landscape lighting design as an entry point for integrators into the revenue opportunity of home lighting. Check out our new resource for tips and best practices. Download "
Learning the Skill and Art of Landscape Lighting Design
" today!.
Ring is also announcing at CEDIA Expo Virtual that the new Holovision entry system powered by Ring is shipping. The Holovision gate, door or driveway access system is geared toward customers who are more design conscious. Ring created an OEM partnership to embed its hardware inside of the Holovision unit.  
At the CEDIA Expo Virtual, for the first time Ring will be doing education and training.
"We want to go deep with our Ring Alarm product. We believe our Alarm product is underrepresented in in the channel. We just haven't done a good job of training and educating dealers on how they can tap into new customers or different price-point customers," says Vloynetes.
The new version of the Ring Alarm product will be in the Ring booth, and the company will be running through, how it works and how dealers can set it up. The company will also address the monitoring costs and experience with the product.
Also in its booth the company will offer training on its Ring X line, which is exclusive to professional installers. Vloynetes says the company will be discussing some of the latest updates to the product line.
Lastly, the Ring Access Controller Pro designed to integrate with either drive-through or walk-through gates will be in the booth. The Access Controller Pro also integrates with Amazon Key technology for delivery.
"We just want to make sure that installers have all the information, they're trained on it, and they understand how it works," adds Vloynetes. "We want to go deep behind the curtain on how things work, how the products set up, and then discuss some of future plans to help support the dealers."