Just because the CEDIA Expo has shifted to an online platform to stage this year's CEDIA Expo Virtual Experience doesn't mean CEDIA, the association, will be any less busy than it would have been in Denver.
In fact, CEDIA staff is relishing the chance to engage with members and integrator attendees during the Sept. 15-17 event (go to cediaexpovirtual.com to register) and share the latest happenings, education opportunities, association benefits, special events and other incentives.
Like it does annually, along with sharing its part throughout various aspects of CEDIA Expo Virtual the association will spend a great deal of time interacting with attendees who visit its own booth (check out cedia.cediaexpovirtual.com) on the "show floor" this year.
Big Opportunity to Welcome Members Worldwide
"One of the things that we know most people are going to miss is that face-to-face, community experience that you get at the show, and we hope to replicate that but in a virtual platform," says global member services manager Jenn McGuire, who chatted with CE Pro from her home in the U.K.
"Our members and our community will be able to obviously meet with myself, Amanda [Cannon] and Jessica [Thornburg] who are part of the membership team, but then a wider staff as well. So whether you want to connect with us about some of the resources, TCD [The CEDIA Designer], groups, Member of Excellence community – or whether you're thinking about joining CEDIA – or whether you want to chat and just find out about what's been going on in our worlds, we can't wait to connect with people."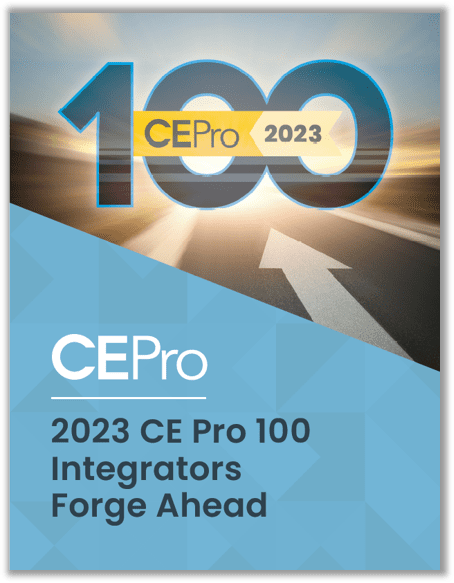 Which companies in the custom integration market made CE Pro's 24th annual CE Pro 100 list?
Plus, think about it this way as McGuire notes – with the event going virtual, it actually affords more folks the opportunity to experience the CEDIA Expo when you take into account the absence of expenses like airfare and hotel accommodations. Heck, CEDIA instructor David Meyer will be hosting a series of education sessions from Australia, she mentions.
"Those who have not been able to previously experience the Expo are going to be able to experience it this year," she says. "Whether you're based in Aberdeen, Sydney or Indianapolis, we cannot wait to connect with everyone in one place."
Education, Certifications, The CEDIA Designer Showcased
Speaking of education, McGuire is excited to welcome attendees to the plethora of trainings, sessions and Tech Talks that will be going on throughout the event – plus presentations will remain online for on-demand viewing until the end of the year, she adds.
Sessions such as Peter Aylett's "Reference Level Cinema Audio – Defining the Paradigm"; Rich Green's "Spatial Computing"; and Michael Heiss' "5G: Everything You Need to Know, but Were Afraid to Ask" are just a few of the wide-ranging topics to be covered by CEDIA volunteers and staff.
The CEDIA Expo Virtual Experience also enables the association to update members on its myriad certifications (cedia.net/certification), McGuire says. Two new ones – the CEDIA Certified Cabling and Infrastructure Technician (CIT) and CEDIA Certified Integrated System Technician (IST) – were added just this past June, so it's a good time for integrators to get caught up.
"Some of the things we're doing in the background to raise the profile but also the caliber of our industry," she says.
Among the many benefits CEDIA will be reminding attendees of is The CEDIA Designer, McGuire adds, "which is also a great tool for the industry."
TCD helps installers with system designs, save time and money, spec products, generate proposal-ready documents, and create 3D CAD drawings. "And, if you sign up with us in the booth, we'll actually be giving away a month's free use at the Cinema Room Level," McGuire says as one incentive for attendees to join the association.
If you enjoyed this article and want to receive more valuable industry content like this, click here to sign up for our digital newsletters!