CEDIA has announced several new developments in its certification program, including the creation of two new certifications: CEDIA Certified Cabling and Infrastructure Technician (CIT) and CEDIA Certified Integrated System Technician (IST). Both those certifications will use revamped testing procedures from the association that will result in the retirement of the existing ESPA EST (Electronic System Technician), CEDIA ESC (Electronic System Certified) and CEDIA ESC-T (Electronic Systems Certified Technician) certifications.
In addition to the new certifications, the association has developed new learning pathways to prepare individuals for certification and on-the-job, and that it has applied its certification process for accreditation based on the ISO/IEC 17024 standard. The moves come just a week after CEDIA announced its new CEDIA Academy and redesigned website.
"The process has been incredibly stringent to ensure our certifications represent qualified technicians with the skills the industry needs," says CEDIA director of certification David Whitney.
"On top of that, for the first time, CEDIA is seeking accreditation under the internationally recognized ISO/IEC 17024 standard for certification bodies. Following these requirements at every step of the exam development and administration process has been foundational for the program and I'm indebted to the newly created CEDIA Certification Commission for their time and effort in this important work."
CEDIA CIT and IST Certifications Debut
The Cabling and Infrastructure Technician Certification (CIT) and the Integrated System Technician (IST) Certification are the results of countless hours of research and collaboration by the CEDIA Certification Commission and the Technician Job Task Analysis (JTA) task force. While crafting the CIT and IST certifications, the industry experts emphasized the credentials' global nature every step along the way, says the association.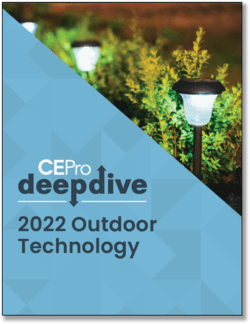 The 2023 CE Pro Outdoor Technology Deep Dive reveals unique set of impediments, including explaining pricing and interacting with outdoor-centric trades.
Get your copy now to take a "deep dive" into the trends and challenges of outdoor technology.
Download the report now!
Whitney adds, "This group reviewed entry-level and intermediate-level technician roles and worked from the ground up to create two technician certifications that are earned progressively and precisely measure essential knowledge and skills at each level."
The entry-level CIT is for technicians whose primary task is to perform basic infrastructure wiring for low-voltage technology systems in a residential or commercial setting. The IST, similar to the current ESC-T certification, is for experienced technicians with broad equipment and systems knowledge, who can operate independently on a job site. IST candidates must have at least one year of verified work experience and hold CIT certification to be eligible to sit for the IST exam.
Both certifications are renewable and require that holders adhere to a Code of Conduct. The association has released full descriptions and the exam blueprints for the new certifications.
"Today marks a whole new chapter for CEDIA Certification and building a whole system that more accurately recognizes skilled individuals in our industry," CEDIA certification commission chairman Dennis Erskine says.
"Yes, we're asking more of people who want to be certified, but that is a good thing. By adding rigor and the quality assurance and recognition that comes with official accreditation, our CEDIA Certification holders are going to come away at the end of this process with credentials that earn respect with the project stakeholders and demonstrate the professionalism of residential integrators."
The CEDIA Certification Commission determined the CIT and IST names following a process that included review of data from more than 1,000 online job description posts, 2019 CEDIA survey recommendations asking stakeholders what they preferred to be called, and the charge to establish names with long-term usability that are as representative as possible of the actual role and knowledge they encompass, regardless of where the integrator is located throughout the world.
Revamped Testing
With the exam blueprints now established, work is underway to create the new CEDIA Certification exams. In August, CEDIA plans to launch beta testing for the new CIT exam, while beta testing for the new IST exam is slated for November.
As the new, more globally-accessible CIT and IST certifications are progressively launched, CEDIA will be retiring the existing ESPA EST (Electronic System Technician), CEDIA ESC (Electronic System Certified) and CEDIA ESC-T (Electronic Systems Certified Technician) certifications. The Certification Commission has released a detailed transition plan for how existing certification holders can earn new certifications. Those holding ESPA EST, CEDIA ESC, and CEDIA ESC-T Certifications will receive preferred pricing of $25 to take the new exams.
The ESC-N and ESC-D certifications are not affected by these changes, but will be updated next as the Certification Commission plans to expand the specialist certifications – allowing advanced technicians to earn recognition in more focused areas.
CEDIA will soon be unveiling results of a recently-conducted Job Analysis Survey aimed at delivering a more in-depth picture of the many roles, knowledge, skills, and responsibilities of residential integration technicians.