Petro Shimonishi had lots of reasons to be chipper at the URC booth during last month's Integrated Systems Europe show in Amsterdam.
For starters, the company's director of global marketing had some really good coffee … brewed at the tap of a button on a URC touchpanel.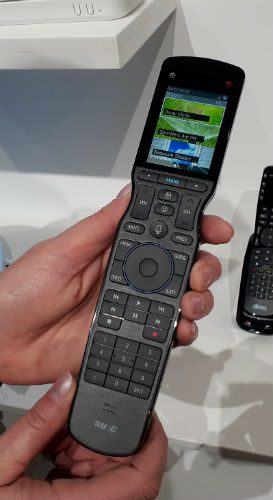 Smart appliances continue to gain momentum in the home integration space, and the topic was among the key themes at URC's ISE 2020 booth.
Besides smart appliances, Shimonishi was excited about the presence of EMEA distributor AWE, which she says has been instrumental in helping URC expand its European and other international partnerships.
Of course, for the Euro crowd at ISE, playing nicely with KNX remains important, and URC's booth also highlighted its growing integration with that ecosystem. One product on hand featuring URC and KNX compatibility was the stylish Tense in-wall keypad.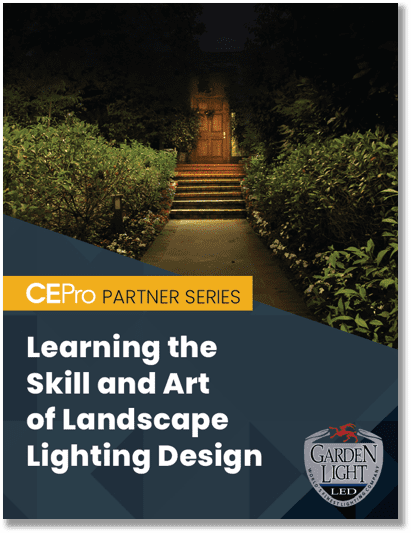 Experts recommend landscape lighting design as an entry point for integrators into the revenue opportunity of home lighting. Check out our new resource for tips and best practices. Download "
Learning the Skill and Art of Landscape Lighting Design
" today!.
Other new functionalities for URC include integration for Philips Hue lighting, August smart locks and Symetrix digital signal processors (DSPs).
Meanwhile, it being a European tradeshow, Shimonishi also appreciated the opportunity to show attendees that the new TRC-1480 remote with built-in Amazon Alexa, which URC featured at CEDIA Expo last fall, "now speaks German," she says. "We're so excited about this, and we'll be adding additional languages in the future, the next one for us is going to be Portuguese."
Plugging into Connected Appliances
Grabbing a Total Control 9100 touchscreen, which launched last year and started shipping this year, Shimonishi explains that URC has added the BSH coffee module. Authorized dealers can download the module now to start percolating connected coffee machine integration.
The module integrates URC's Total Control 2.0 automation platform with the Home Connect smart appliances technology and associated vendors.
At ISE, for instance, Shimonishi had a coffee machine from Siemens on the Wi-Fi network set to go with the cup, beans, etc., ready to begin brewing on command, something dealers can automate into alarms and more scheduling. URC integration with Home Connect covers connected products from manufacturers such as Siemens, Bosch, Thermador, Neff and Gaggenau.
"You select the coffee you want, it gives a choice between strong, very strong, normal, etc.," she notes of some of the options then available to program on the touchscreen or another Total Control interface.
However, while it's a nice residential perk, Shimonishi notes it can also be useful for commercial applications, another integration aspect URC has been highlighting of late.
"Think about it from a residential perspective but also a commercial perspective," she says. "If I'm having a meeting and I've got this touchscreen on the table and the coffee machine is in the conference room, I can continue to have my conversation and just select what type of coffee I want, so it's really simple."
Coffee machines are just the start of this endeavor for URC, she adds. Look for more appliances to tap into for automation capabilities coming soon.
"In the future we're going to be adding more Home Connect appliances. Home Connect is a nice little platform that enables all these kitchen appliances from your oven to your dishwasher, etc.," Shimonishi says.
More Tools for Commercial Total Control
ISE, a tradeshow that mixes commercial and residential wares, proved to be a fitting place for URC to continue its messaging from CEDIA Expo that Total Control is highly applicable for dealers who engage in commercial work.
"This platform is so scalable and flexible that you can use it in a variety of environments," Shimonishi notes.
"We've got two different programming tools for dealers – Accelerator, which is super simple for the guy who wants to get in, get out, get paid. The graphics are all template based, and of course they can do some personalization like drop in pictures," she says. "And then we have a user interface called Flex and Flex is … more flexible, so dealers can do a lot of great things."
At ISE, the Harrison, N.Y.-based company showcased its new Custom Device Layouts for Accelerator 2.0, for instance. They'll be available this month, enabling URC dealers to customize the landing page for each device with a modular button layout, combine features and functions on one page of the interface, add live camera feed and favorite channels pop-up window, and more, the company explains.
URC is seeing dealers experiencing tremendous success from the ability to really simplify programming and interface layouts for commercial customers, Shimonishi says. The booth featured some of their graphics created for sports bars and corporate board rooms, for instance.
"As more of these guys started bringing us into commercial and started saying, 'Hey, can you do this? Can you do that?' we said maybe we should be teaching this tool to other people," Shimonishi says of the programming software options.
"Our guys were using Flex at home to do some crazy personalization and graphics, but it really hadn't been widely adopted and now we're starting to see some wide adoption," she notes. "With Flex, dealers can change size and shape of buttons, placement of buttons."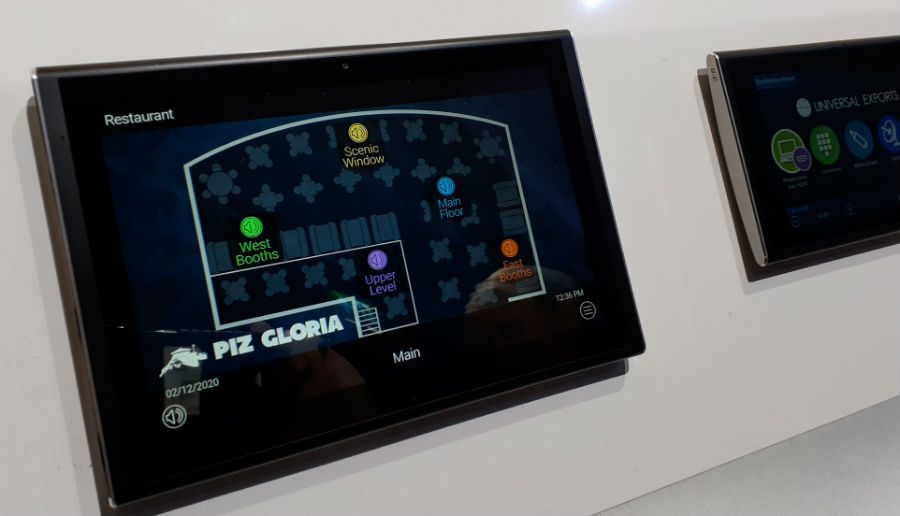 She showed a pizzeria application in which the integrator uploaded maps of all the restaurant's rooms.
"So imagine, the typical user at a busy restaurant isn't just one person, and turnover amongst restaurants is huge – so if you're relying on your staff, they'll be able to come into the restaurant, open it, close it, change sources on the TV, adjust the volume," she says. "The user interface has to be really super slick."
Additionally, the interface makes it easier for waitstaff to know which table is which (since often they are just numbered) if there's a request to, say, lower the volume above a certain section.
Plus, the expanded integration with Symetrix DSPs now supports two-way modules for the pro audio company's Radius NX, Prism, Solus and Edge offerings. It allows facilities managers using Total Control interfaces and smartphone app to control independent audio channels or zones routed through the DSPs.
"It means you've got a lot of flexibility," Shimonishi says. "If you're the owner of a restaurant, a bar, a campus – some of these systems can be quite large – you can walk around with one touchscreen and automatically adjust all the volume levels and do paging, input ducking, so it's a really good application for commercial."