URC, the veteran maker of control products and Total Control home automation platform, is understandably excited to get its new TRC-1480 remote into the hands of custom integrators and their clients.
The Harrison, N.Y.-based company covers all the bases with its latest handheld, making it among the most robust in the industry. That includes the increasingly in-demand option of voice control, certified via Amazon Alexa Skill.
Push-to-Talk Covers Privacy, Convenience
Unlike smart speakers and some control devices, URC enlisted a push-to-talk function for customers to capitalize on the voice capabilities. That implementation addressed both convenience and privacy concerns, notes URC VP of product development Lars Granoe, who gave CE Pro a tour and demo of the new remote.
"One is the concern people have about their privacy, and what some people believe is an open microphone in their homes or businesses," he says of eschewing the "wake word" often required to alert a device it's about to receive a talk command.
"The other benefit to [pushing-to-talk] is it's a close mic, so rather than have microphones throughout your home … I can just press a button. I don't even have to really hold it toward my mouth – it's pretty easy," he says. Plus people don't have to say, "Alexa …" then pause before saying a command.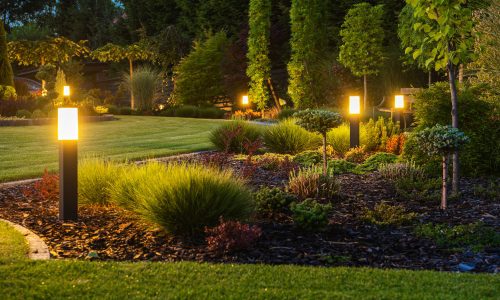 We are thrilled to present a lecture topic that delves into the connection between light and our surroundings, exploring how landscape lighting can transform a space from ordinary to extraordinary. Our keynote speaker, Janet Lennox Moyer, will share her extensive knowledge on the complexities of landscape lighting in design, commissioning, and maintenance and provide participants with the tools to identify good versus bad practices and techniques. Join us for an enlightening session that will unlock the secrets to success in landscape lighting design with one of the industry's most respected experts, Janet Lennox Moyer.
Register Now! 
TRC-1480 users don't have to shout or turn toward adjacent rooms where an Alexa device might reside (which, for example, might be particularly frustrating when someone's sitting on the living room sofa but the Echo is on the kitchen counter) to assure a successful voice prompt. The pickup on the built-in URC microphone also means you don't have to hold the remote up to your mouth like it's an actual microphone to utter commands.
Granoe adds that as for other voice platform compatibility, at the beginning of 2020 dealers and customers can expect to see an Apple module. It's not only going to be able to control AppleTV via IP, but function as Siri if someone wants, for example, to say, "show me all my Clint Eastwood movies" and have them appear onscreen.
Voice Control, Hard Buttons a Powerful Combination
Granoe notes that URC has been making remotes for 30-plus years and within the past decade has sold over 100 million of them. "What's different about this remote control from the other ones is we've taken the best of both worlds of a touchscreen and our hard-button remote controls," he says.
At the top of the TRC-1480's sleek façade is a 2.4-inch LCD screen. Combining touchscreen source selection with buttons helps eliminate the "touch and nod" common to remote control operators who have to glance up while tapping screen selections, Granoe explains.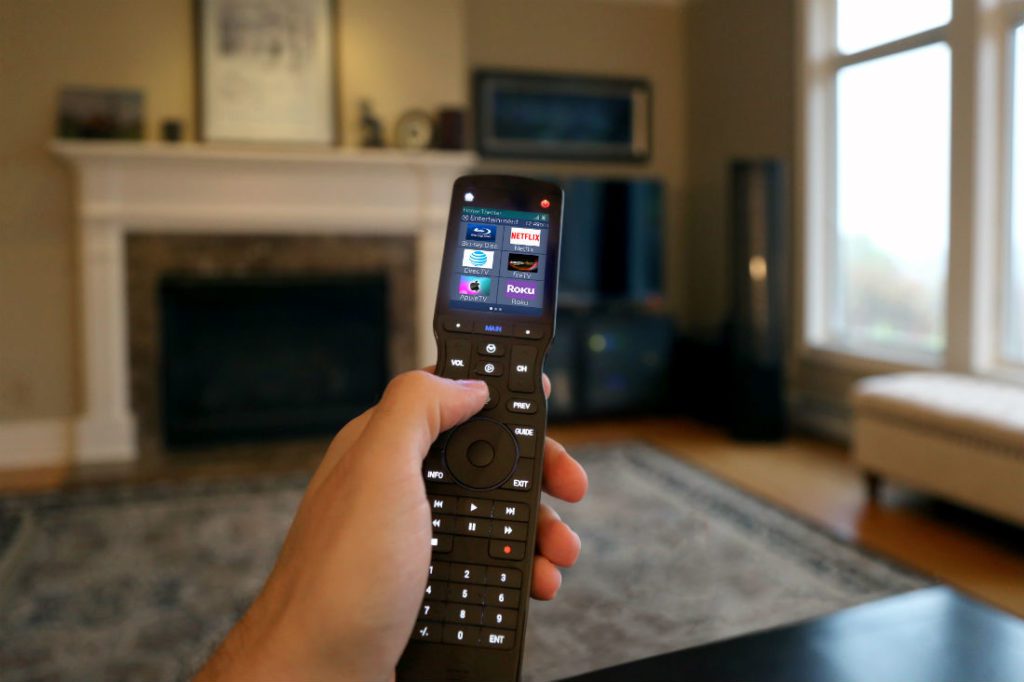 "I can just start off going into my sources and then I have my hard buttons, and via tactile feel I can easily sit there and go up and down the remote control because the ergonomic design has little finger grooves here," he says. "One handed, and that's it."
Other highlights include long battery life as well as an included charging dock. But Granoe points out that even if the remote dies, users can plug a USB-type connection into the bottom to power it up and start using it again immediately.
Total Control Yields Far-Reaching Functionality
Meanwhile, as part of URC's Total Control automation ecosystem, authorized dealers can cater the touchscreen graphics to the homeowner's preferences. Beyond icons and logos that represent AV sources like Roku or Blu-ray player or Netflix, for instance, integrators can personalize the GUI with pictures of different rooms in the house or other images customers might want in their whole-home or in-room navigation.
"So, a lot of different things from our normal lineup of remote controls," Granoe says of the TRC-1480.
Integrating the device as a controller within a Total Control installation enables pros to have it command connected systems like climate, lighting, security, AV, etc., as they would other control devices. But factoring in Alexa delivers that extra option and wow factor.
"Anything that we can control via IR or IP or RS-232, I can now control – even if it's not a skill in Alexa, with Total Control I can now control it via a voice command," Granoe says.
In terms of programming, Granoe demo'd a macro scene that merely required him speaking "Christmas time" to trigger his family room's Christmas tree lights to go on, shades to lower, music to start playing all at once. A simple "stop music" did just that.
He adds that whether they are new dealers or CE pros familiar with URC's products and training, the TRC-1480 is as easy to program as the company's other interfaces within a Total Control system, especially one that employs various control devices in a home.
"With [Total Control software] Accelerator and the power of that it will generate macros, it will generate all of the graphics and put it into all the UIs," Granoe says. "It's not there where you're sitting with each individual interface and having to go through all the hassle of changing things around, it will build it all for you."
If you enjoyed this article and want to receive more valuable industry content like this, click here to sign up for our digital newsletters!