With over 5,100+ members, 14,000 storefronts and $19 billion in buying power, the Nationwide Marketing Group (NMG) is a force to be reckoned with. So when president and chief member advocate Tom Hickman opened the buying group's 56th PrimeTime Conference in Houston this week by pinpointing the Connected Home as the biggest opportunity for members, it's a pretty big deal.
"The Connected Home is a $490 billion opportunity," Hickman told the 3,700 gathered attendees, which include 300+ members of the Home Technology Specialists Nationwide (HTSN) custom-installation-focused sub-group.
"We have been incredibly diligent in building our Connected Home offering for members," says Hickman. "This is the future. We are in a race. The Connected Home will be sold by retailers like Best Buy, so you need to get onboard."
He cited data that shows customers of Connected Home products return to the store on average every 17 weeks to buy something else. That is 10X the rate at which customers return to purchase more furniture or bedding, he noted.
The focus on the Connected Home is vital for NMG. In 2019, NMG members had double-digit growth in sales of smart home products, while appliances were up 5% and bedding and furniture were slightly down last year. Hickman noted that while NMG members added 300 new storefronts last year, 130 members went out of business.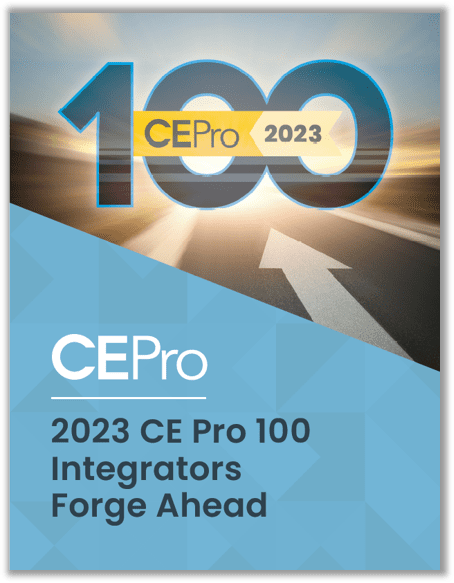 Which companies in the custom integration market made CE Pro's 24th annual CE Pro 100 list?
In addition to smart home, the group is targeting Outdoor equipment—from electronics to grills—as a focus for 2020.
HTSN Evolves
Hank Alexander, director of HTSN, has spent the past several years reconstituting the custom installation group from what was previously called the Specialty Electronics Nationwide (SEN). Alexander has put together a strong list of vendors for members, while Derek Mattila, vice president of Nationwide Connected Home, has built the new Tech Smart USA connected home support program, which is a program that helps members offer remote service support to their customers for every connected device in their home (no matter where it was purchased) via direct access to highly qualified, experienced technicians.
Held under the theme "All Systems Go," the PrimeTime Conference in Houston was a four-day business conference and trade show from Feb. 9-12. It featured more than 250,000 square feet of tradeshow exhibition space with 200+ manufacturers and service providers, including a dedicated outdoor pavilion showcasing outdoor demonstrations, free food samples and exclusive discounts from leading grill and furniture vendors. The event also had more than 100 different educational sessions.
In 2015, HTSN forged a cooperative alliance with another buying group, Home Technology Specialists of America (HTSA). As part of the relationship, members of both groups can also share purchasing power with various vendors but it goes much deeper than just buying power.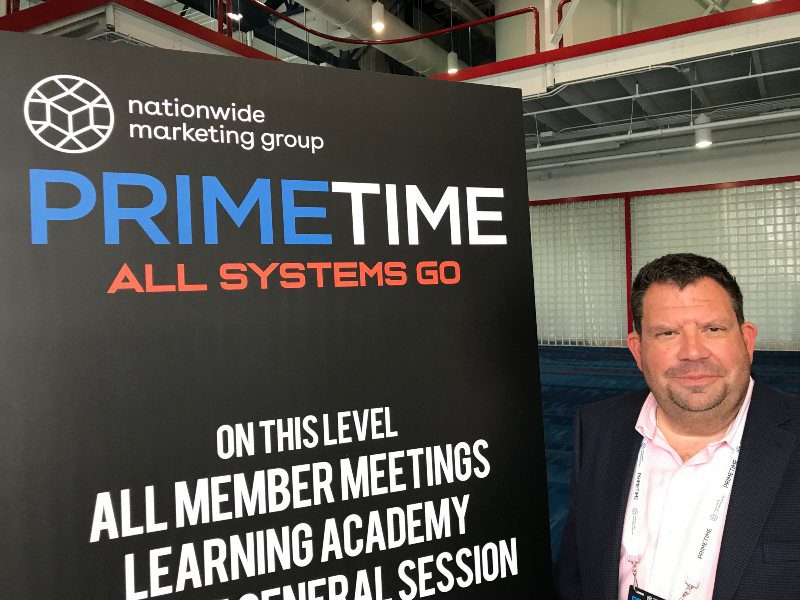 HTSN members often take advantage of the various HTSA trainings that take place. Alexander points in particular to the thought-leadership that HTSA is showing in the lighting fixture category as an area where he hopes HTSN members can gain more knowledge.
Meanwhile, HTSA members get to partake of NMG's credit card, financing and marketing services programs. Unique to NMG versus other buying groups is a full-blown in-house television studio — PrimeMedia — located outside Atlanta, as well as a website development team — Site On Time, also based outside Atlanta — for members. The buying group also offers various digital/website marketing capabilities via its partnership with Retailer Web Services, located in Arizona. Using these outside vendors, NMG members can create TV and web video commercials, produce radio spots, and build digital content for websites and social media.
While the HTSN members are those focused on custom install, a large number of the NMG members carry electronics. Alexander sees the number of NMG retailers with installation divisions growing.
"We see a strong correlation between carrying high-end, $10,000 Sub-Zero appliances, bedding or furniture and carrying audio, video and running wire for the smart home," says Alexander.
HTSN Diverse Membership
Indeed NMG/HTSN might have the most diverse membership of any buying group.
Jeremy Rasti of Crescendo has been in business since 2013 and runs an appointment-only showroom out of Baton Rouge, La. He says the group culture that allows him to meet with major retailers gives him a broader perspective on his business beyond networking with just like-sized custom installation firms.
"I like to learn from big retailers. How they deal with employees, how they handle training," he says. Some of the lessons he has learned in the buying group include how to finance systems for clients, and also how to improve his website.
Mike Baca of Builder Source Inc. in Albuquerque, N.M., is another example of the diverse HTSN membership. Builder Source works primarily directly with 30 to 35 homebuilders. The company was always focused on providing appliances for new homes, but has added Connected Home installation services and products in the past year and a half. Builder Source recently acquired Baillio's, a local retailer, and constructed a 7,000-square-foot Control4-run smart home display inside its showroom.
HTSN has gathered a core group of go-to vendors for members, including Control4, LG, Samsung, Sony, Klipsch, Powershades, Seura, MantelMount, Furrion outdoor TVs, Metra, Paradigm, Epson, Luxul, Salamander, Legrand and Leaksmart. NMG also just announced a new exclusive Google Nest program that makes the entire line of Google Nest connected home devices available to Nationwide members, including Nest Hubs, Nest Thermostat and more.
In addition to manufacturers, HTSN has a cadre of eight core distributors that members work with: Audio America, Capitol Sales, CED, Custom Plus, D&H, O'Rourke, Petra and Wave Electronics.
The distribution program, called eXchange, is run by Randy Derr. He has recently completely revamped the members' buying portal and is working on new innovations that will automatically take an e-commerce purchase on a member's website and feed it to the nearest or most ideal distribution partner for shipping. Members will also be able to take a specific product category of interest, such as gaming, and then auto-populate their own website with all the gaming equipment available from various vendor partners.
In addition to conducting business, NMG members spent time packing meals to support No Child Hungry, a charity for unprivileged kids. In two years, NMG has packed more than 1 million meals for the charity.
"Nationwide Marketing Group and its members have taken a direct approach to fighting childhood hunger, and the results are amazing," says William Lowry, president of No Child Hungry.
"While making 'Giving Back' a commitment and a part of every meeting they hold, they have packed hundreds of thousands of meals for those in need. And just last year, this group packed its 1 millionth meal. This feat is amazing not just for the scale and number of meals packed, but because it represents kids fed. We are so proud to partner with Nationwide Marketing Group and look forward to feeding more kids here in Houston."
Other highlights of the event included an opening keynote from NASA astronaut Mike Massimino, who spoke about leadership and teamwork. Also, on the exhibit floor NMG showed off its 32-foot Tiny Home filled with $25,000 worth of electronics. (More to come from CE Pro on that later.)
If you enjoyed this article and want to receive more valuable industry content like this, click here to sign up for our digital newsletters!