Josh.ai has lots of updates and news ready for visitors at CEDIA Expo 2021, including information on the company's distribution to Control4 dealers, new integration with Kaleidescape remotes, a new dealer dashboard, and much more.
To kick things off, Josh.ai has announced the company's first touchless home intercom feature. With homeowners communicating to their Josh.ai systems every day and adding more microphones in areas of their homes, it was a natural next step to empower families to communicate directly with each other in their living spaces. While Josh.ai users were already using one-way announcements to send a message to a single room or throughout a home, two-way intercom functionality via Josh Micro and Josh Nano expands the possibilities.
By adding intercom functionality, Josh.ai is increasing its value and enabling households to connect in new ways. This feature is now available to new and existing Josh.ai clients at no additional charge.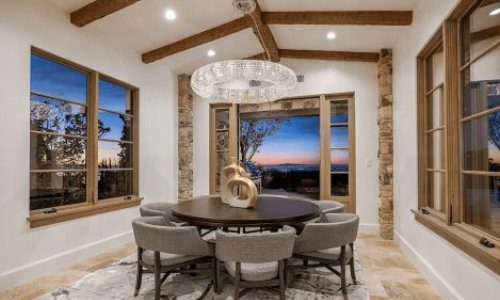 As a custom integrator, lighting is in demand. Effective communication, education and showcasing the value proposition of LED light fixtures in conjunction with integrative control systems are the keys to overcoming challenges and closing sales in this specialized market. Join us as we discuss the future of digital lighting and control with David Warfel from Light Can Help You and Patrick Laidlaw and Mark Moody from AiSPIRE.
Register Now! 
Josh.ai and Kaleidescape will be releasing a new integration, which will support Kaleidescape's remote control navigation through Josh.ai's voice and app remote interfaces. Accessing the Kaleidescape remote through Josh.ai will provide access to the trackpad for directional navigation, home and menu buttons, play and pause for content playback, and Strato users will be able to use the keyboard to type in search criteria. Included in Josh.ai's remote control support will be the ability to script commands using the Natural Language Scene Editor.
Verbal group is another feature being unveiled at CEDIA Expo 2021. While a feature of the Josh App and a typical element of a distributed audio GUI, being able to verbally group audio zones had previously presented a challenge. Whether the diction felt clunky or unnatural, the company says it has taken copious amounts of surveying and testing for it to roll out the first phase of its NLP support for music grouping. Users will now have more freedom when giving commands to their Josh.ai system with commands like, "Ok Josh, group the patio with the Kitchen music."
"Our mission at Josh.ai is to create truly delightful, private, and transformative smart home experiences. The strategic advancements we have made in the last year, including shipping Josh Nano and Josh Core, the introduction of our first co-developed hardware solution with Lutron, our strategic partnership with Snap One and Control4, and the engineering investment we've made to implement impactful integrations and features for our dealers have us extremely excited for the future," says Alex Capecelatro, CEO of Josh.ai.
New Josh.ai Dealer Dashboard; Seamless Scene Creation
With its certified dealer base and number of projects scaling rapidly, Josh.ai has also built the tools for integration companies to effectively support their clients. The new Josh.ai Dealer Dashboard will serve as an admin view page of a company's projects, giving company admins the power to manage user permissions, remote into any system's diagnostics, and set up efficient internal workflows.
From a programming standpoint, dealers will be happy to see updates in the Josh.ai Portal to accommodate Josh Nano projects. Beyond new system deployment flows and the ability to make VoiceLink audio connections via Josh Core, there is improved flexibility to adjust a Josh.ai system's network settings as well.
Building upon the Fiji OS platform and Natural Language Scene Editor that debuted in the Josh.ai Portal at CEDIA 2020, Josh.ai is excited to add seamless scene creation through dictation to its iOS app. Clients can now simply speak or type out what they want a scene to do. No complex programming, no complicated GUI console, and no configuring tiles. All that is needed is natural speech to create custom scenes. For example, a user can create a "Good Morning" scene by simply typing into the Josh.ai app's Natural Language Scene Editor.
Josh.ai Adds Crestron Home Integration
In addition to all of the news above, Josh.ai has added integration features to quite a few of the industry's top brands. Here's a quick rundown of some of the main updates:
Josh.ai Personality Enhancements: In an effort to make speaking to Josh.ai more inclusive for users that have previously spoken to other smart assistants, the company has introduced what it says is a first of its kind dual wake word that will accept "Hey Josh" or "Ok Josh" to activate its far field microphones.
Lutron Voice Keypad: In a collaboration between Josh.ai and Lutron Electronics, a beautiful wall plate that pairs Lutron's Palladiom, seeTouch and Pico keypads with Josh Nano will be on display for the first time at CEDIA Expo 2021. This elegant product has been crafted with both interior designers and professional installers in mind to consolidate wall controls into a single wall plate, giving clients endless possibilities to control their home environments.
Crestron Home AV Integration: Josh.ai has also pushed a significant update that now lets Crestron Home users control their AV systems using Josh. As long as Crestron Home acts as the control and media routing backbone, Josh.ai will be able to communicate with a project's AV devices and use its intelligence to find specific content with compatible service providers. In addition to AV source distribution, Josh.ai natively works with Crestron Home's lights, shades, thermostats, locks, scenes, and quick actions.
With respect to its overall Crestron integration, Josh.ai has also added NAX as a compatible music streaming platform. To start, clients will be able to request music content via Tidal, SiriusXM, and Pandora. The NAX integration will translate to both Crestron Home and Crestron SIMPL deployments as a new audio streaming option.
Control4 Driver: Josh.ai has also released increased native music integration with Control4 controllers. In addition to its existing Pandora support, Josh.ai will now deep-link to content on Tidal and SiriusXM.
Wall-Smart Debuts Josh Nano Flush Mount: Wall-Smart has worked closely with the Josh.ai team to develop a special flush mount for Josh Nano projects. Developed for new construction, the mount eliminates the 3mm lip of Josh Nano and completely blends it into a wall or ceiling.
AVPro Edge Introduces First Third Party Implementation of Josh.ai VoiceCast: AVPro is the first manufacturer to add Josh.ai's VoiceCast capabilities into its products, increasing the reach and availability of voice in the smart home. AVPro matrix switchers will now be able to seamlessly activate, duck the volume of current media, and route responses from a Josh Micro or Josh Nano through its in-room audio.
If you enjoyed this article and want to receive more valuable industry content like this, click here to sign up for our digital newsletters!