With interest and demand in air quality having drastically evolved over a few short years, the capabilities of air purifiers have grown in kind, especially as smart home devices rise in popularity. This has led to companies pushing to create high-performance, standalone devices that can easily be integrated into common smart home systems (i.e. Alexa or Google Home), and that's where we sit today with our review the Dreo Macro Max S Smart True HEPA Air Purifier (MSRP $239.99).
Dreo Macro Max S Core Features
According to the product page on Dreo's website, the Macro Max S uses a 3-stage active filtration alongside a H13 True HEPA Electrostatic filter—the 'electrostatic' part just makes it so dust and other, smaller particles cling together, becoming larger so the filter can catch them. With HEPA still being the gold standard in air filtration, the Macro Max S starts on a strong base.
Using this setup, Dreo claims that the Macro Max S can process a 423 square foot room in about 12.5 minutes (smaller rooms, of course, require shorter times).
Built into this air purifier is also a highly advanced air quality monitor that the device uses to measure PM2.5. While limited in comparison to what encompasses a true read of air quality, it does address one of the biggest culprits of poor air quality in a home.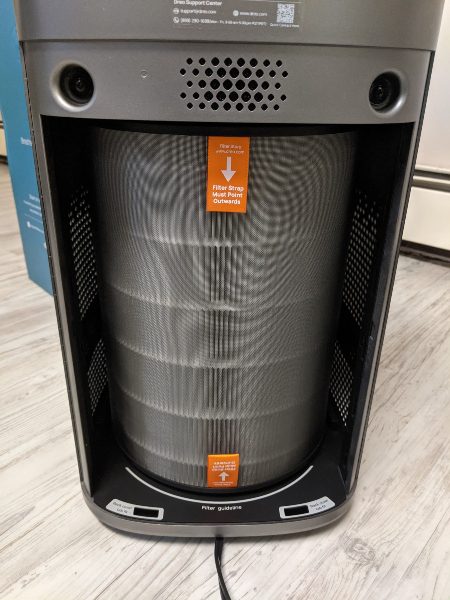 The device uses the monitor to regulate the fan power on Auto Mode. Baseline, the purifier is also purported to operate at 24 db. For reference, an average conversation is about 60 db. Dreo also states that using the auto mode, the average cost of running the purifier comes to about $4 a month at a rate of 13.7 cents per kilo-watt hour.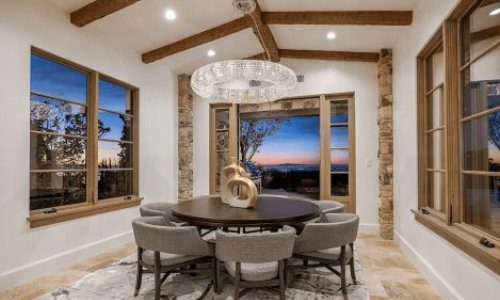 As a custom integrator, lighting is in demand. Effective communication, education and showcasing the value proposition of LED light fixtures in conjunction with integrative control systems are the keys to overcoming challenges and closing sales in this specialized market. Join us as we discuss the future of digital lighting and control with David Warfel from Light Can Help You and Patrick Laidlaw and Mark Moody from AiSPIRE.
Register Now! 
Using the app, users can also set timers for the Macro Max S, view filter life (though this can also be viewed on the device itself) and integrate with Alexa and Google Home. Device connections occur over Wi-Fi 2.4G, and once connected, the device can be monitored and controlled from everywhere there is Wi-Fi.
The app also includes air quality history reports that update about every 15 minutes or so and operates in 15-minute intervals with histories lasting up to 30 days in the app.
Setup
The setup was simple. From unboxing to getting everything up and running, the process took less than 5 minutes. All that was required was to download the Dreo app (available on Android/iOS) to hook up the device to the Wi-Fi network and integrate with Alexa and Google Home. The only other hurdle is removing the plastic covering on the filter before starting.
Users can then control fan speed and set display options: PM2.5 levels or a vaguer air quality rating that operates on a percentage system with 100% being the best quality air. For both readings, the display will also change the colors of an LED tower based on air quality, moving from Blue (Best), to Green, Orange, and finally Red (Get Out of the Room).
Everything I just mentioned is doable from both the app and the device, even the pairing (though you still need the app to register and enter Wi-Fi information).
A toggleable child mode in the app also prevents accidental changes to settings made through the main device interface, which I think is a nice option to have for just about anything. A Shared Access feature allows multiple accounts to control the Dreo Macro Max S from different devices, meaning the account that does the setup doesn't necessarily need to be the one that ends up controlling the purifier.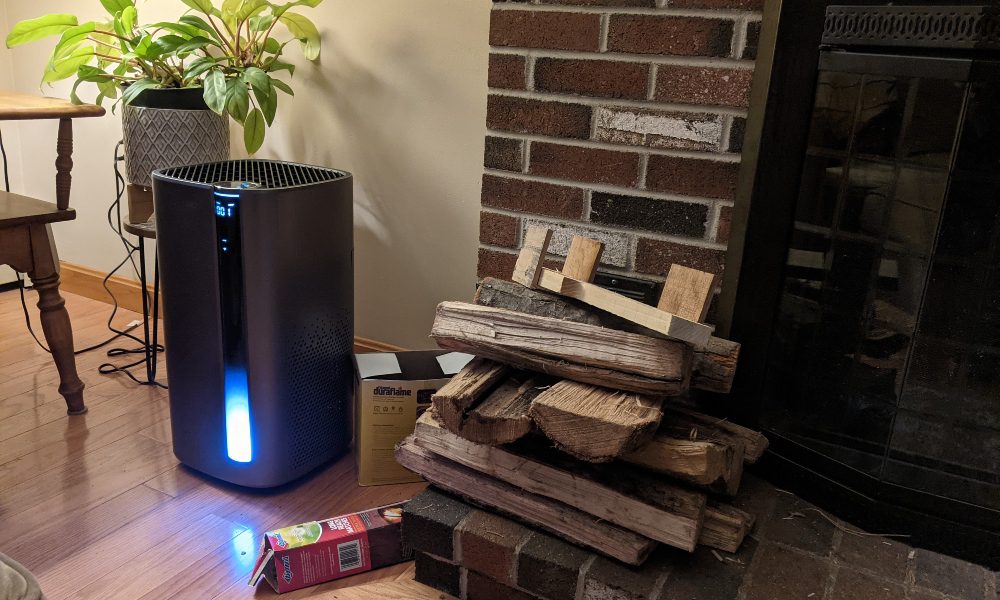 Honestly, I spent more time trying to figure out where the best spot to place it in the house would settling on the living/kitchen space. While not a completely open concept, it is a large, interconnected area that gets subjected to wood smoke from the fireplace and cooking aerosols on a nightly basis, which I figured would be a good staging ground for this review the Dreo Macro Max S.
Performance
The air quality monitor quickly validated that opinion. Surprisingly, cooking was the worst of the two. While residual backdraft from the fire only ever rose the levels to around 100, cooking could consistently kick it into the 300 – 800 range depending on the dish.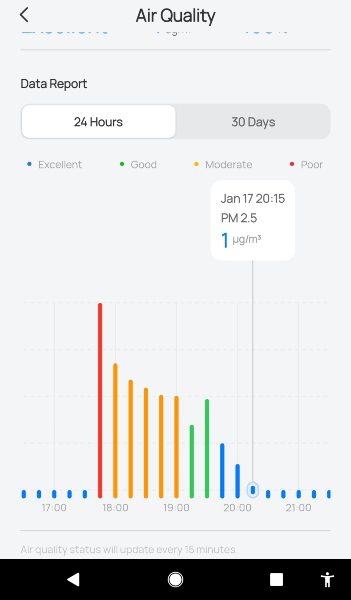 During those periods of high demand, the device certainly lived up to Dreo's claim. Using Auto Mode, the fans gradually ramp up based on demand, and, during periods of intense cooking, it was able to mitigate PM2.5 levels very quickly. During the lighting of the fireplace, the same thing would happen, only levels would drop to 1 and stay there (the lowest level) after the initial lighting of the fire.
During the lower periods, I also had a difficult time determining whether or not the device was active. A few days into using it, I noticed that the purifier came with adaptive lighting, meaning when light levels in the surrounding area dropped, the device would turn off its interface while continuing to run. And 'whisper-quiet' doesn't do the motors justice. Whispers are louder than this thing running in low periods. When fully engaged, it's no louder than a fume hood.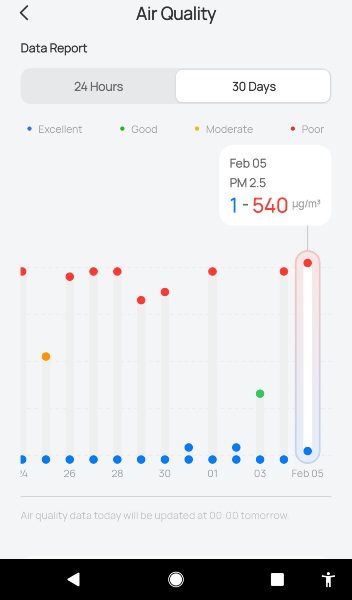 The air quality monitor on the Macro Max S is also far more sensitive than I would've imagined. For instance, when turning the shower about 20 feet down the hall, there was a light register on the PM2.5 monitor which notified me it was time to clean the shower. Using the toaster also caused it to spike just shy of 100, prompting me to clean that out as well.
Final Thoughts
I never saw much reason to mess with the fan settings outside of Auto Mode. The device was intelligent enough and sensitive enough that I could rely on it to regulate accordingly. The Macro Max S also comes with timers one can use as a scheduling system, but again, I found no reason to use them given their overall lack of automation capabilities.
Even without robust automation, though, the device runs itself. The low power draw of the low mode, the elimination of the display during night hours and the quiet running of the motors makes it so there's very little cost to keep it always running, barring that statement of $4 a month for energy costs holds consistent.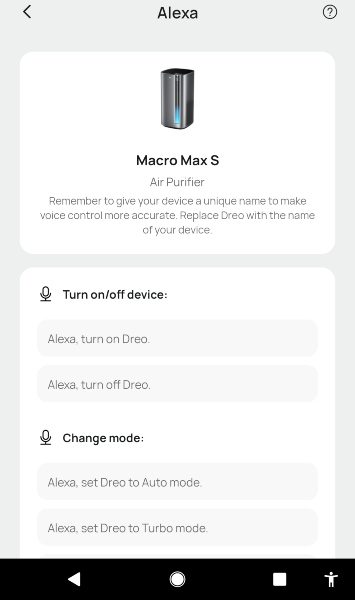 Since it had it as an option, I also hooked the device up to Alexa to test it. The setup was instantaneous, and the voice recognition was clean without issue. Looking at it from a singular device perspective, it's nice and adds a layer of accessibility. My only regret is that I don't have more devices on the Alexa hub to see if it's capable of controlling multiple devices with a single command. Ditto for Google Home.
Following my review, I find the strengths of the Dreo Macro Max S ultimately lie within the advanced technology it employs. The intelligent, self-governing control system, sensitive air quality monitor, and borderline invisible presence in the home hit all the marks of what a 'smart air purifier' should be. For professionals, it can be set up quickly and simply and monitored from afar. Homeowners meanwhile get a powerhouse of a product that requires next to no input on their part to continue running at peak performance at a very reasonable price.
For integrators seeking to dip their toe in the IAQ space but don't know where to start, offering the Dreo Macro Max S as a standalone, single-room solution for clients as an add-on sale is a good place to start. Once your clients get a taste of how simple an non-instrusive an IAQ solution can be, it will help open the door for possible whole-house solutions that can be integrated into a full home automation solution.
Pros and Cons: Dreo Macro Max S Review Summary
Pros
Sensitive IAQ monitor, IAQ histories and advanced self-governing system make it incredibly reliable and informative.
Adaptive Lighting and near silent motor allow it to be placed anywhere with near-zero disruption.
Sets up and connects to popular smart home systems within minutes.
Powerful motor and filtration work through contaminants quickly even during high-demand scenarios, such as frying.
Cons
More options for automation would be nice for homeowners who like to min/max performance.
Additional readings on the IAQ monitor may be appreciated as well.
If you enjoyed this article and want to receive more valuable industry content like this, click here to sign up for our digital newsletters!