A showcase of everything happening in the Bespoke product family, Bespoke Life 2023 kicked off earlier this week and with it, Samsung's vision of future home life became just a little crisper.
Started back in 2020 on the heels of the pandemic, the "Bespoke Life vision" was born out of the belief that home appliances are the keys to a more sustainable, connected and stylish home. Since then, these three pillars have guided many of the updates Samsung has made to its product line. Though, they have also come to be the guiding principles of Samsung's broader initiatives, especially in the realm of sustainability.
Given all that has occurred since the last Bespoke Life, from the emergence and subsequent flare-up of AI to the now seemingly humble release of the Matter protocol and partnership with Google, I was particularly excited to see how Samsung would continue to develop what it coins "the Bespoke Life," especially considering how the company seems to always be one step ahead in the adoption of game-changing technology.
Bespoke Life 2023 Sets Up Vision for 'Hyper-Connected' Home
Having already been dabbling with AI in its services, Samsung has stated that it plans on continuing to incorporate the technology into more of its products to facilitate that "bespoke experience."
The company is already implementing more advanced AI into its refrigerators, dishwashers, ovens, washing machines, dryers, vacuums and air conditioners with 20 pre-set automation routines already available for users to activate based on specific needs with WiFi support being added across all Samsung appliances soon.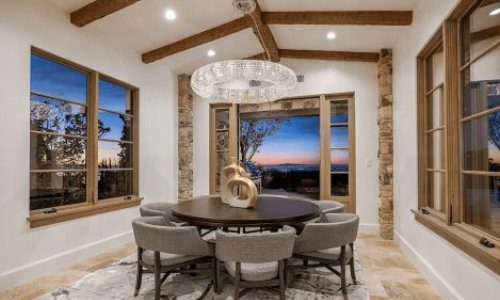 As a custom integrator, lighting is in demand. Effective communication, education and showcasing the value proposition of LED light fixtures in conjunction with integrative control systems are the keys to overcoming challenges and closing sales in this specialized market. Join us as we discuss the future of digital lighting and control with David Warfel from Light Can Help You and Patrick Laidlaw and Mark Moody from AiSPIRE.
Register Now! 
This, according to Samsung pushes more towards the company goals of ensuring that its products can offer a seamlessly automated home experience, with a particular focus being placed on true automation, "one in which devices learn users' usage patterns and provide personalized automation based on their smart home configuration and lifestyle," as Samsung puts it.
While this applies strictly to products operating on the SmartThings ecosystem (an ecosystem with 270M active users according to Samsung user data), it's hard not to view these with respect to developments in connectivity across the entire industry. In Samsung's own words, 3,000 third party devices are currently compatible with the SmartThing ecosystem.
Since the release of Matter, Google and Samsung have formed a tight-knit partnership, allowing one another's ecosystems to be controllable across each other, a rarity among companies so far and a development that is more emblematic of the connectivity everyone thinks of when they think of Matter.
Given how much effort Google has placed in working with professional integrators and how the company's smart home solution has quickly risen in popularity among professionals and consumers alike, it's worth viewing these developments in the SmartThings ecosystem with that in mind.
Additionally, Samsung stressed the role of accessibility as part of its products, stating it currently has 15 features planned currently including voice control on its Family Hub fridges, as well as auto-opening doors on its washers and dryers.
Samsung Delivers Greater Emphasis on Sustainable Impact
In line with AI developments across its portfolio, Samsung has stated that it will be expanding its SmartThings AI Energy Mode across its Bespoke refrigerators, washers, dryers, dishwashers, and air conditioners.
This also includes a significant upgrade to the Energy Mode AI in general, which, Samsung states, will help the service identify use patterns and tweak behaviors across connected devices more easily.
While the company did note that users can set a desired level of energy consumption that, when crossed, will activate certain automations, it does seem Samsung is moving towards having this mode be a more 'hands-off' feature for the user, instead using the technology to subtly guide more sustainable operations.
According to Samsung, this is all a part of a greater redesign of its product lifecycle, which also includes opening a closed-loop recycling center for sourcing and production, while also incorporating bioplastic material from waste oil, along with marine plastics, into its Bespoke product line.
Samsung also revealed the latest development in the company's partnership with Patagonia. Having originally come together to help combat microplastics generated by wash cycles, the duo had already developed a laundry cycle now being implemented in its Bespoke Washers that helps reduce microplastic pollution by reducing abrasion during the wash cycle.
The Less Microfiber Filter builds upon that, being an attachment that catches microfibers in the wastewater following a wash cycle, reducing pollution up to 98% according to independent testing. (However
Samsung Launches MyBespoke in the United States
On the design front, Samsung officially launched MyBespoke within the United States, allowing for even further customization of Bespoke fridges. Launched last year to limited markets, MyBespoke lets customers submit their own images and artwork for Bespoke fridge designs.
Samsung has also continued to partner with various design studios on the development of exclusive Bespoke fridge styles, this time highlighting its most recent collaboration with Toiletpaper, a magazine turned design studio. The studio is well-known for its surreal, almost collage-like designs and as part of the partnership, Toiletpaper will be developing five unique designs for the Bespoke fridge.
Additionally, Samsung stated that following the launch of the Bespoke Washer Dryer earlier last year, the Bespoke AI Oven will be hitting American markets later this year.
If you enjoyed this article and want to receive more valuable industry content like this, click here to sign up for our digital newsletters!