Google Nest and Samsung are joining forces to bring Nest's portfolio of products to the Samsung SmartThings IoT ecosystem. According to a press release, Google Nest devices including thermostats, cameras, and doorbells will now be "Works With SmartThings" (WWST) certified, allowing users to control their smart devices through SmartThings.
Through this new partnership, SmartThings users will be able to adjust a Nest thermostat, view live camera feeds from outdoor Nest cameras and hear who is at the door with Nest Hello, all through their smart devices for the first time ever. 
Users can also incorporate Nest devices into their current WWST-certified devices to create Scenes and automated experiences, controlling the functions with voice commands or through the SmartThings app. SmartThings can also use Scenes to adjust lighting on the fly, and automation can signal to a Nest thermostat when it's time to adjust the temperature or if a window is open. Users can also activate outdoor and indoor lights ahead of arriving home.
In addition, Samsung says users will soon be able to stream right from their Nest devices directly to their Samsung TV or Family Hub fridge. 
"SmartThings technology continues to enhance and improve the way we experience smart living. We're pleased to further strengthen our partnership with Google and integrate Nest into our portfolio to offer users more ways to control and automate their home," says Ralf Elias, global vice president IoT/ business development & partnerships at Samsung Electronics. "We are committed to creating a universal system where all smart home devices can work cohesively together."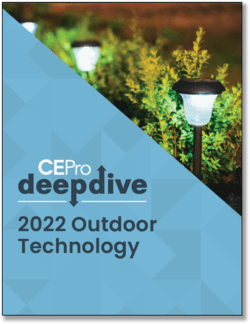 The 2023 CE Pro Outdoor Technology Deep Dive reveals unique set of impediments, including explaining pricing and interacting with outdoor-centric trades.
Get your copy now to take a "deep dive" into the trends and challenges of outdoor technology.
Download the report now!
Samsung says this partnership with Google represents the next step in its commitment to technology innovation and to working with third parties to create a universal smart home standard. The company says it is also focused on simplifying smart technology development for manufacturers and increasing compatibility for consumers.
SmartThings technology will be available on Google Nest products starting in January 2021.