The wellness market in the United States is double the size of any other nation, but the Swiss spend the most per capita on wellness-related activities and products. Those are among the key takeaways from the nonprofit Global Wellness Institute (GWI) report called "The Global Wellness Economy: Country Rankings," the first research to measure the wellness economies of 150 nations.
The data covers a broad range of wellness-related spending on everything from healthy food to beauty products to real estate/home technology to tourism. The report shows that in 2020 Americans spend on average $3,685 per person per year on wellness activities, products and food. The U.S. ranks third per capita behind Switzerland and Iceland. In terms of total market size, the U.S. wellness market is $1.2 trillion, double the next largest wellness market economy, which is China.
Interestingly, the reports shows that the overall U.S. wellness market fell by 13.8% in 2020 compared to 2019. In fact, the data show that wellness spending declined in nearly every country in 2020. Integrators are having trouble penetrating the wellness market, with last year's CE Pro Wellness Deep Dive Study showing just 8% of projects included some type of wellness technology such as indoor air quality or human-centric lighting.
The report is a companion to GWI's recently-released "The Global Wellness Economy: Looking Beyond COVID," a complete global update on all 11 sectors of the wellness market, finding that the world wellness economy is worth $4.4 trillion and forecast to reach $7 trillion by 2025.
"This last year, the GWI generated country-level data for all 11 wellness sectors. So now, for the first time, we can answer the question everyone asks: How big is the total wellness market for each country and who ranks highest?" said Ophelia Yeung, GWI senior research fellow. "Which nations are growing, which are shrinking? How do national wellness markets differ and why? This report is the first to answer these questions."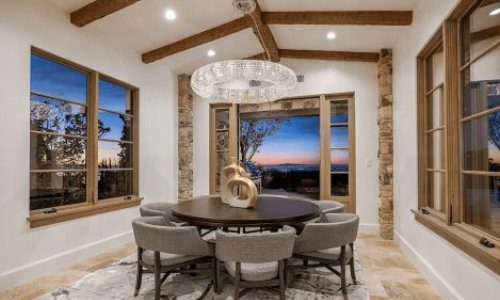 As a custom integrator, lighting is in demand. Effective communication, education and showcasing the value proposition of LED light fixtures in conjunction with integrative control systems are the keys to overcoming challenges and closing sales in this specialized market. Join us as we discuss the future of digital lighting and control with David Warfel from Light Can Help You and Patrick Laidlaw and Mark Moody from AiSPIRE.
Register Now! 
Top 20 Wellness Markets in 2020
US: $1.2 trillion
China: $683 billion
Japan: $304 billion
Germany: $224 billion
UK: $158 billion
France: $133 billion
Canada: $95 billion
South Korea: $94 billion
Italy: $92 billion
Australia: $84 billion
Brazil: $83 billion
India: $78 billion
Russia: $71 billion
Spain: $63 billion
Mexico: $46 billion
Netherlands: $41 billion
Taiwan: $38 billion
Switzerland: $38 billion
Indonesia: $36 billion
Turkey: $35 billion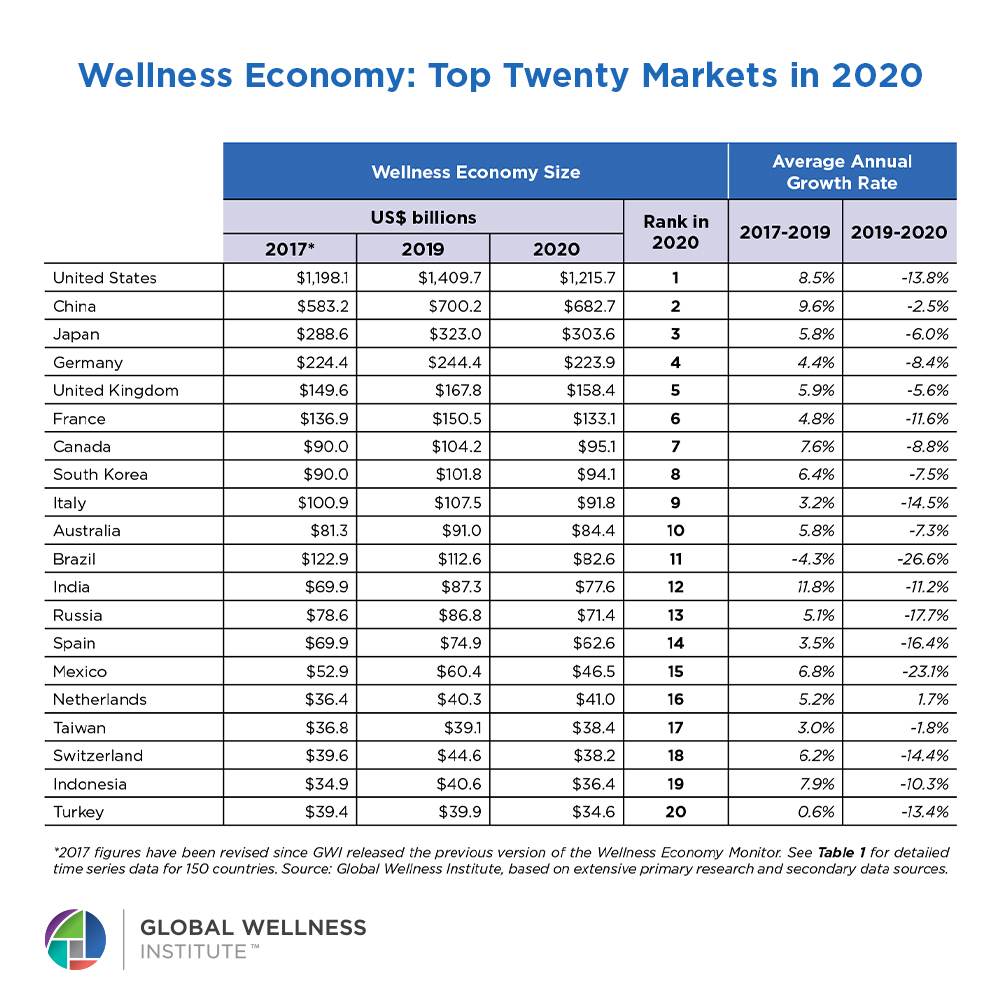 It's no surprise the world's most populous countries (e.g., China, India, Indonesia, Brazil, Russia), or the wealthiest (e.g., Switzerland, Australia, Netherlands), or countries that combine size with wealth (e.g., the US, Japan, Germany, the UK, etc.), spend the most on wellness.
The US is by far the largest market, at $1.2 trillion–nearly double the size of the second-largest market, China, at $683 billion. In fact, the US accounts for 28% of the entire global wellness market, while the top ten markets represent 71% of the world total.
The report provides granular data on national wellness markets, from growth rates in the pre-pandemic years of 2017-2019 to how the pandemic has impacted each market.
Consumer Wellness Spending Per Capita in 2020
Switzerland: $4,372
Iceland: $3,728
US: $3,685
Austria: $3,568
Norway: $3,346
Australia: $3,771
New Zealand: $2,969
Denmark: $2,958
Hong Kong: $2,943
Aruba: $2,792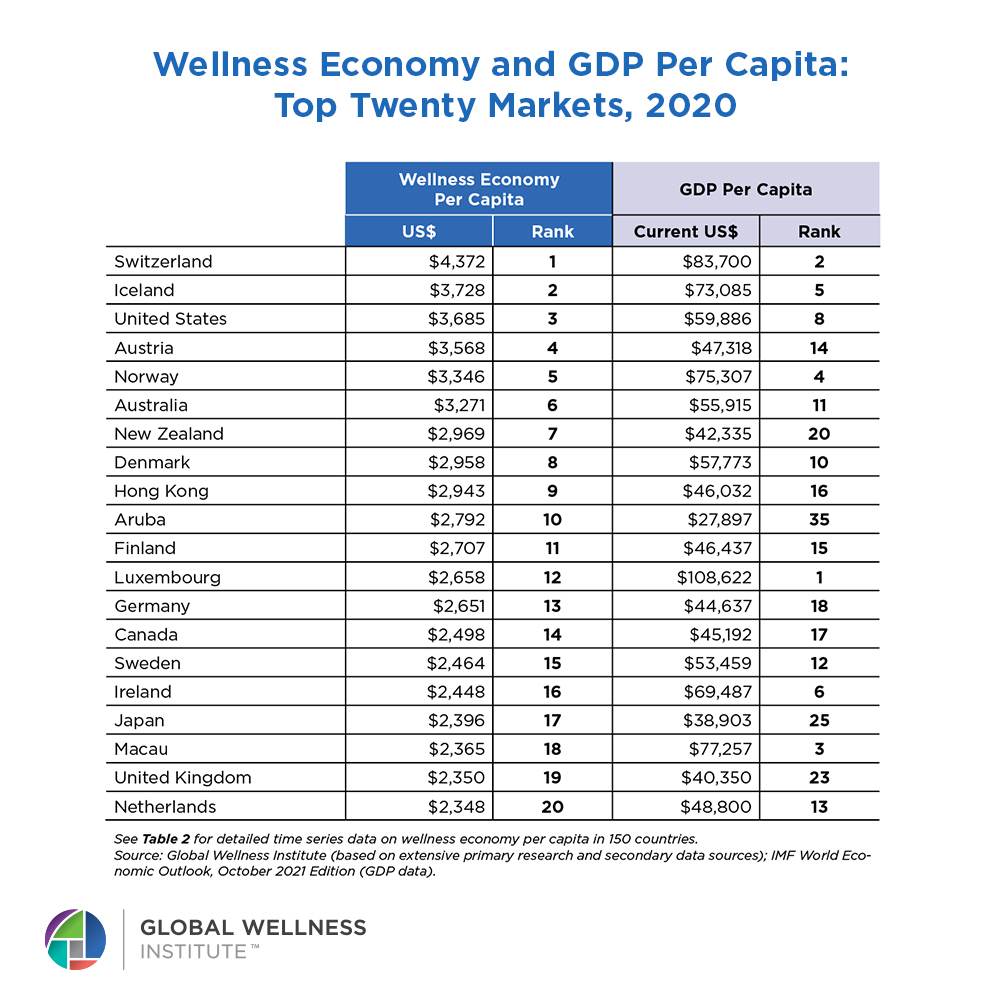 Consumers in the very wealthiest economies spend the most each year on wellness. The report provides data on how much the wellness market contributes to national GDP (what percentage of the economy it represents). Globally, the wellness economy represents 5.1% of total GDP, roughly 1 in every 20 "dollars" spent by consumers worldwide is on wellness.
Wellness Is Vital to Small, Tourism-Dependent Countries' Economies
It may seem surprising to see Aruba rank in the top 10 for consumer spend on wellness, as it's not as wealthy as the other ranked countries. This is the tourism effect, where high-spending inbound wellness tourists represent a disproportionate part of the wellness market.
The report ranks countries by the ratio of the size of their wellness economy to the size of their total GDP/economy, and the small, tourism-dependent countries really stand out. For those top five nations, the wellness market represents an eye-opening percentage of total GDP: Seychelles (16.5%), Maldives (14.5%), Aruba (11.9%), Costa Rica (11.4%), and St. Lucia (10%). This is a window into the powerful contribution that wellness tourism brings to their economies, but also shows how in these small countries wellness is more of an "export industry" and for the most part out of reach of locals.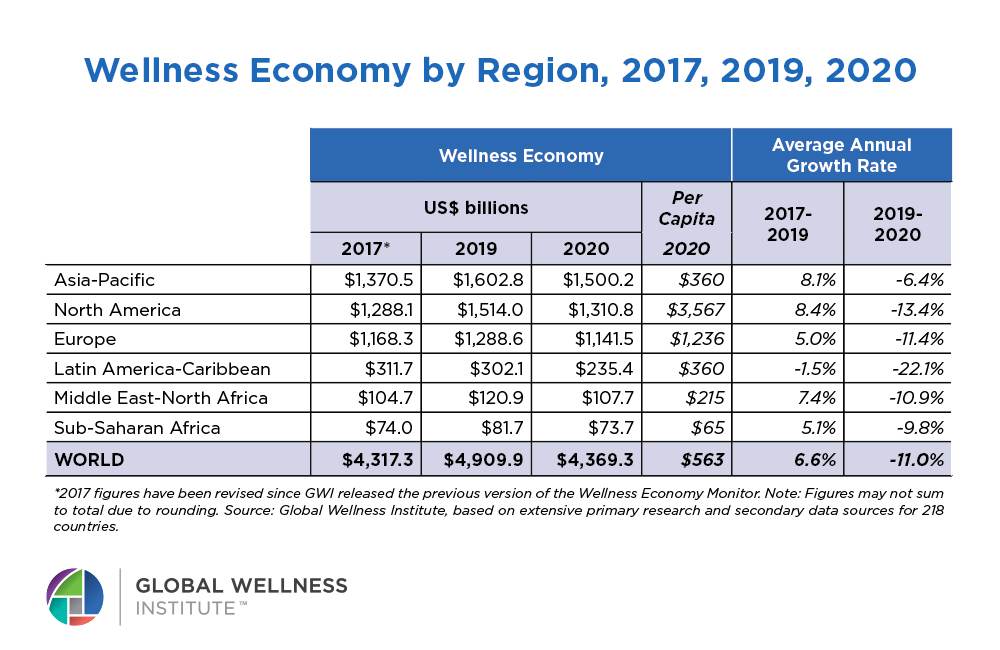 Nutrition, Personal Care, Beauty Are Top Wellness Market Sectors
The report reveals how different wellness sectors dominate in different nations. Both worldwide and in most countries, the wellness market is concentrated in three sectors: 1) healthy eating, nutrition, and weight loss; 2) personal care and beauty; and 3) physical activity. These three segments account for more than 60% of the total wellness market.
There is however a wide national and regional variance in wellness markets. In Japan, personal care/beauty represents a much bigger share of wellness spending than in most countries; for China, India, Indonesia, Russia, and Turkey, it's traditional/complementary medicine; in Germany, it's wellness tourism, spas and thermal/mineral springs; while in Sub-Saharan Africa, public health and prevention spending dominates.
"These new rankings reveal the countries that spend the most on wellness–important information for governments and businesses. But the size of a wellness market does not necessarily capture which countries are most 'well': which nations have the best health outcomes or fair access to wellness," says Katherine Johnston, GWI senior research fellow.
"There's much research to do. Who is benefitting from the growth of the wellness economy in each country, and who is not? What's the relationship between the wellness market and the health and well-being of a nation's population? What can governments and policymakers do to bring more wellness to more people? This will be the focus of our November 2022 report on wellness and policy to be released at the Global Wellness Summit in Tel Aviv."
About the Global Wellness Institute: The Global Wellness Institute (GWI), a nonprofit 501(c)(3), is considered the leading global research and educational resource for the global wellness industry and is known for introducing major industry initiatives that bring together leaders to chart the future. GWI positively impacts global health and wellness by educating public institutions, businesses and individuals on how they can work to prevent disease, reduce stress and enhance the overall quality of life. Its mission is to empower wellness worldwide.
If you enjoyed this article and want to receive more valuable industry content like this, click here to sign up for our digital newsletters!