Home Technology Specialists of America members are bracing for continued tough economic conditions ahead by doubling down on their highly successful adoption of lighting fixtures, ramping up marketing efforts and tightening business processes. The group mantra was "Focus, Focus, Focus" at the recent HTSA Fall Conference, and that message was resonating loud and clear as 325+ HTSA leaders, vendors and integrator members shared ideas and best practices during the mid-October event held at The Westin in Indianapolis.
A full crowd of energetic dealers were treated to a busy slate of breakout group sessions, vendor meetings and networking activities as well as a standout keynote presentation.
"We did a survey of our members as a whole on where they're seeing the market trends, where's the pipeline moving forward, what's their optimism," Tom Doherty, HTSA's director of new technologies initiatives, explained to CE Pro about planning for the group's Fall Conference.
"What they see in that is clearly lighting is still the growth [area]. Not just lighting [fixtures] but lighting control, lighting design services amongst the group. That's a big takeaway, to maybe give them confirmation that where they're wanting to go and decisions that they're making are either correct or incorrect," Doherty adds of a key point of that "Focus" for the HTSA meeting in Indy.
The major announcement to come from the Fall Conference, something Doherty as HTSA's original lighting fixtures evangelist was particularly excited about, is the return of Lightapalooza for a second staging in February 2023. On the heels of a successful inaugural lighting-focused educational conference HTSA held in 2022 in Dallas, the group's second Lightapalooza will have more vendors and more participants when it takes place Feb. 20-23, 2023, at the Renaissance Phoenix Glendale Hotel & Spa.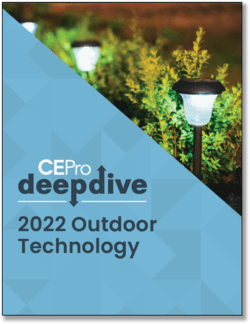 The 2023 CE Pro Outdoor Technology Deep Dive reveals unique set of impediments, including explaining pricing and interacting with outdoor-centric trades.
Get your copy now to take a "deep dive" into the trends and challenges of outdoor technology.
Download the report now!
"The sales reps now adding lighting lines were just hungry for learning and being competent. We will have more than twice as many exhibitors, and because it's open and there's greater awareness there'll be a substantially higher number of attendees," Doherty says, noting that the conference will be open to the entire industry.
He says to keep an eye out for a registration link opening in November, when more details about the participants and programs will become available.
Different Approach to HTSA Fall Conference vs. Spring
Robbins says the Fall Conference takes a bit of a different approach than the group's Spring Conference, which was held in Fort Lauderdale, Fla earlier this year. During that March meeting, as remains today, there was plenty of economic strife as well as the recent invasion of Ukraine by Russia to create a landscape of uncertainty. Heading into 2023, that 'recession' word keeps looming as indicators point that way, and Robbins wants his integrator members to be in the best position possible.
That means some reality checks around financial discussions, sales & marketing tactics, entering new technology categories or vertical markets and other considerations.
"It's much more intense on engagement," Robbins says of the Fall Conference. "We do a much longer group discussion period, and we've got subject matter that is applicable to both members and vendors. Our big thing is to open up discussion; we want best practices talked about, sharing of ideas.
"We're talking about focus, and part of the members-only discussion was on their financial houses. It's become more important to understand what goes on from an inventory, a receivable, a cash needs stand point, etc. So we have some offerings there and that's important for people to come away with."
Robbins says HTSA provides members various services that sometimes go underutilized, and now is certainly the time to take advantage of benefits such as website refreshes and email newsletter marketing campaigns.
"One thing to focus on is we need them to step out of the box maybe a little bit, whether it's in marketing, engaging with some of our other resources that they never got around to … and see that there are resources there to make their operations run tighter," Robbins says. "Marketing's a huge part – now is not the time to not be marketing. Even though everybody's got pretty full pipelines, now is the time to be getting your message out there, delivering the message in the right way."
Toward that end, Keith Esterly, HTSA's chief learning architect, provided numerous marketing initiatives and calls to action that integrators could take during the group's State of the Union presentation, while also leading the session on company culture.
"We realized that in the spring, we were still talking about expanding, thinking big, seek the summit … and since then the economy's gotten weird, so we needed our folks to zoom in a little instead of only zooming out, so we really got into the details with them," Esterly says. "With financials, with labor efficiency, with culture – big picture, but also how do you execute really, really well so that you weather any headwinds or any economic issues that are coming. I think our vendors and our dealers got a lot from it."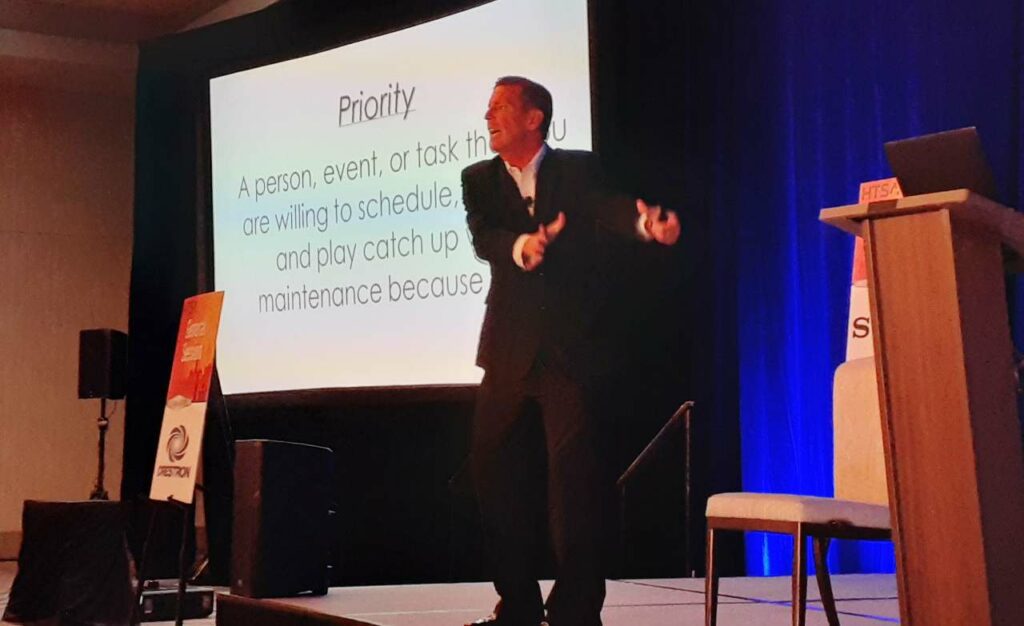 Meanwhile, to help spur some thoughts about leadership goals and skills to implement, conference keynote speaker Steve McClatchy offered insights into changing the way you look at business, relationships and personal priorities. McClatchy, founder and CEO of Alleer Training & Consulting, says leaders can adapt and inspire their personnel in ways they might not have thought about, especially when faced with challenges outside of their control, like the economy or COVID.
"In the wake of things that you can't control, can you make parts of your lives better? Because the first thing I did [during the COVID lockdowns] was lose 30 pounds," McClatchy recalls. "I then wrote my second book. Why? I needed something to be excited about when there's stuff I'm not excited about. I redid my website, I redid my speaker video – and my goodness, it won an Telly Award at a time when nobody was hiring speakers."
He says if dealers are waiting to get caught up, but nothing's going on to make things better, they won't get better. According to McClatch, a leader must be able to work on their life and their business when times are challenging like now. "When you're not 100% caught up and everything's not perfect, can you work on your life? Can you work on your business? Can you in the wake of a whole bunch of things going wrong make some things right? It's really hard to do, but it's the core competency of leadership today."
Engagement Fulfilled in Many Sessions at Indy Event
HTSA used its group discussions to spark conversations around many important topics including: examining the current lighting fixtures category; cash management best practices; maximizing labor efficiencies; hiring and onboarding tips; leveraging co-op dollars; getting into electrical; and improving company culture. The integrator members appreciated the amount of learning opportunities along with other ways to take advantage of a conference whose attendees are highly successful in their respective categories.
"The biggest takeaway for me at an HTSA conference – while the education tracks and the presentations we have are always fantastic, equally important is networking with all the fellow members and vendors," says Brian Perreault, COO of Barrett's Technology Solutions in Lombard, Ill.
"There's just such a wealth of experience within the room that we're in that getting to know new people, talking about how others are doing businesses, the pain points, where we're having successes – there's just so much to be learned, especially for those who are new to the group."
Perreault has served on the HTSA board for six years and has valued the Fall Conference and others, bringing back ideas or establishing connections to improve the business. In Barrett's case, as Perreault notes, the Chicago-area company has evolved from retail to custom integration and is continuously seeking to hone practices and explore opportunities. Recently, Barret's began working more in the MDU space following a presentation at a pre-pandemic HTSA conference that included insight from Richard Millson, whose company, Millson Technologies, specializes in luxury high-rises.
During this year's Fall Conference, Perreault's interest was piqued by the financial sessions led by VITAL's Matt Bernath, which all plays into getting those houses in order as Robbins mentioned.  
"We just hired a CFO and we're having a lot of those discussions about running our day-to-day business based on financial metrics," he explains. "Having a 55-year-plus history we very much have roots in retail business. It was much more predictable; you sold a product, you bought a product, you knew what your cost of labor was, and it was easy to predict how profitable you were going to be at the end of each month. Now we have these projects that extend to weeks, months or, in some cases, even years and it's much harder to predict in advance how profitable that project is going to be."
One of the local dealers in attendance, Ken Irvine of The Premier Group in Carmel, Ind., appreciated the expanded lighting discussion. While his company has been ahead of the lighting curve, he still sees there being room to grow in the booming category.
"I think the continued lighting programs, learning from different manufacturers, getting more manufacturers involved with giving us different solutions that we can take back to clients," he says of his key takeaways.
Irvine added that one of the keynote messages about creating and holding accountability within a company, in which tough conversations aren't skirted around because owners are afraid of having them (or have not set defined expectations), resonated with him.
"It's something that we have to start doing with our employees, our key employees at least," Irvine says.
Vendors Play Key Role at HTSA Fall Conference
On the technology side, in addition to lighting, a vendor exhibit that caught Irvine's attention came from one of HTSA's new partners was Ace Indoor Golf. The Premier Group works on ultra-high-end projects, and Irvine says many have included some serious sports simulators.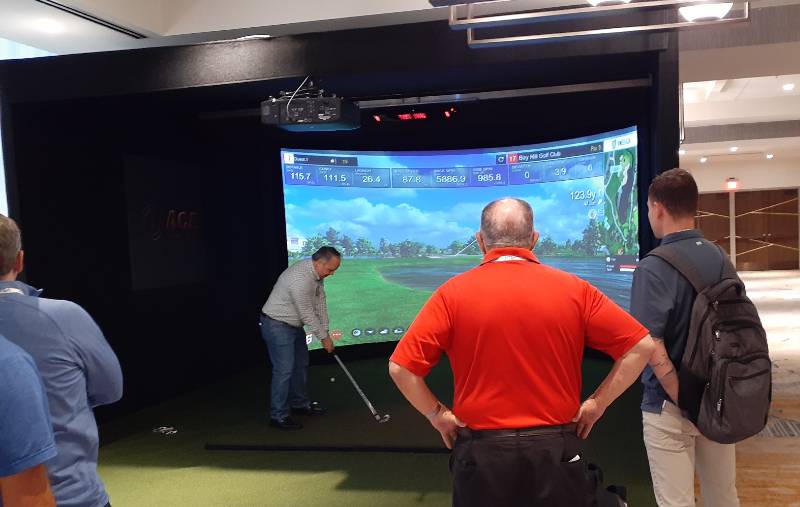 "We do a lot of golf simulators and systems, we've done a shooting range simulator within a shooting range, the golf and soccer/football package simulators," he says, noting that currently they sell Full Swing and TruGolf simulators but had an interest in exploring differentiators of the new HTSA vendor and possible dealer incentives.
Other new vendors added since the Spring Conference include Draper, Modular Lighting Instruments, Modus VR, MoFi Distribution and Tributaries/Clarus.
Speaking of vendors, HTSA announced its vendor awards during the Fall Conference:
HTSA Innovation Awards went to: Sony Laser Home Theater Projectors; Control4 CORE Controllers; Sonance Invisible Series; Display Technologies Projector Screens; and Elemental LED Graze X Fixture.
"I always want the relationship with Sony dealers to be more than the margin they make on our products, so to me it needs to go way beyond a commercial terms program," Goldstein told CE Pro during the event.
"We need to support the dealers in many ways. Of course there's the regular technical support or problem resolution or those things, but beyond that we really have focused in the past year on helping the dealers market themselves. And to me it's very important not just for each individual dealer, but for our industry to be able to communicate out to the consumers that want to buy what our dealers do – and if I can make that easier, faster, better for our partners, that's a win for me."
When it comes to winning, by the way, maybe we all owe the Houston Astros a debt of gratitude after holding off the Philadelphia Phillies in the World Series. As Philly native Robbins pointed out, Philadelphia-area baseball titles in the last 100 years (the A's in 1929, Phillies in 1980 and 2008) were "the surest signs of impending financial challenges."